I had my baby shower a little earlier than usual for one big reason – I live far away from my family and friends in Australia. So when we visited over Christmas and I was four months pregnant my family wanted to organise my dream outdoor picnic baby shower for me.
It was an incredibly special afternoon to me because I wasn't sure I would have the opportunity to celebrate this special time in my life with them. In a way it was a bit surreal because a year or so earlier I'd mentioned to Jase how amazing it would be if we were pregnant so that the timing was right to have a baby shower when we visited Australia.
I'd always imagined having a beautifully styled picnic under a big tree for my baby shower but I wasn't quite sure on a gender neutral theme I liked… yes we've decided to have a surprise baby! After a bit of Pinterest searching I discovered the citrus theme and fell in love with it right away.
So here it is, the final result of my outdoor picnic baby shower with a gender neutral citrus theme…
My mum and I spent a day scouting for the perfect park in Brisbane, and this one was by far the prettiest. What made it even more special is that good friends of ours got married in this exact spot a few years ago! It was important to find a park that was quiet (no playground), had lots of shade (big trees) and wasn't too big so we didn't have to carry things too far from the car.
We used the picnic styling company Milk and Honey Styling to supply and set up the rugs, cushions, tables and table wear. We got the seasonal flowers from our local flower markets and did have them in mason jars until the wind blew them all over so they just ended up being laid on the table – which actually looked really nice anyway! Then we strung some tissue paper pom-poms and tassels to the tree.
We decided to keep things easy with finger food platters, using the citrus theme for all of the sweets. We had:
Orange cake pops
Pink and orange Sugar cookies (with Baby Scuk and Jayde's Shower stamped on them)
Mandarin slices dipped in dark chocolate
Mini lemon meringue pies
A cheese board
Mini quiche and savoury bites
For drinks we had a water dispenser with sliced up lemons and grapefruits in it and a couple of ice buckets with different citrus soft drinks and champagne (for everyone but me!).
A big big big thank you to all of my family and friends who helped make this day so special by organising, creating invitations, making food, planning games, taking photos on the day, helping set up, coincidentally wearing perfectly colour coordinating outfits and just being there!
Big love,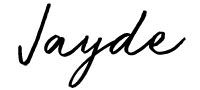 If you loved this post I think you'll enjoy these too…
Tips for a Mindful Pregnancy Announcement / First Trimester Essentials: Minimal + Eco Friendly