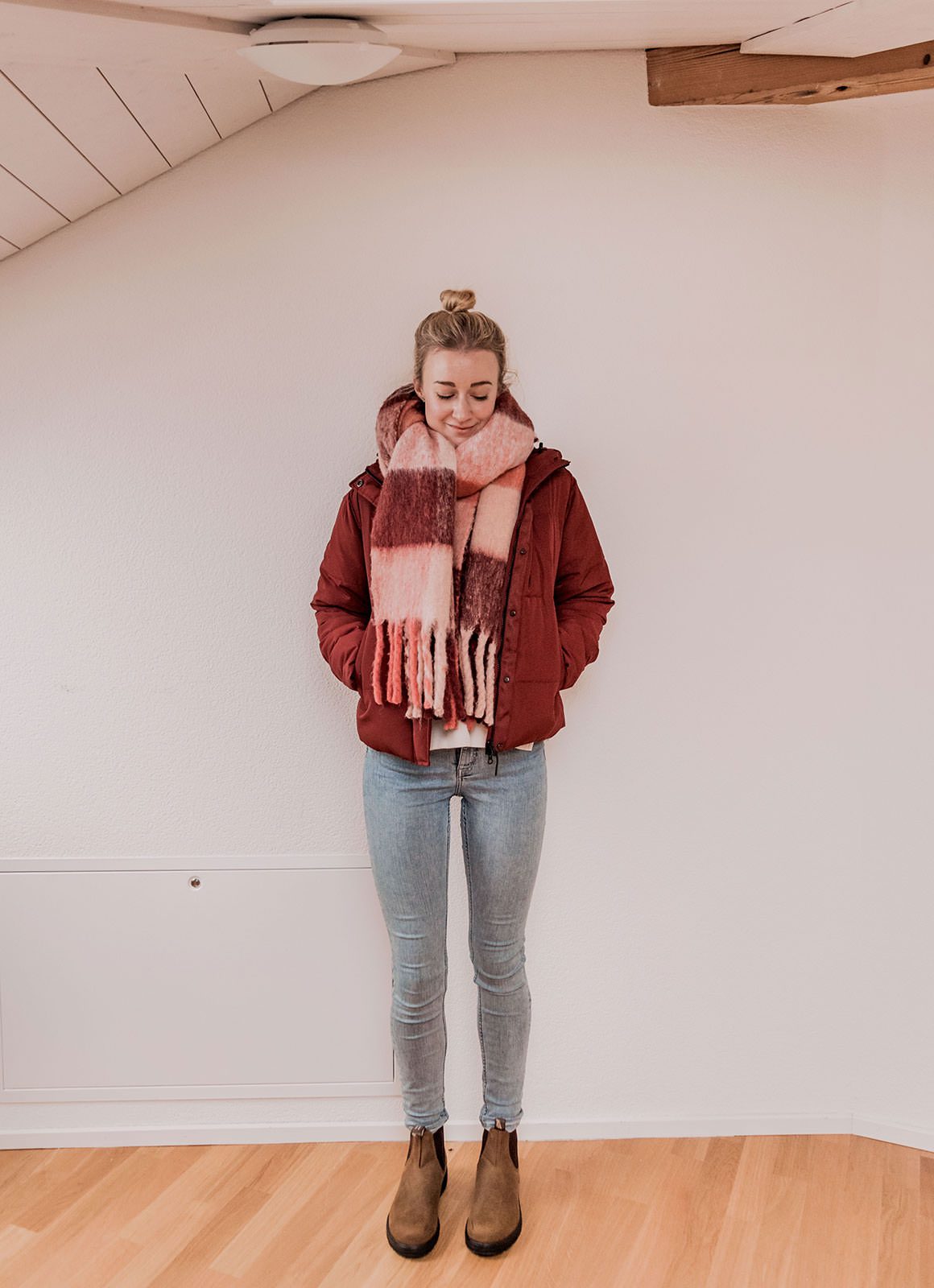 Coming from Australia I'd never really had to think about layering and keeping warm. But since moving to Switzerland, and now into my third winter I have come up with a pretty strategic methods of how to layer clothes for cold weather to keep warm but not be too bulky. I've also started getting questions from other travellers and visitors about how to pack and dress for the cold, so today I am sharing all my tips, tricks and favourite pieces for keeping toasty.

---
How to Layer Clothes for Cold Weather
Layer One: Underwear + Singlet
So it goes without saying that the first layer should be your undies! Choose a singlet that sits nicely under other clothes, and depending on how cold it is choose something thermal, or I just usually wear cotton. Now the most important thing about this layer is a little trick called the 'undie tuck' – a life changing technique my friend taught me! Basically you tuck your singlet into the top of your undies so it stays put, leaves no gaps for cold air to get into and helps you avoid any lumpy bumps from bad tucking later on.
Layer Two: Long Sleeve Top
Next we add a long sleeve top, which could be a light knit, skivvy, button-up or anything you feel comfortable in. But it is important to remember that when you are inside you may need to strip back to this layer on top – so make sure you like how it looks. Something I learnt quickly about the cold weather is that inside is always very warm. The first thing people do when they walk inside is strip off coats, scarves, beanies and gloves. Then once you've warmed up, especially if you are eating you might get too hot in your sweater as well.
Layer Three: Thermal Tights
I get a lot of questions about how I stay warm in skinny jeans during winter, and this is my secret weapon – thermal tights. I've tested out quite a few and my favourites are the tights with a layer of fleece inside. They are thin so avoid bulk (and yes they fit under the tightest of skinny jeans), but the fleece makes any pair of pants feel like cosy sweat pants! I also wear these tights under skirts and dresses in weather that is 5°C and over. If you want to tuck your long sleeve top into your pants, tuck it into your tights now. This way when you pull on your pants your shirt is already in place.
Layer Four: Thermal Socks
But how do I put my jeans on without my tights riding up you ask? Well… here is another little trick I love – and that is putting socks on next, which holds tights in place as you pull on jeans. Choose thick thermal socks if it's below 10°C, otherwise if your shoes are warm, normal cotton socks are fine. I also like the socks with the grippy bottoms because if you go inside and take your shoes off (at a friends house) they won't be slippery on tiles and timber floors. Layer socks over tights to keep them in place and avoid any gaps the cold will find! Even if I am wearing sneakers and short socks, I will still use a pair of longer socks to hold my tights in place when I put my jeans on, and then I will swap the socks.
Layer Five: Pants or Skirt
Now that our socks are holding our tights down it's easy to pull on jeans, pants or if you are wearing a skirt or dress this goes on now.
Layer Six: Sweater or Hoodie
Next is a sweater or hoodie. If I know I will be outside for a while I choose a thick knitted sweater or fleece hoodie and if I am only outside for a short time and then inside I choose a thinner sweater. My Everlane hoodie is a nice thick toasty fleece – which can be so hard to find these days.
Layer Seven: Shoes
I always put my shoes on before my coat, otherwise it can get pretty awkward, hot and bulky. One of the most important things when you choose shoes for the cold is making sure they have a thicker sole. Thin soles let the cold from the ground straight in, and there is nothing worse than freezing cold feet. If you are going to be in snow it's really important that your shoes are water resistant or water proof, they are lined inside with fleece or wool, and there are no big gaps that snow can get into (like around the laces).
Layer Eight: Scarf + Beanie + Gloves
When we go out in winter I always take a scarf, beanie and gloves with me, even if I don't think I'll need them. I learnt this the hard way, but as soon as there is a little wind the temperature can really drop and these accessories make a huge difference. Also the longer you stay outside the less resistant you become to the cold. So even if you don't need them in the first hour you may need them after. We lose a lot of heat from the top of our head and ears can get painfully cold so a warm (wool if possible) beanie is important. For gloves the leather and/or wool lined ones are the warmest, I also really like mittens because all your fingers can keep each other warm, but in gloves they get separated. I also have gloves that are compatible with my phone screen so I don't need to take them off to use my phone.
Layer Nine: Jacket
Finally we top all of this with our jacket or coat. If it's below 5°C I will opt for my longer puffer jacket, because it is the warmest option. If you really feel the cold longer jackets are the best option because they keep the top of your legs warm too. In weather that is over 5°C I wear my puffer jacket, wool coat or teddy coat and find them all warm enough. The jacket I am wearing here is by Everlane and as well as being impressively warm (seriously I have been so happy with how warm this jacket it) it's also made of 99% recycled plastic bottles – it's a win-win!
And this is pretty much how I dress everyday in winter! If you have any other tips or tricks to share please let me know in the comments below.
Big Love,