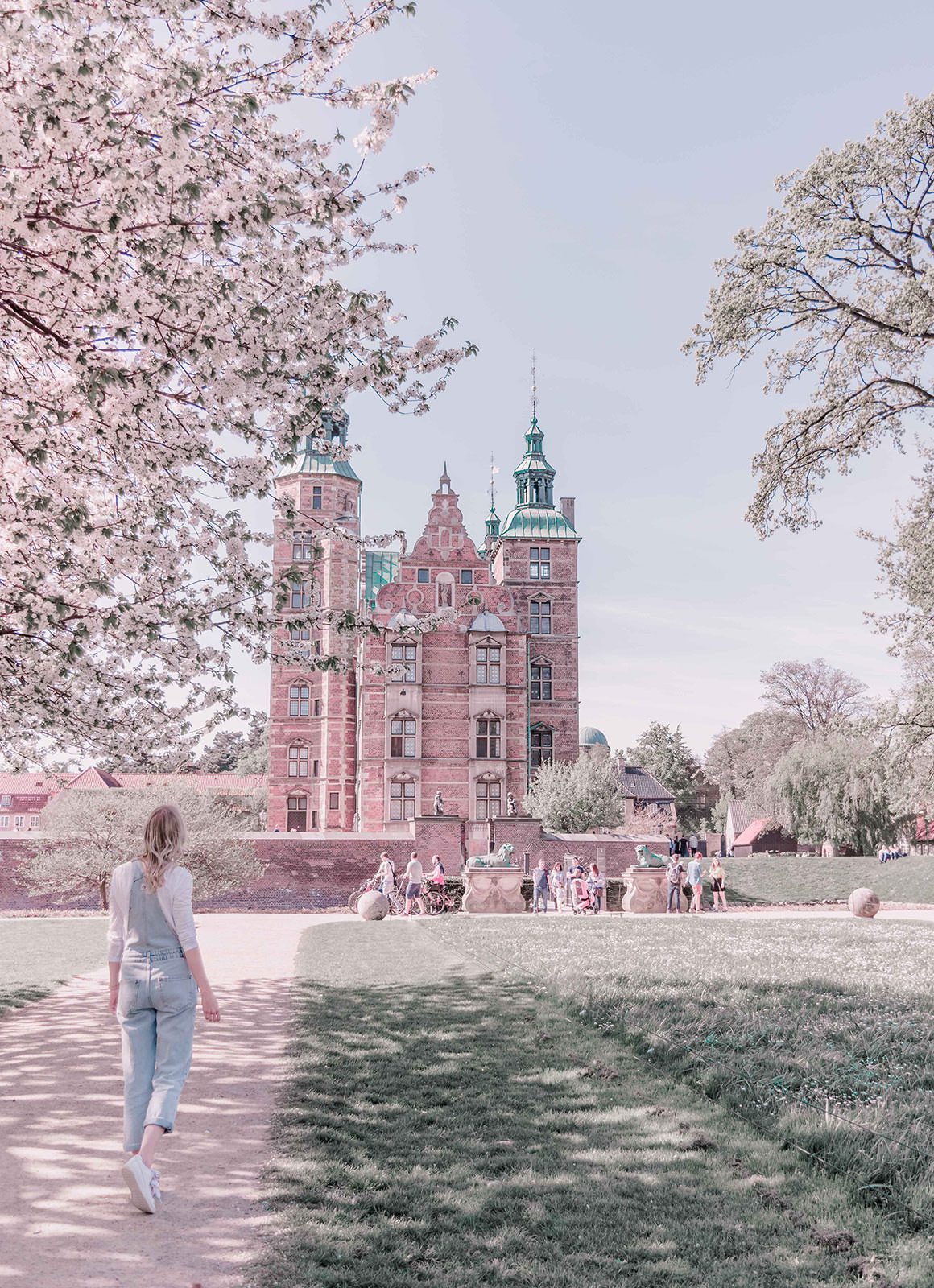 Before our trip to Copenhagen I'd heard nothing but good things about the city – from the cute colourful buildings, to the pretty canal views and easy bicycle routes. As you can imagine I had pretty high expectations, so when we were greeted by a city full of blossoming trees and perfect sunny days I was over the moon.
We didn't go with a plan or schedule, just a little list of places we'd like to see, and using that list to give us a rough idea of our day we ended up discovering some gorgeous places! So I wanted to share my 7 favourite fairytale spots with you! But first here are a few practical details…
How long to Visit
Our trip to Copenhagen was three full days, with travel days on either side. I thought this was the perfect amount of time to see lots of the city without being too rushed. But if you are short on time two days would work, and if you have more time you could definitely fill up four or five!
Where to Stay
We stayed quite close to Tivoli Amusement Park, in the meat packing district, which is about a 30 minute walk or 10 minute bus ride to the main part of town. This was absolutely fine for us as we don't mind walking or catching public transport, but if you want to stay in the heart of the city I would recommend picking somewhere close to the Nyhavn district.
How to get Around
Copenhagen is quite a compact city so walking, trains and buses are a great way to get around. But our favourite way by far was by bicycle. There are lots of bike hire shops to choose from throughout the city and cycling through the city is extremely easy. There are dedicated bicycle lanes on most roads and the city is very flat. We rented our bikes from Copenhagen Bicycles and didn't reserve them in advance. However it might be a good idea to do so if you want to guarantee you get one in the busier seasons!
7 Fairytale Spots to Explore in Copenhagen
1. Nyhavn
Nyhavn is a cute canal district that dates back to the 17th century. Pretty colourful buildings, cafes and restaurants line the streets and historical wooden ships bob in the canal waters. Perfect for a stroll along the canals with a gelato or hot dog – and yes I had to try both for research purposes! Or find a nice cafe, order an aperol and do some people watching.
MY FAVOURITE THINGS TO DO IN NYHAVN
Get a gelato from one of the gelato shops along the canal – I found the most amazing watermelon sorbet, if you see it I highly recommend trying it!
Try a hot dog from the Joans Polser hot dog truck – probably the best hot dog I've had in my life (I got the Number 3 special, with pickles – because everything is better with pickles right?)

Walk along the colourful canal street until you get to the bridge at the end, then turn right and follow the water until you see the cute little trampolines next to the footpath – then start working off that hotdog and gelato!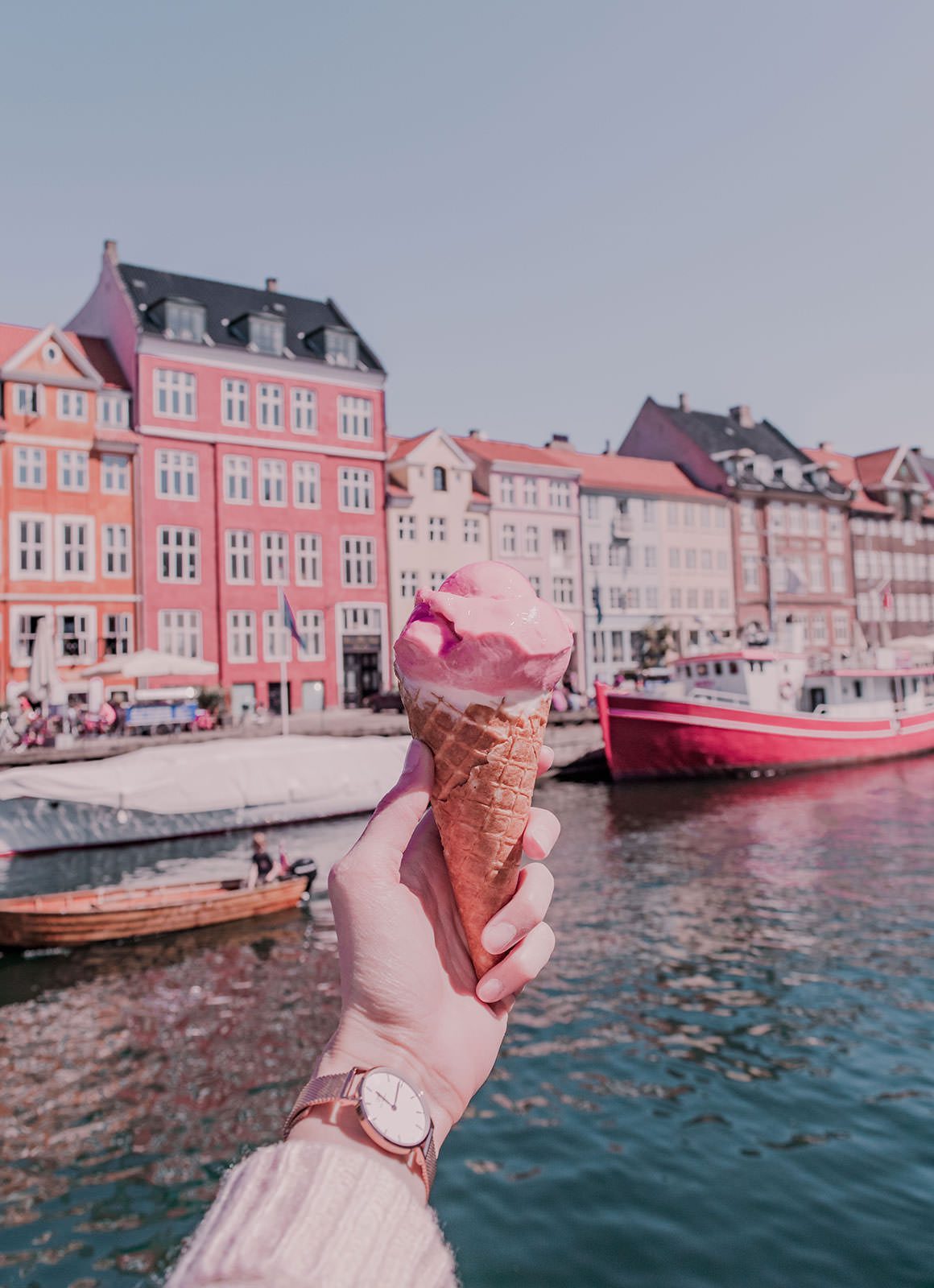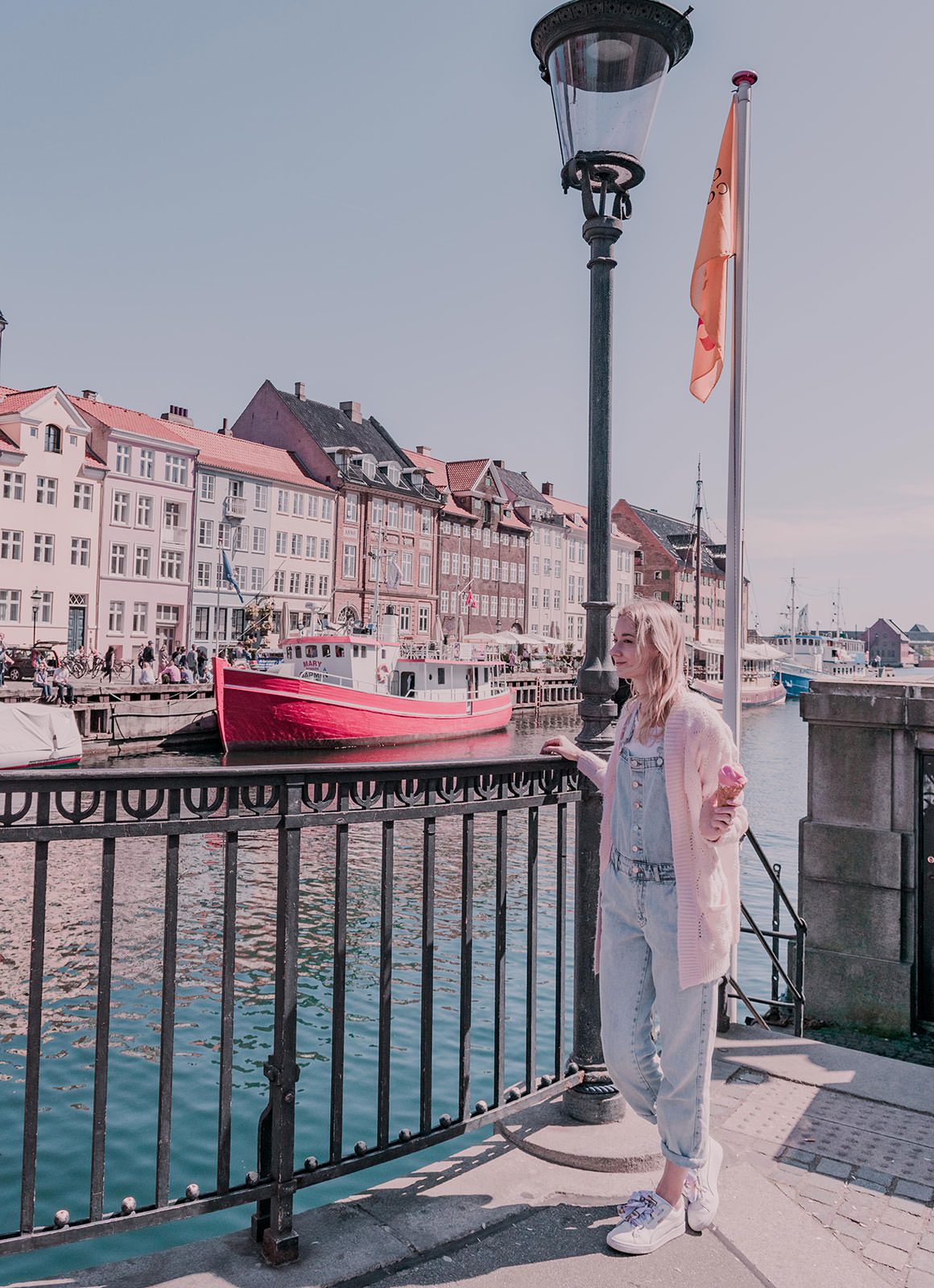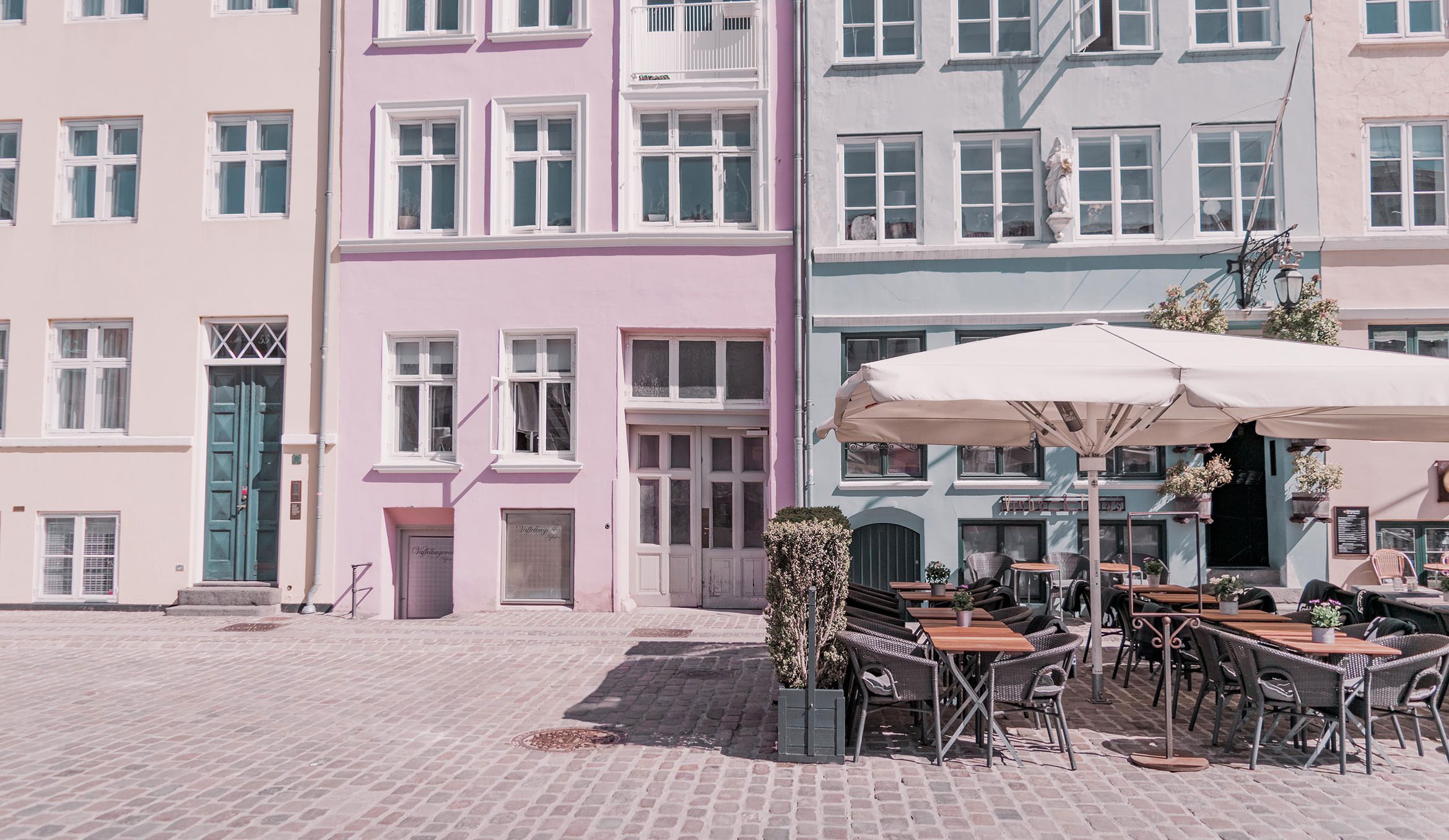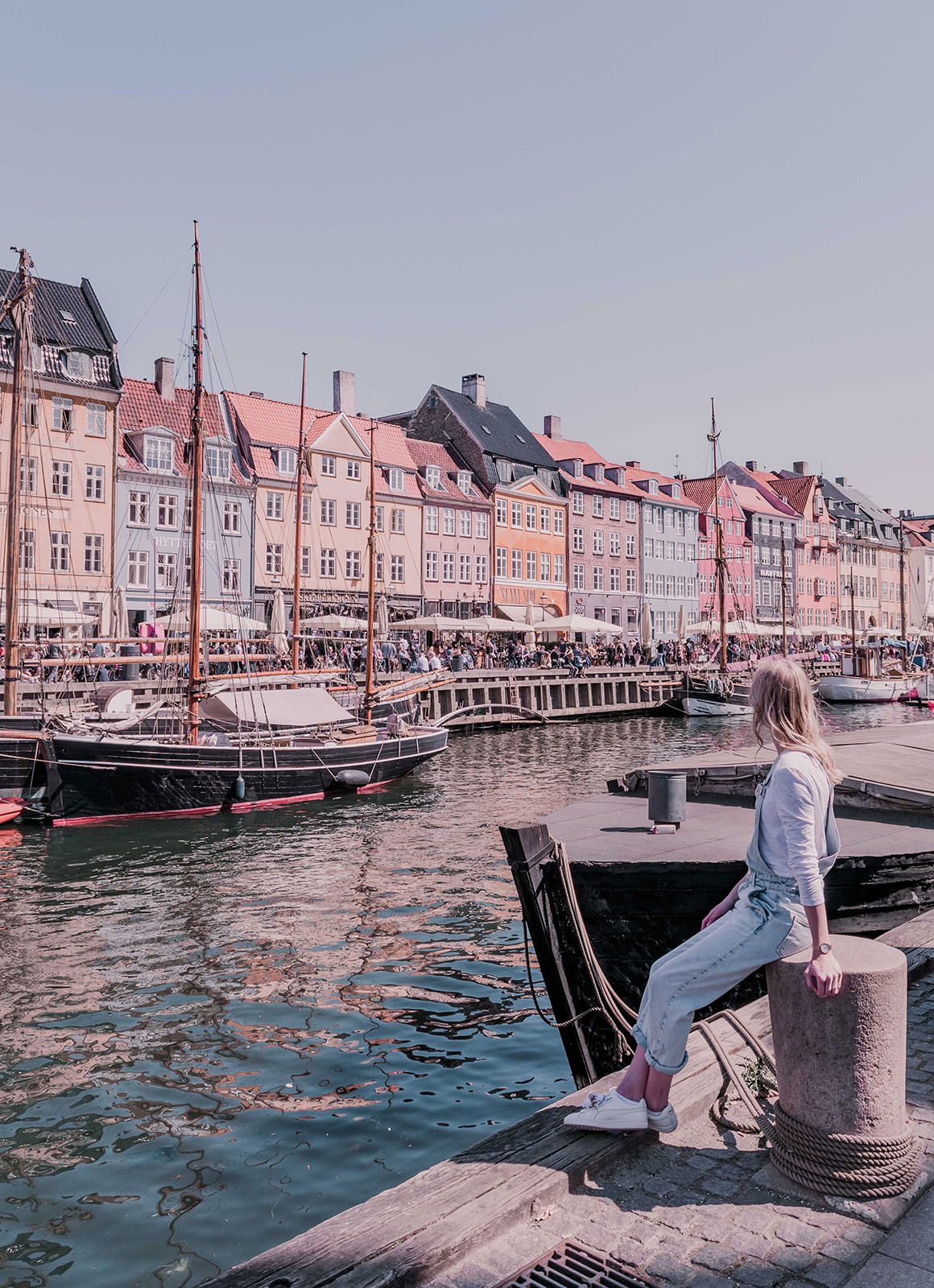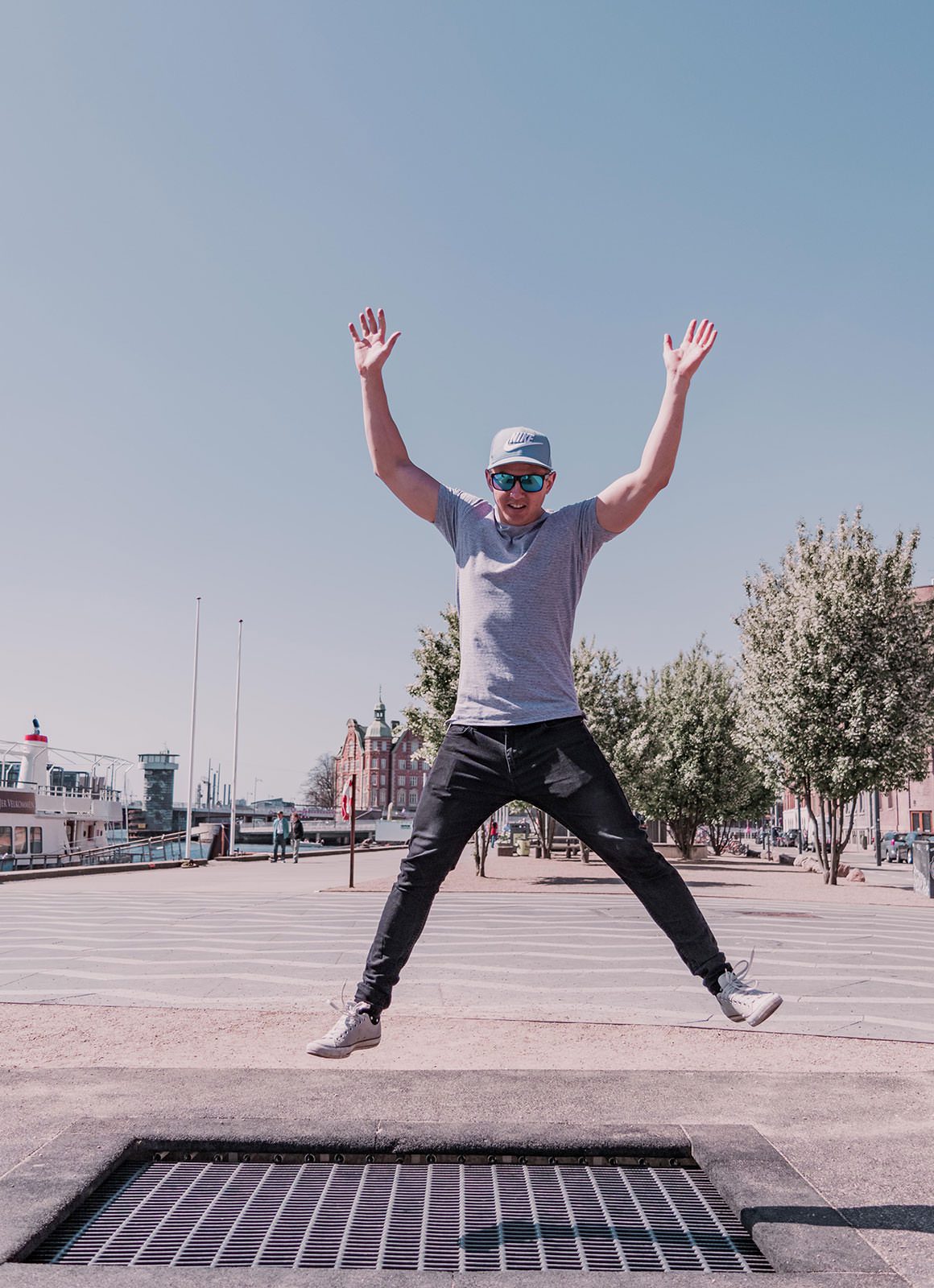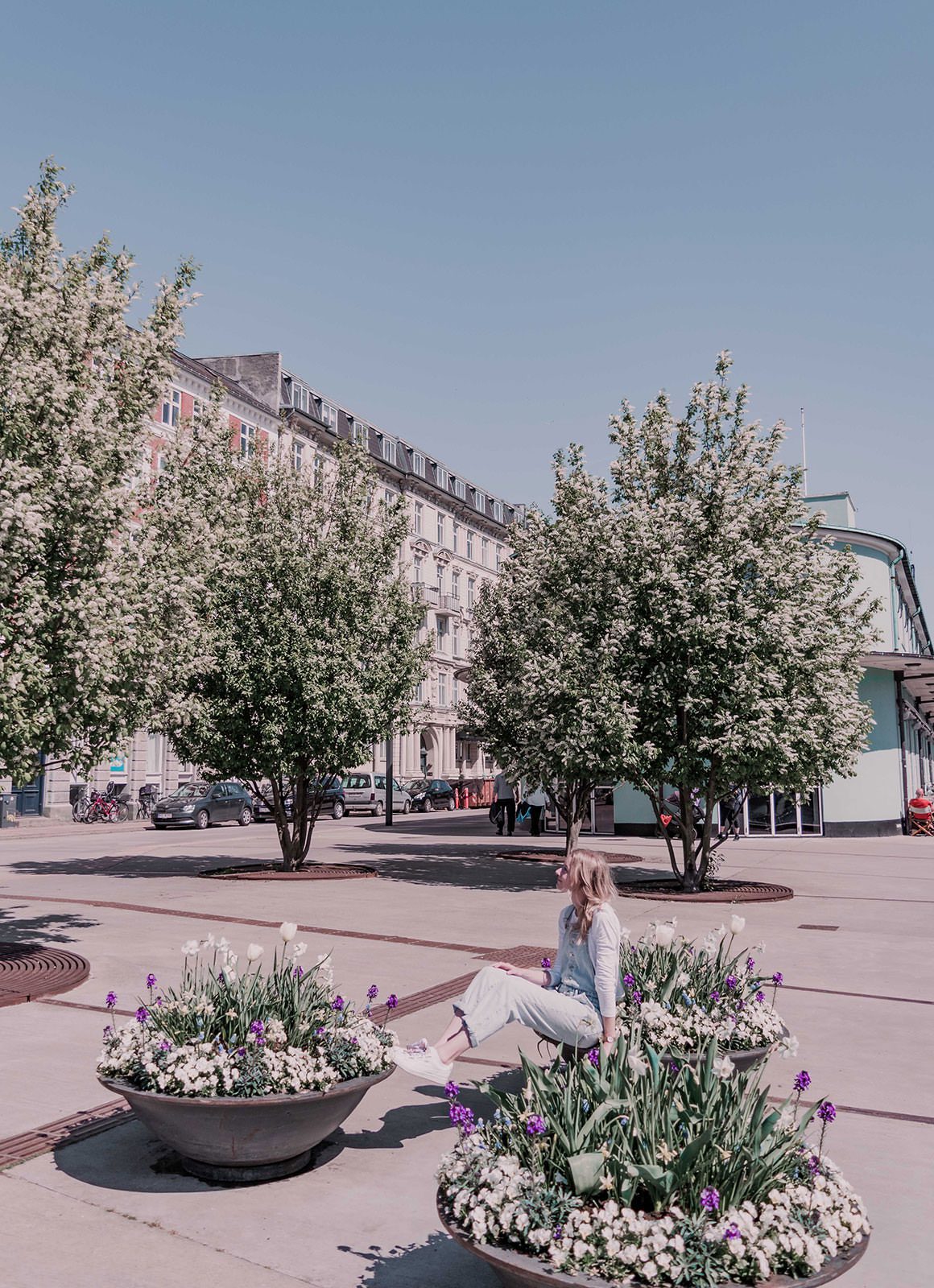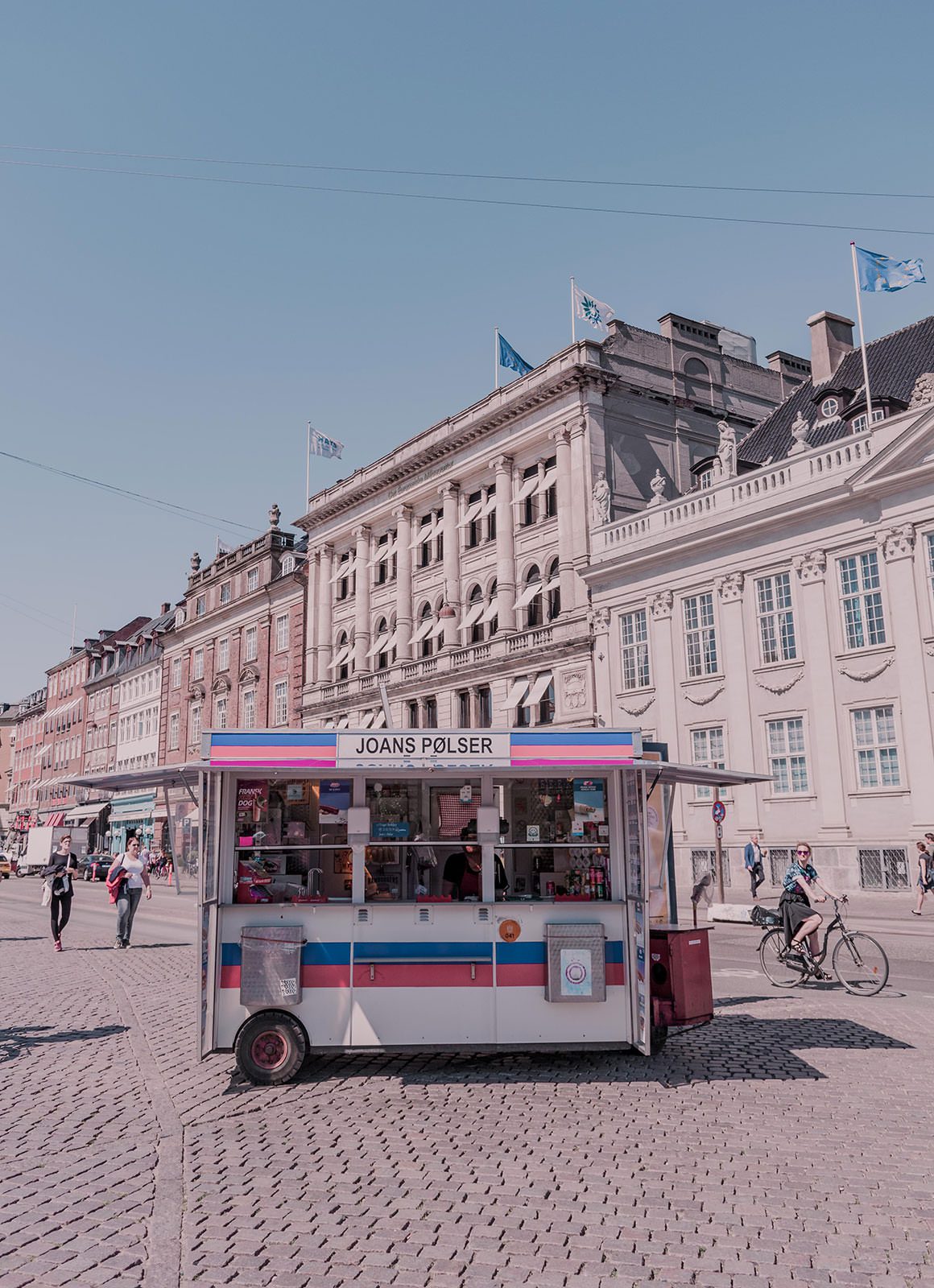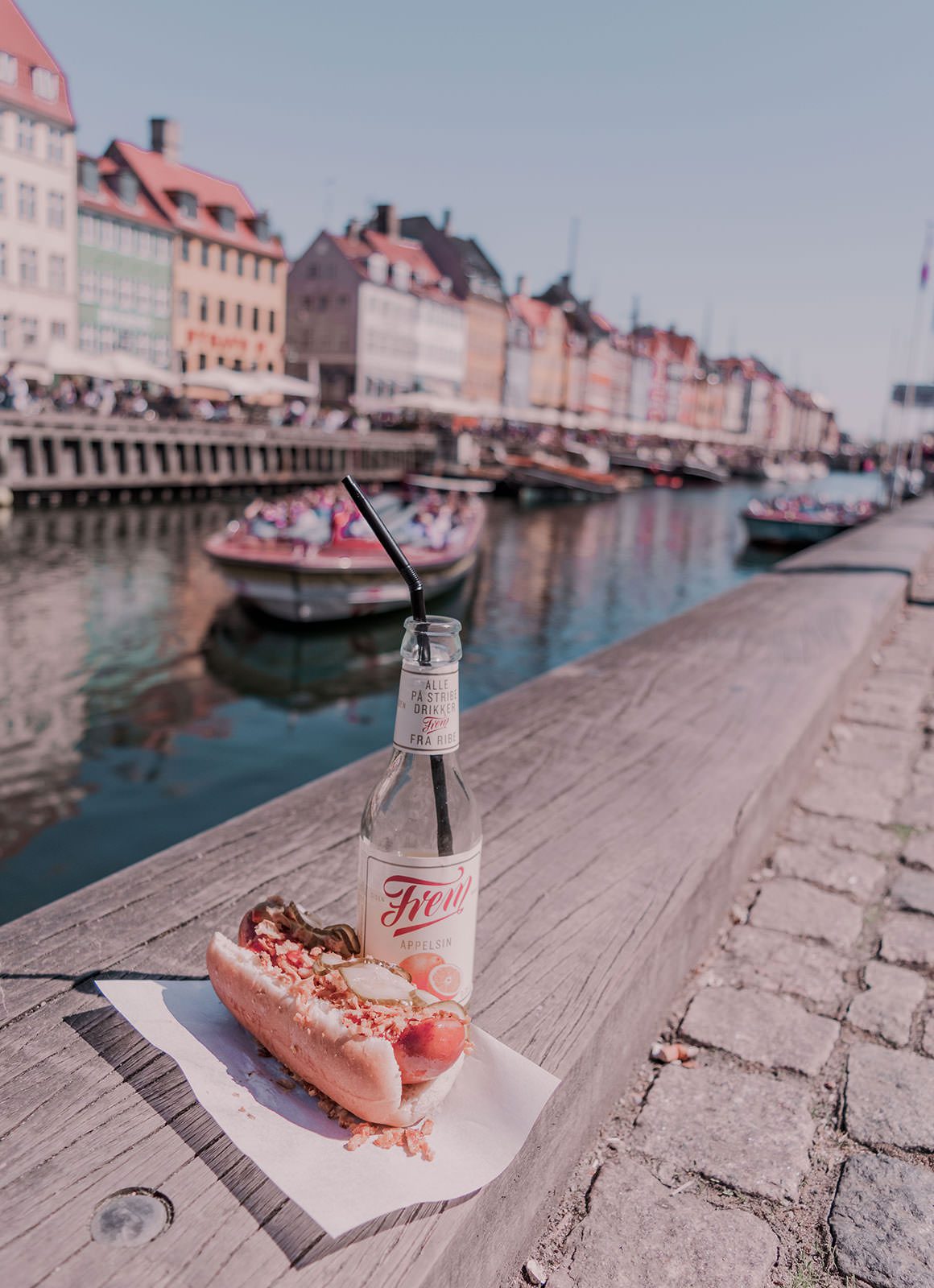 2. Island Brugge
We stumbled across Island Brugge on our journey after getting a bubble waffle from Munchies. Island Brugge is a relaxing spot to lay on the grass and look out across the water to the other side of the city. On hot days it's also the perfect spot for a swim too. The reason it caught my eye (well Jason spotted it before me – it seems my blossom obsession is contagious), was because the pathway alongside the grassy area was lined with blooming blossom trees. And yes I was in such a blossom daze that I actually forgot to get a photo of the lawn and swimming area!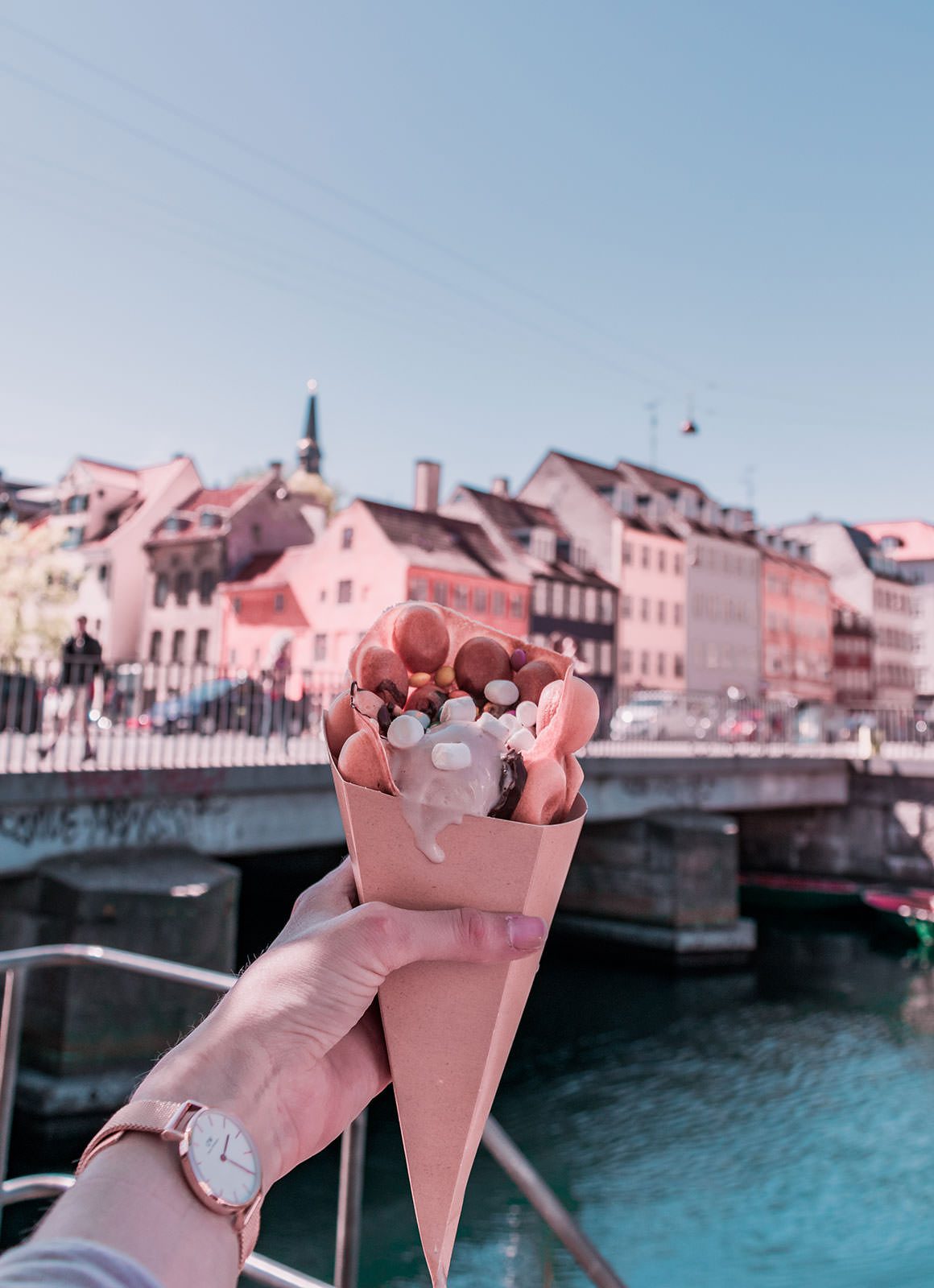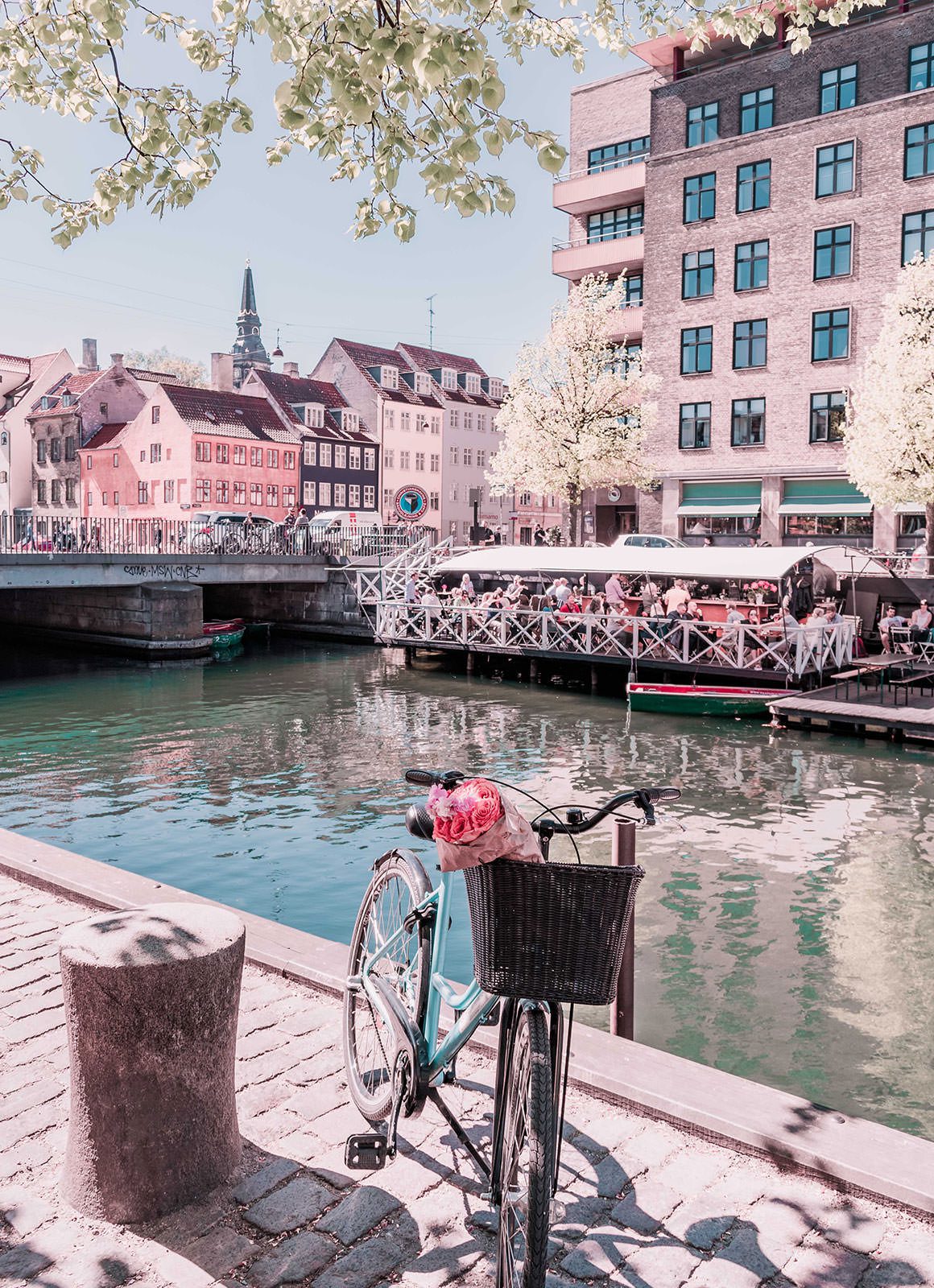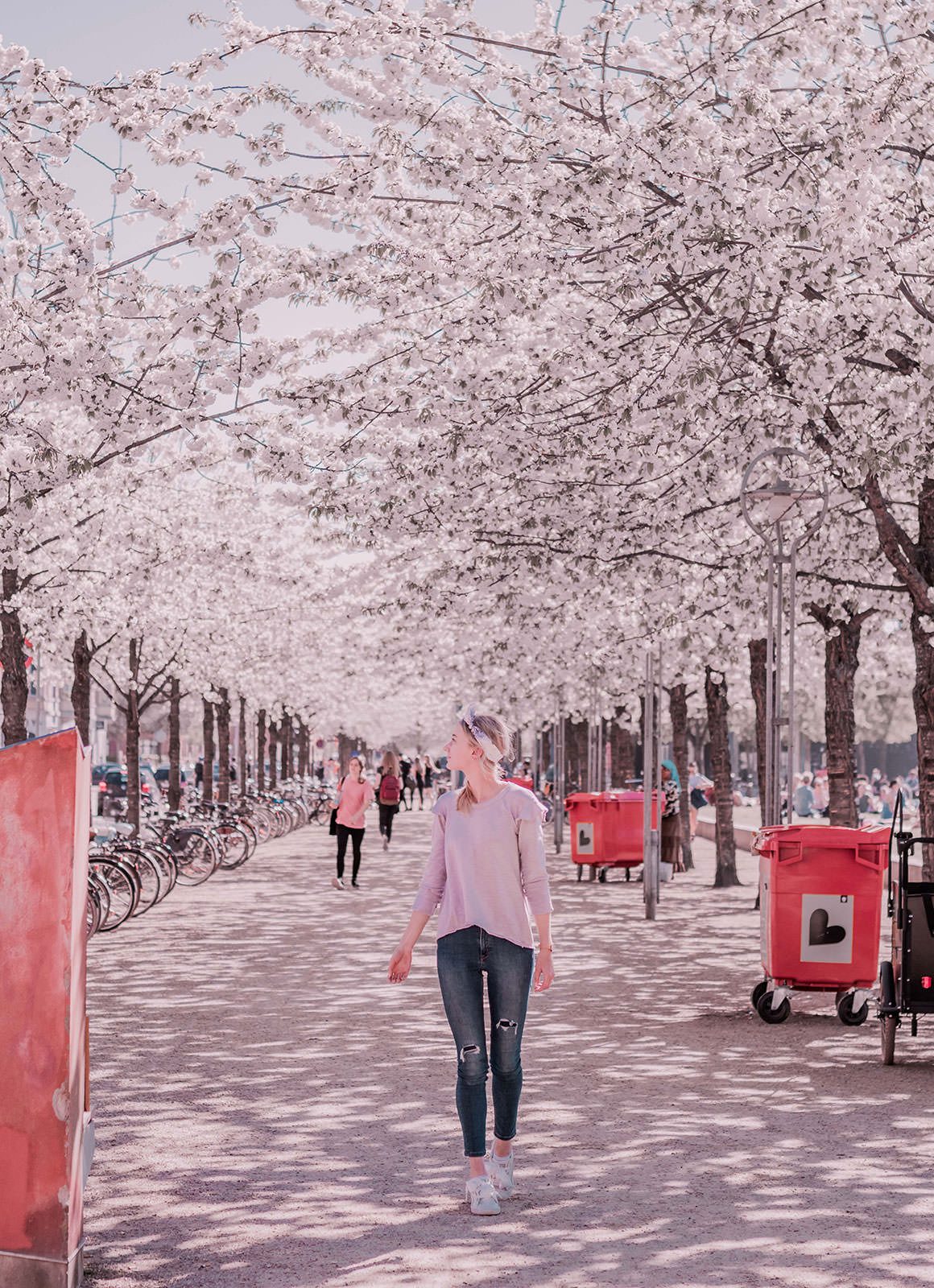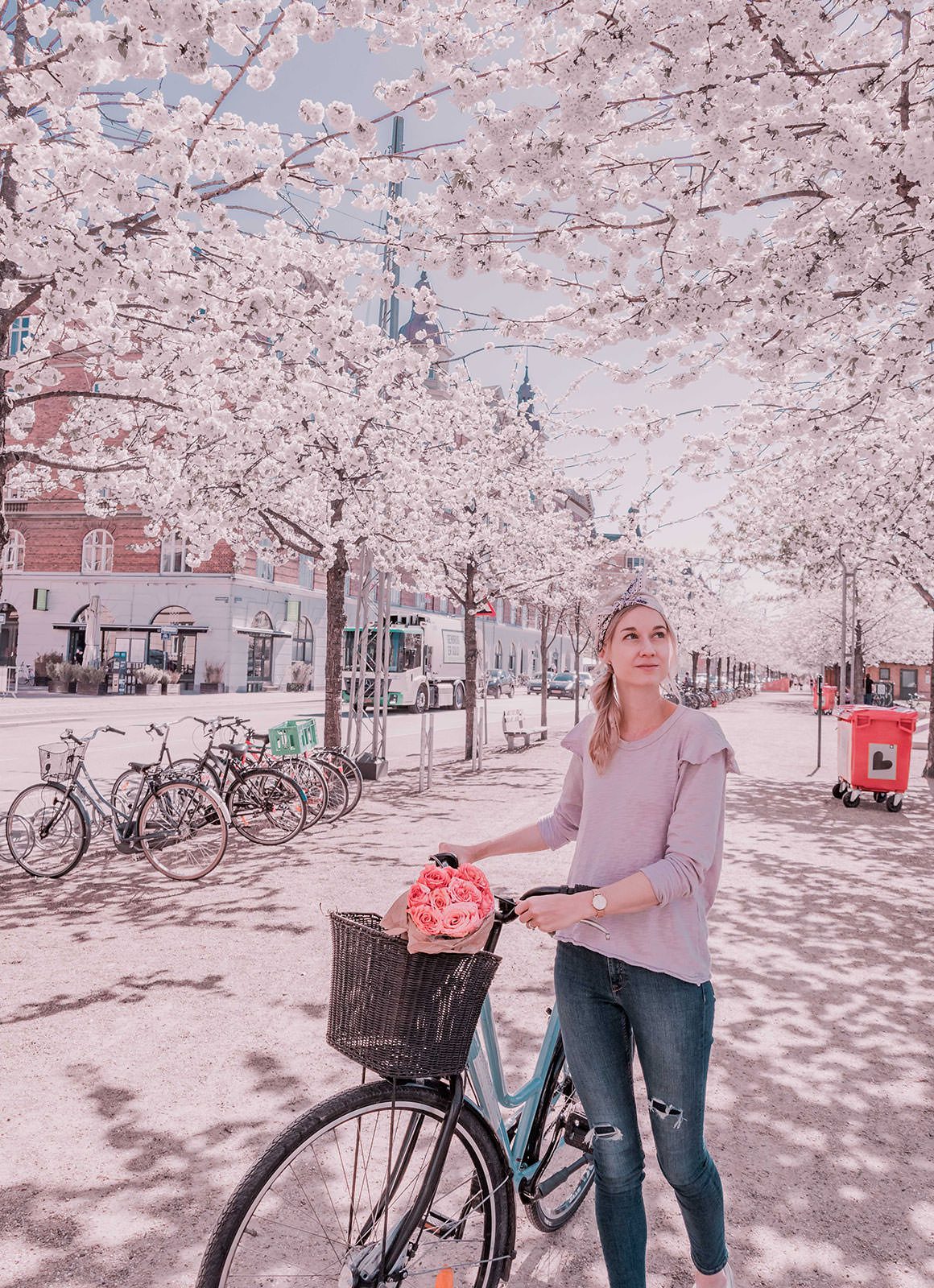 3. Superkilen Urban Playground
The Superkilen Urban Playground is about 750 meters long, with an area of 30,000 square meters and is a fun and unique spot to visit on bike. Unfortunately a lot of it was under renovation when we visited but the pink blossom trees made up for it – and really added that fairytale vibe I love so much!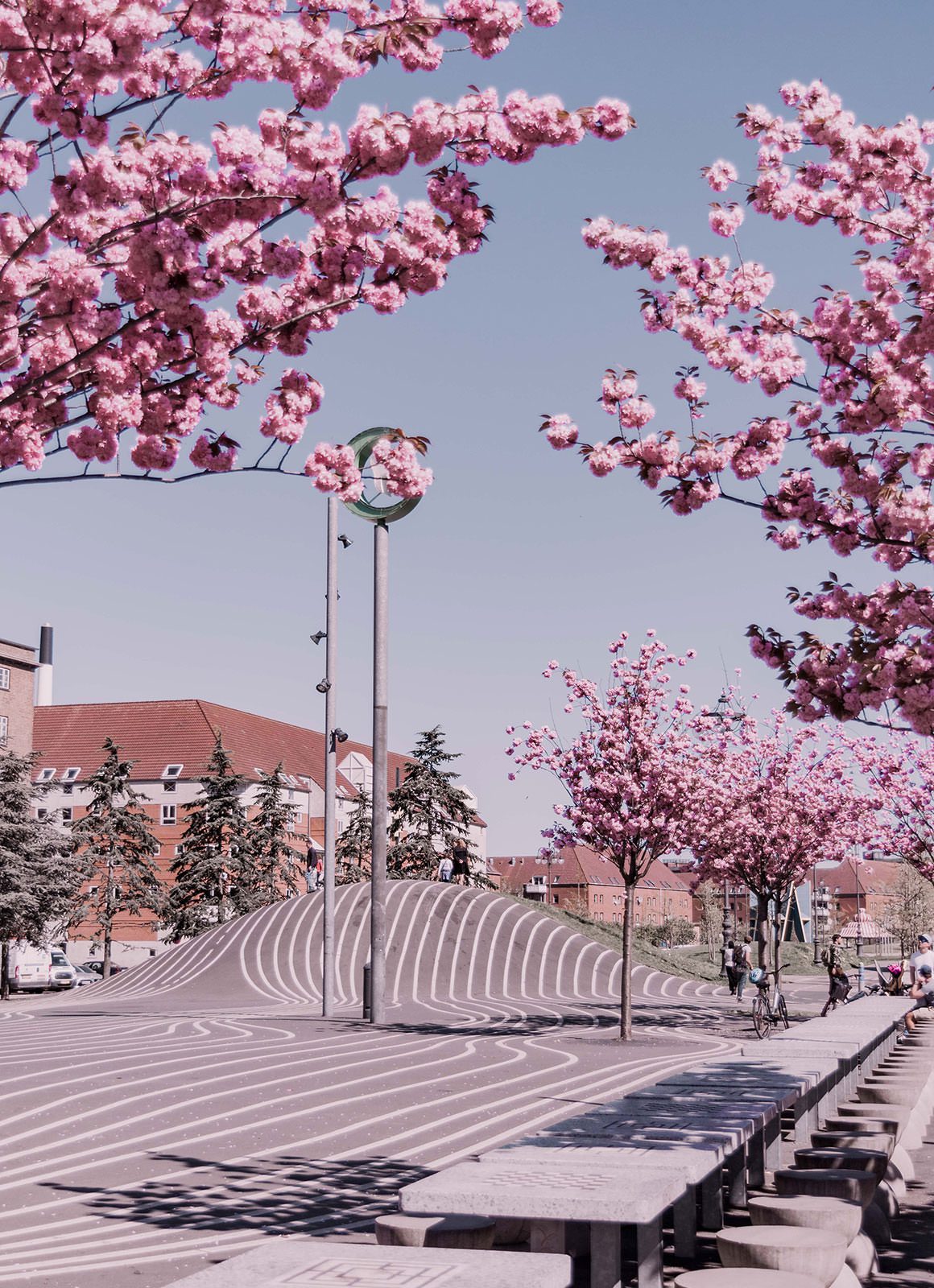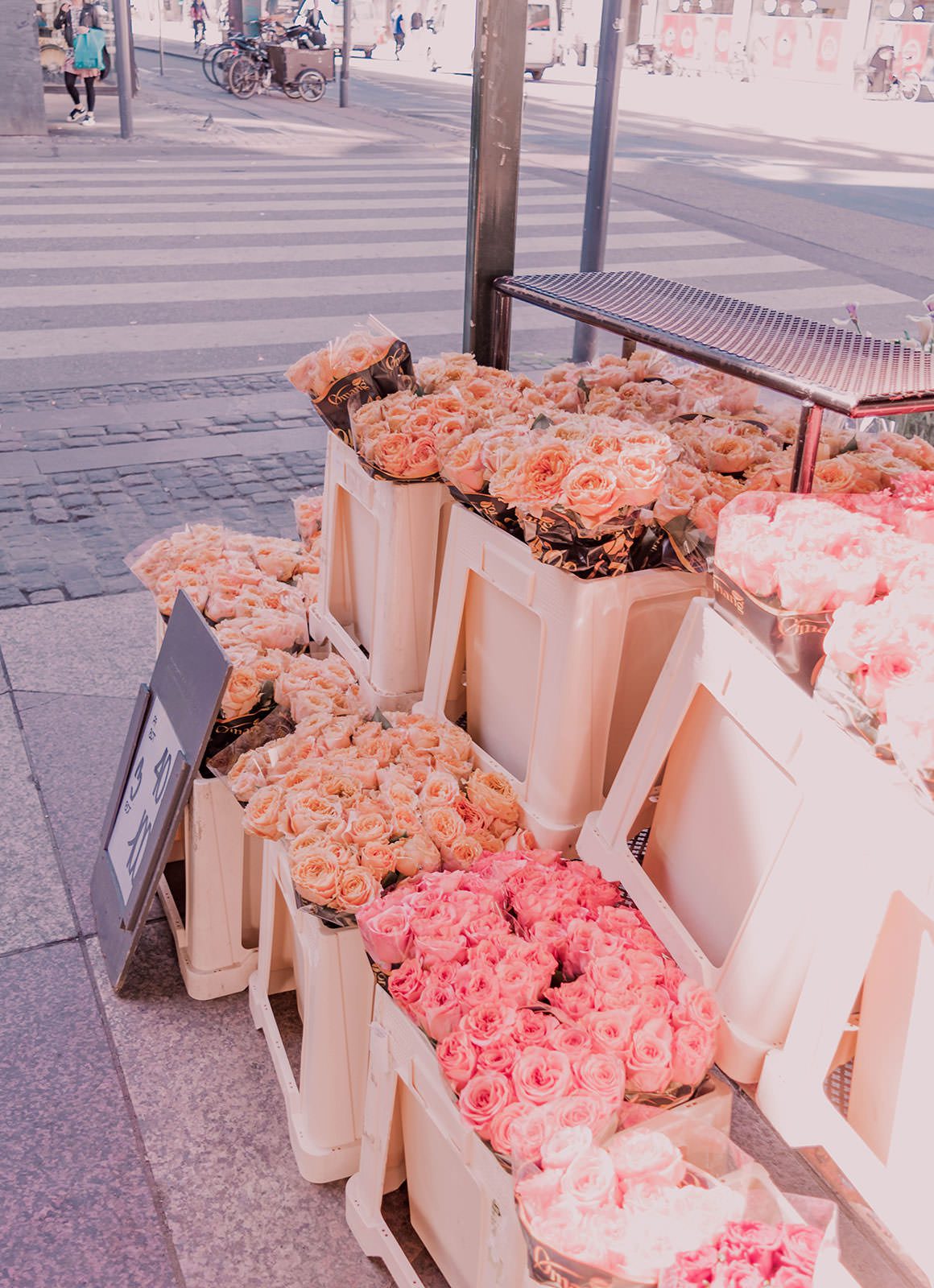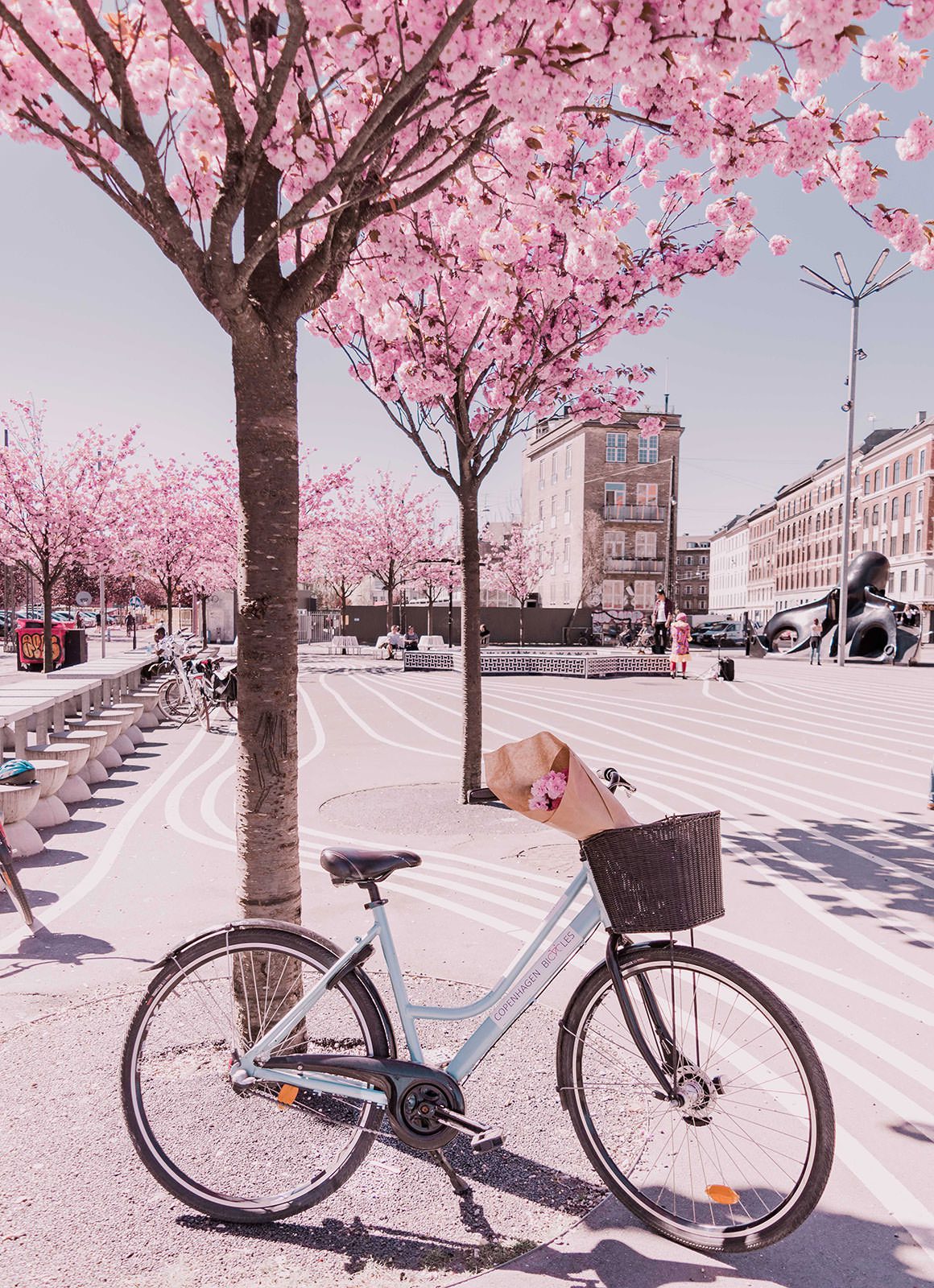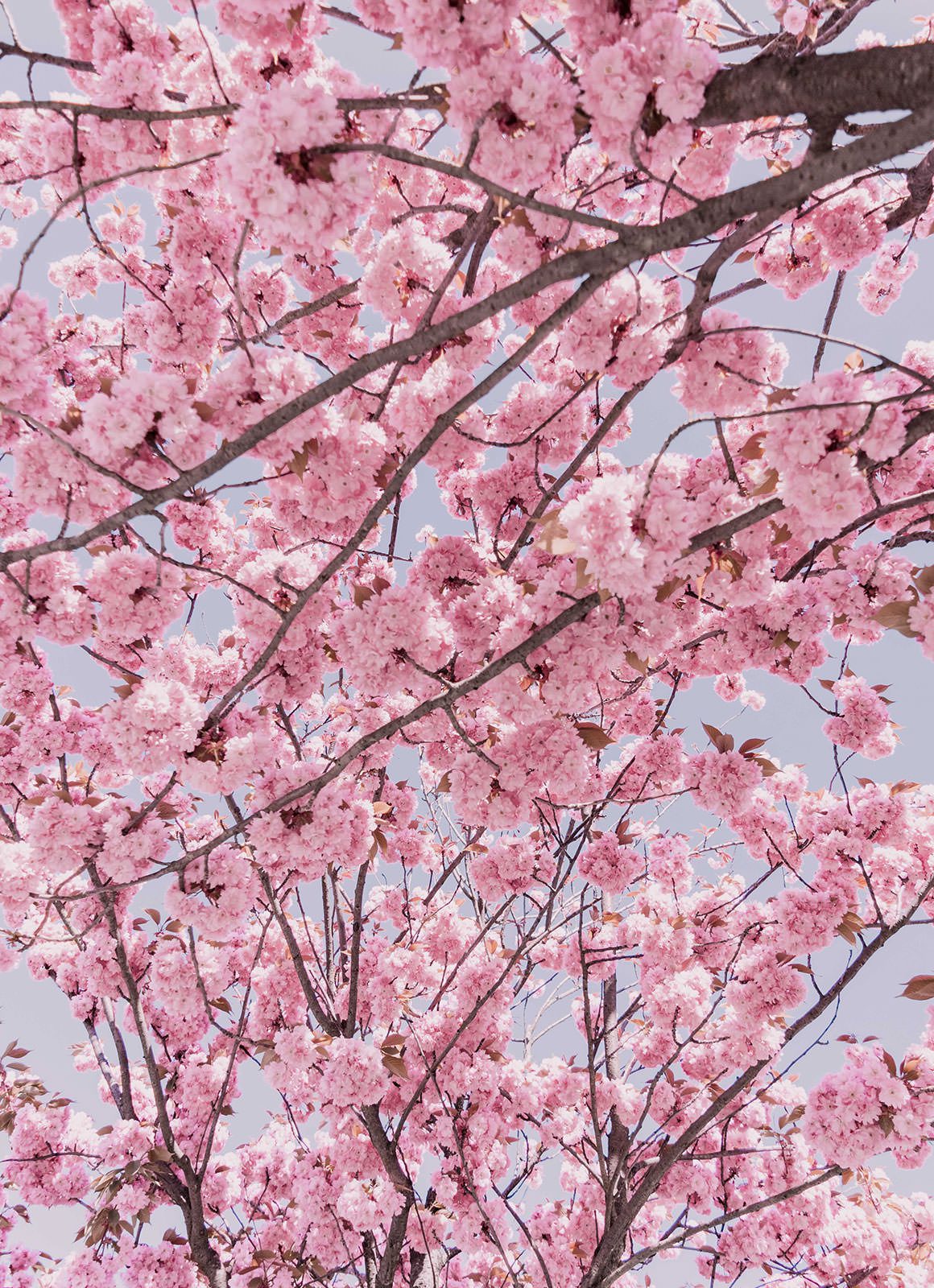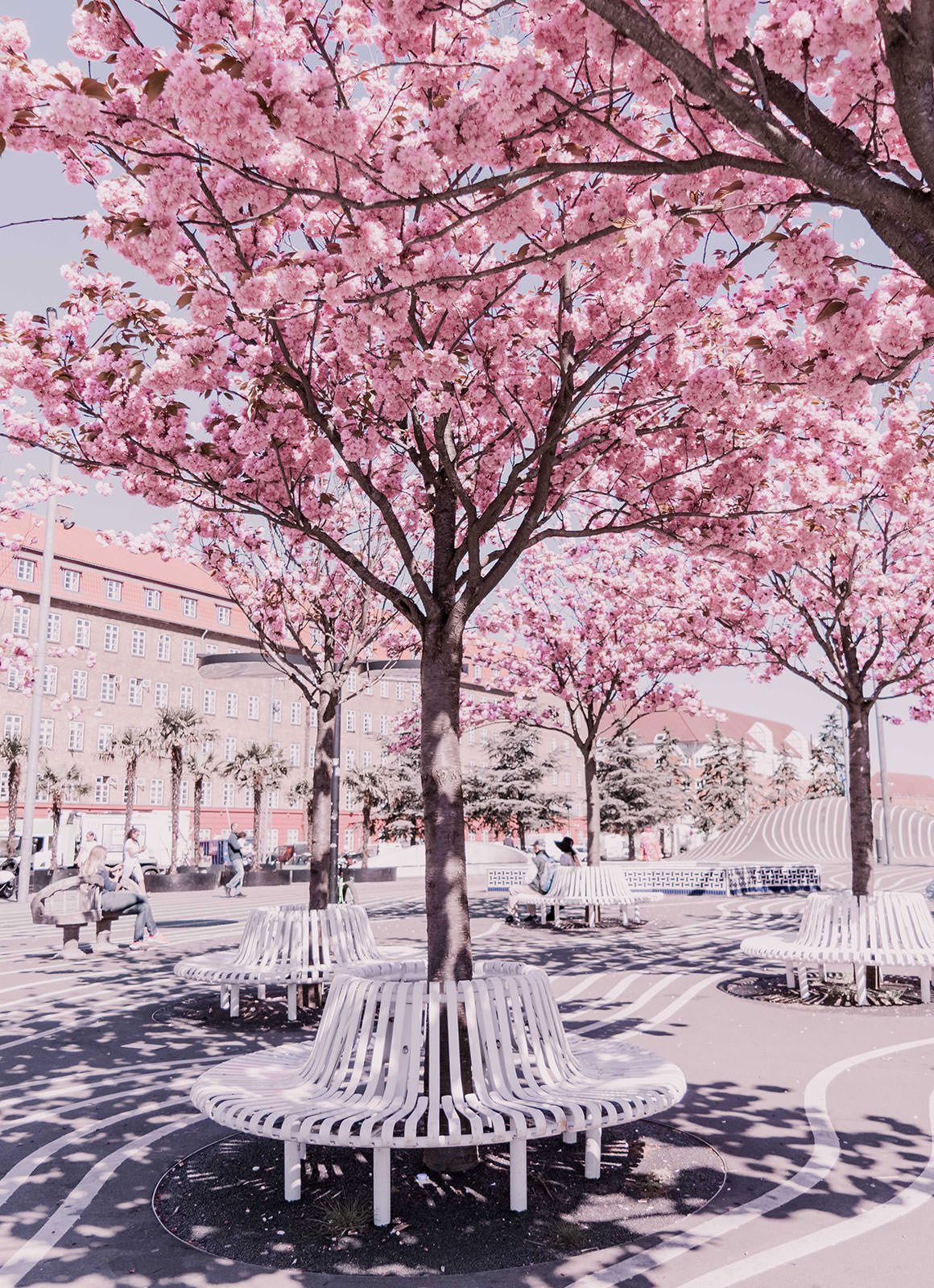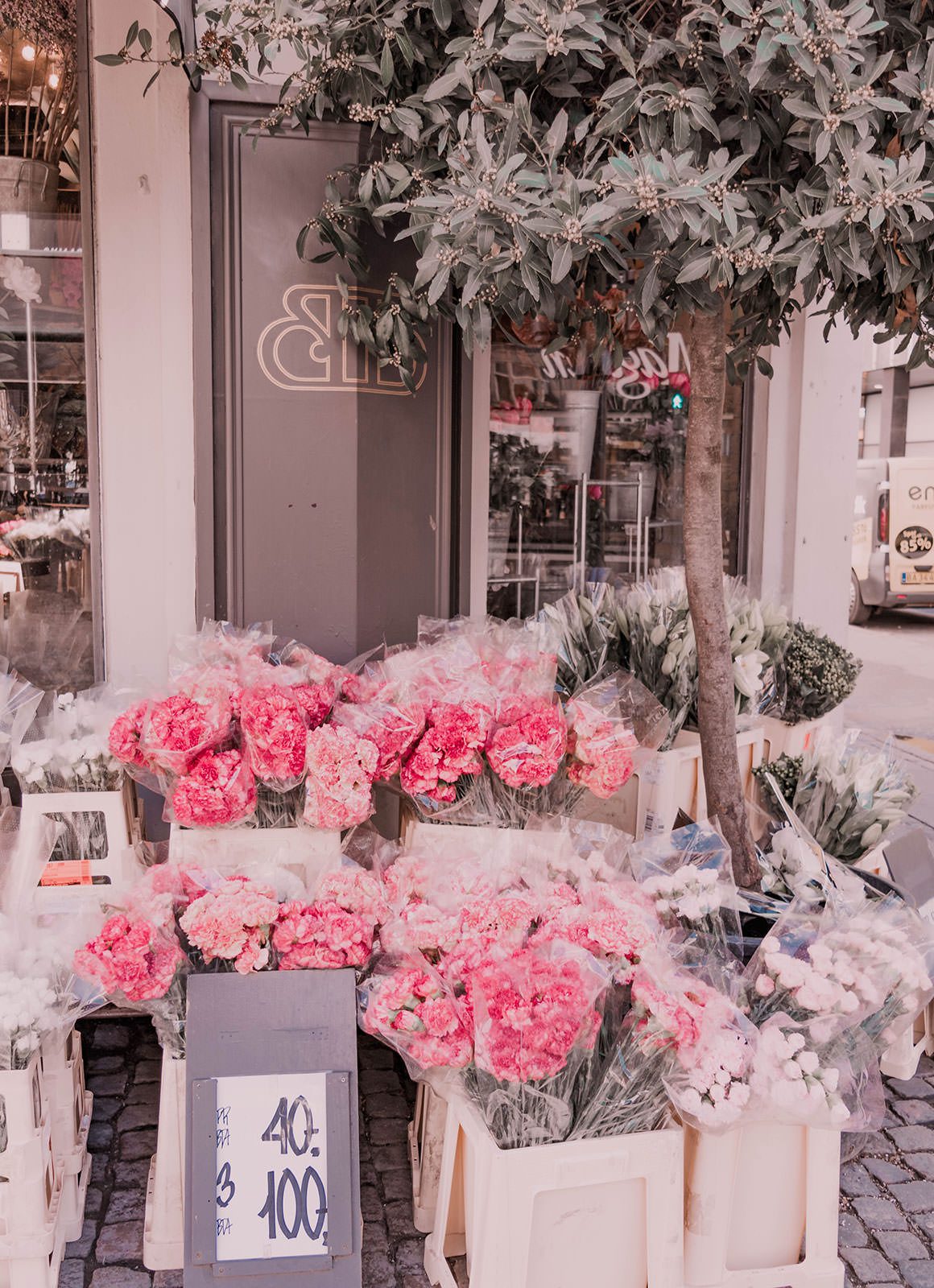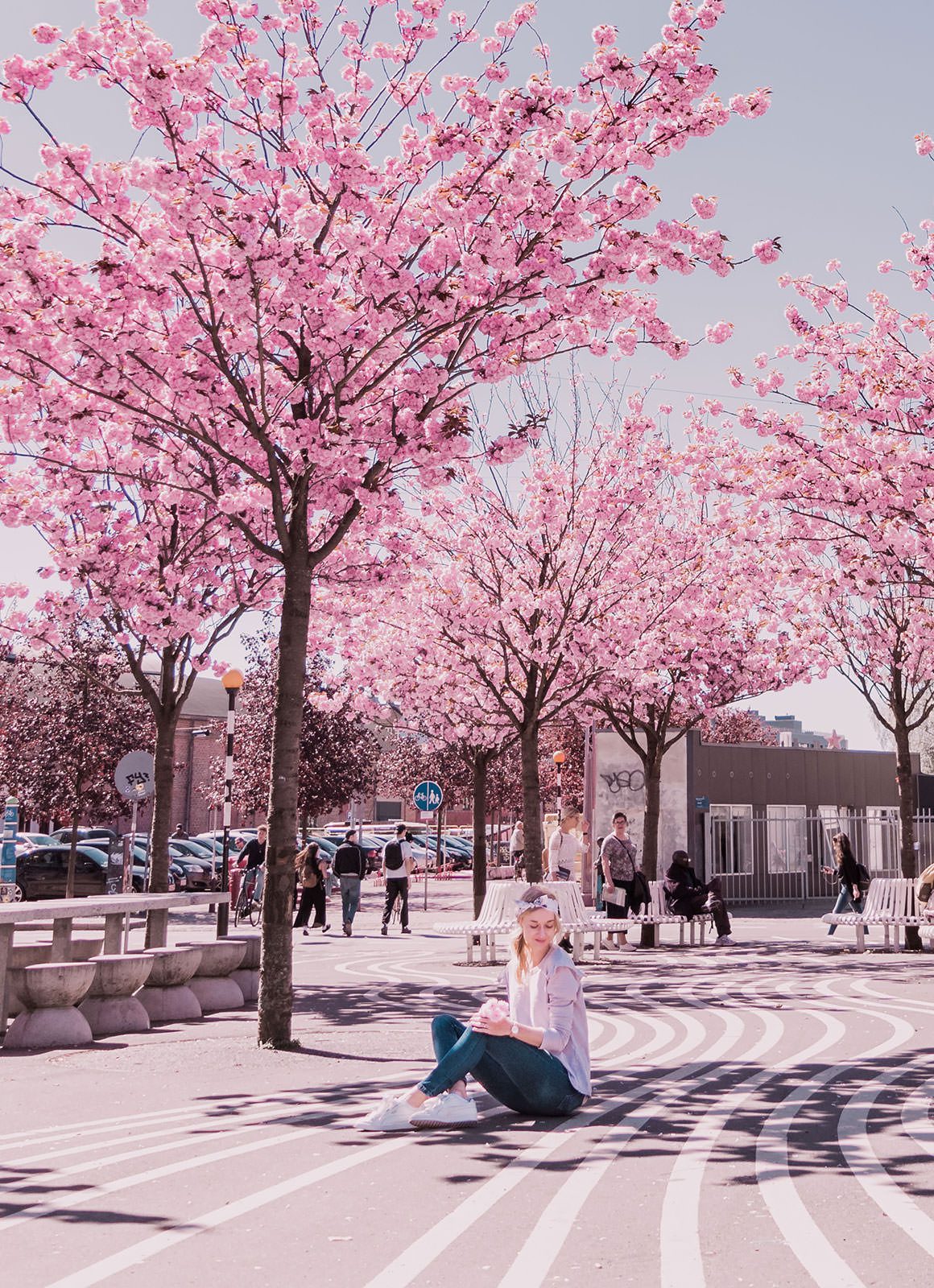 4. Round Tower + Reno Blvd
For a stunning view over the city Round Tower is the place to go. Spiral up the 17th century tower on the internal ramp and pop out of the top to see a 360 degree view of Copenhagen. After all that climbing you might feel like a refreshing drink, and nearby Reno Blvd is the perfect spot to go. It's full of cute colourful buildings, cafes and restaurants. It goes without saying but I was quite a fan of the pink building here!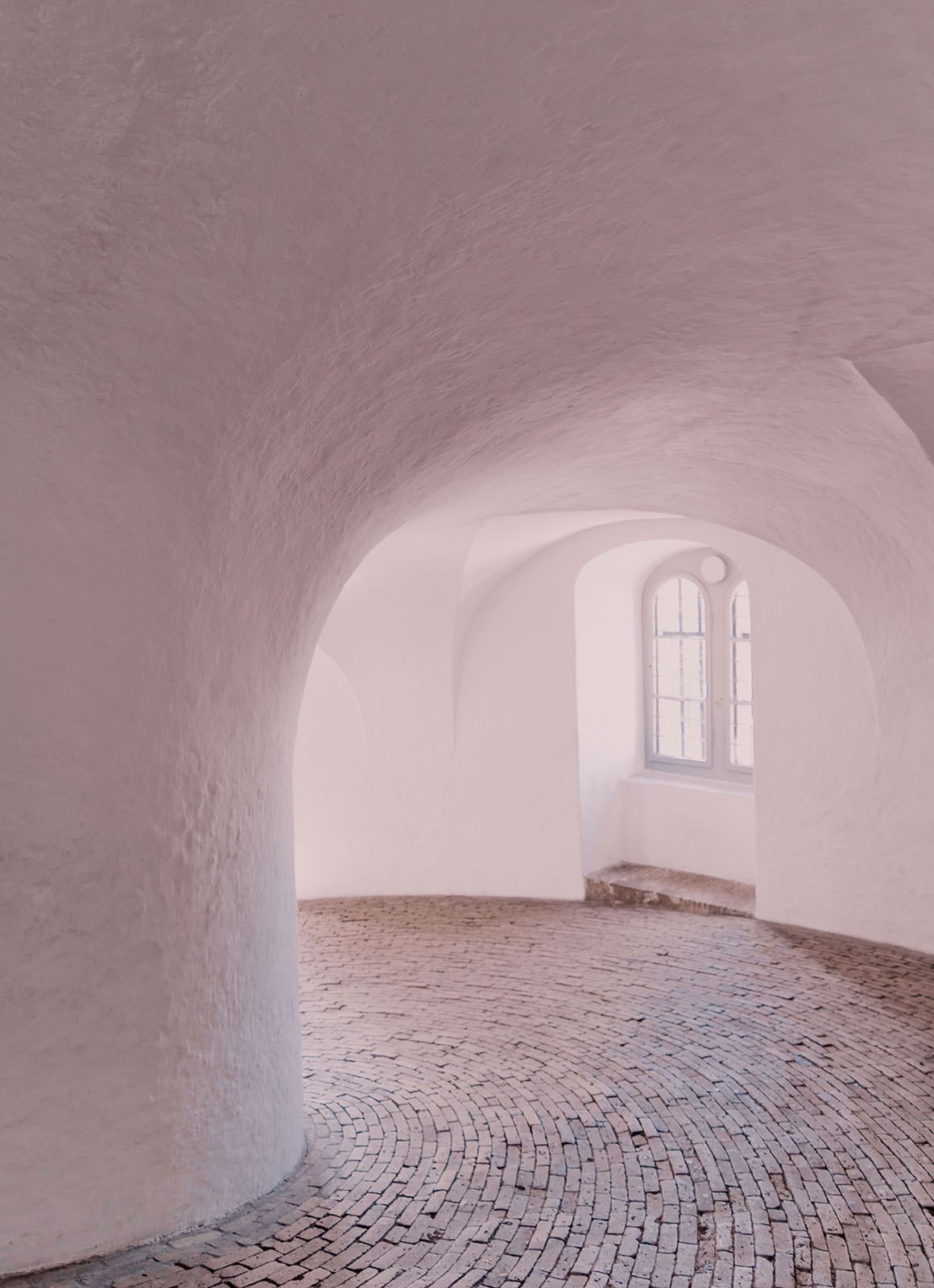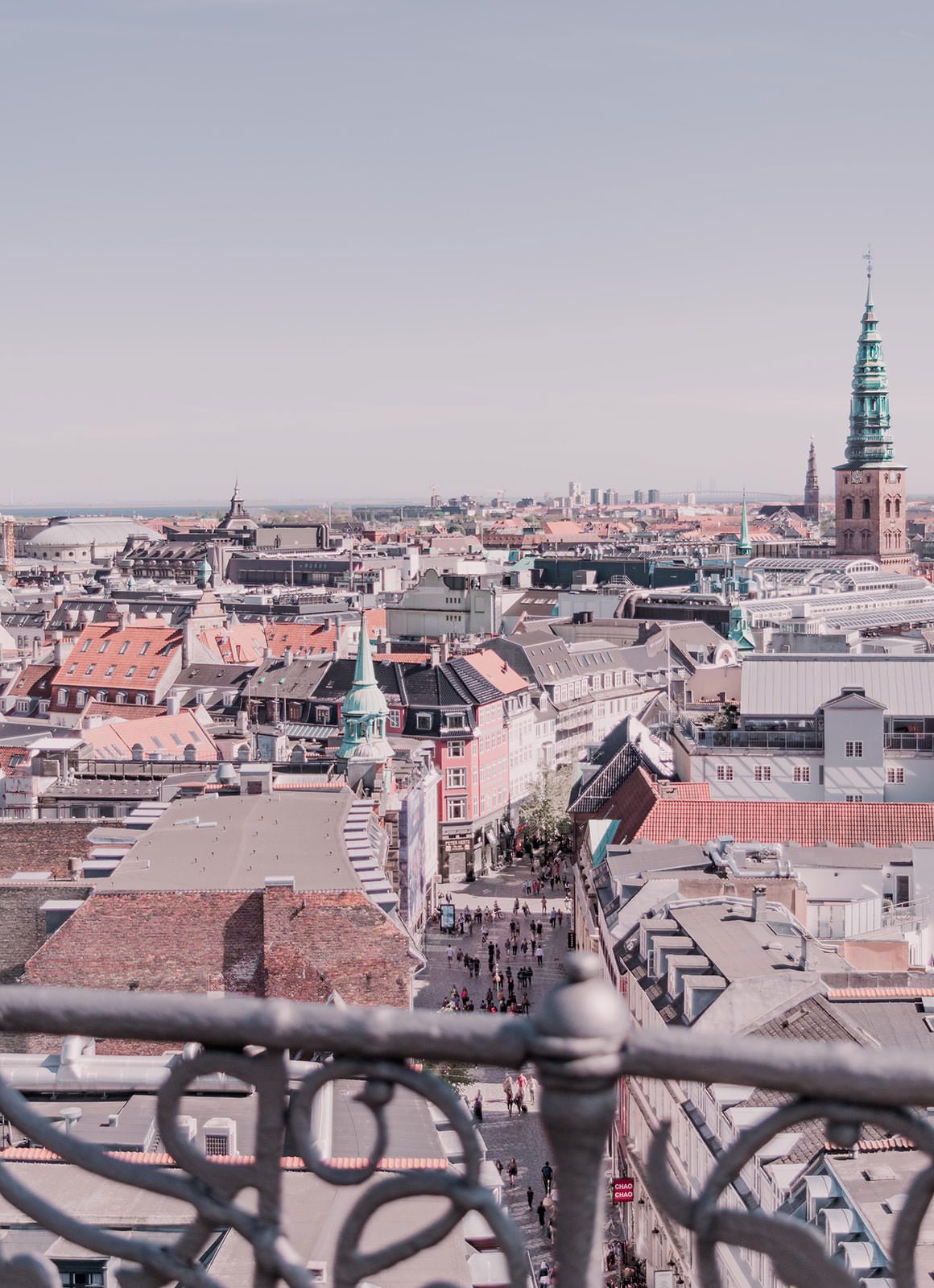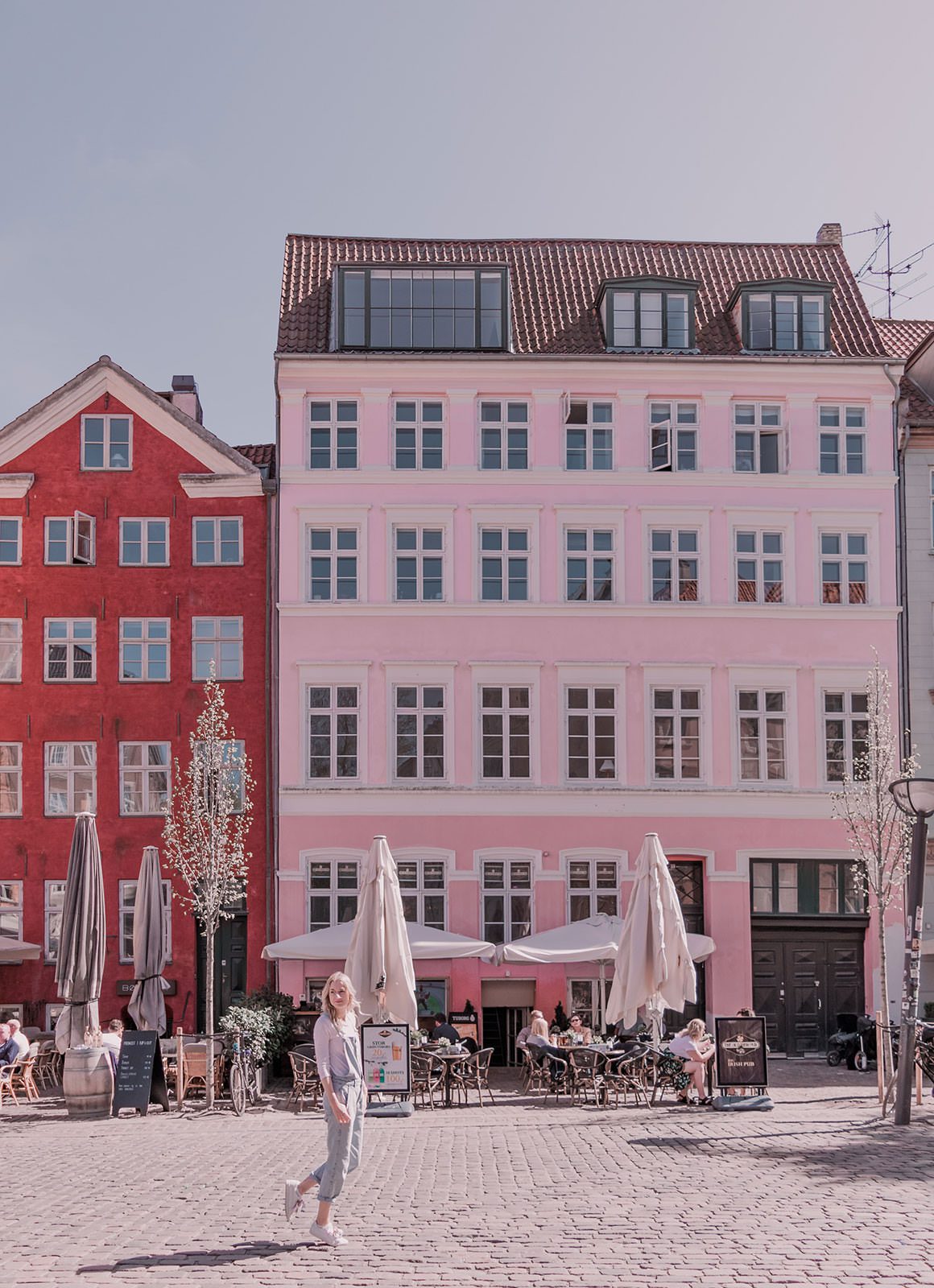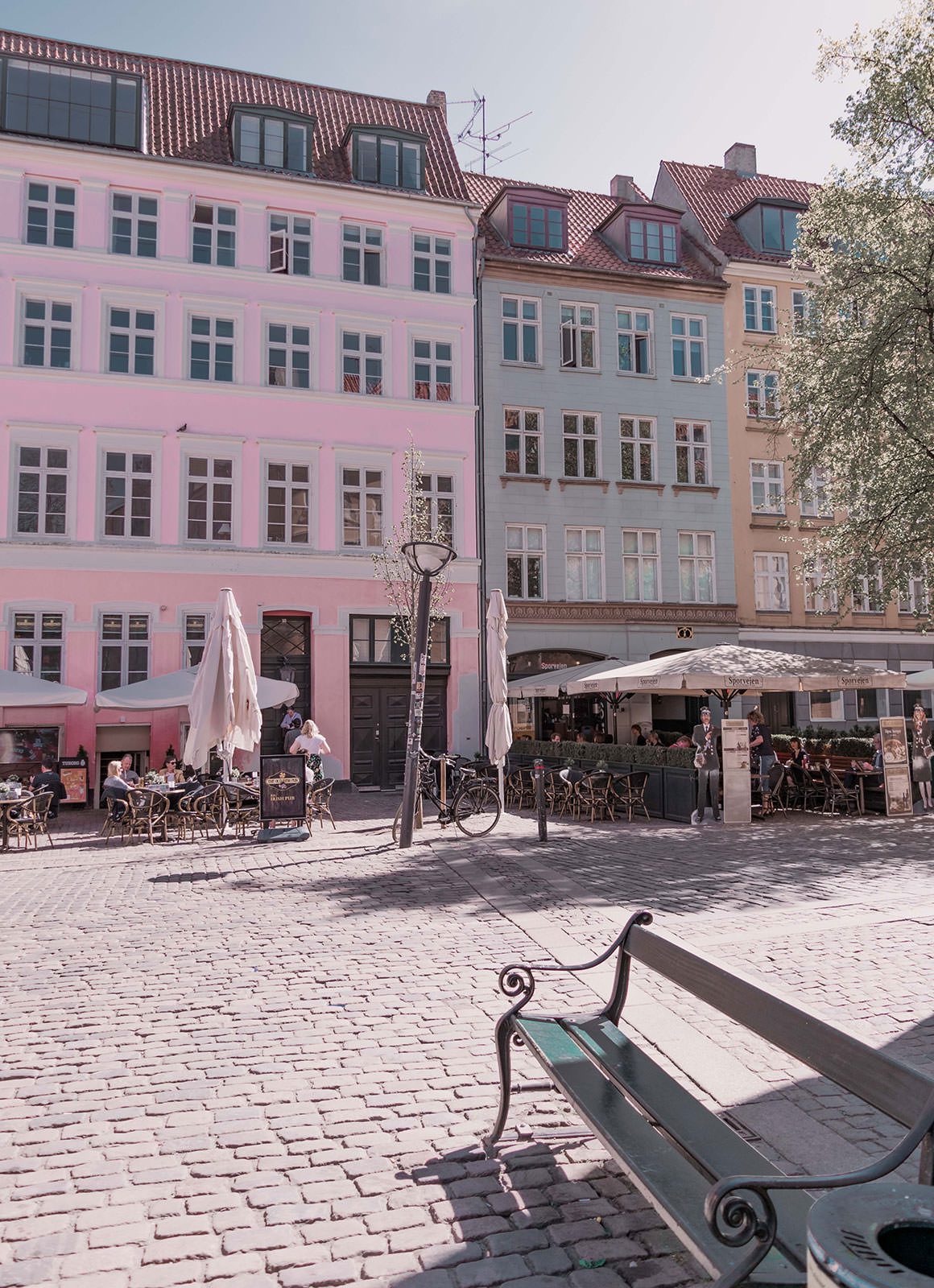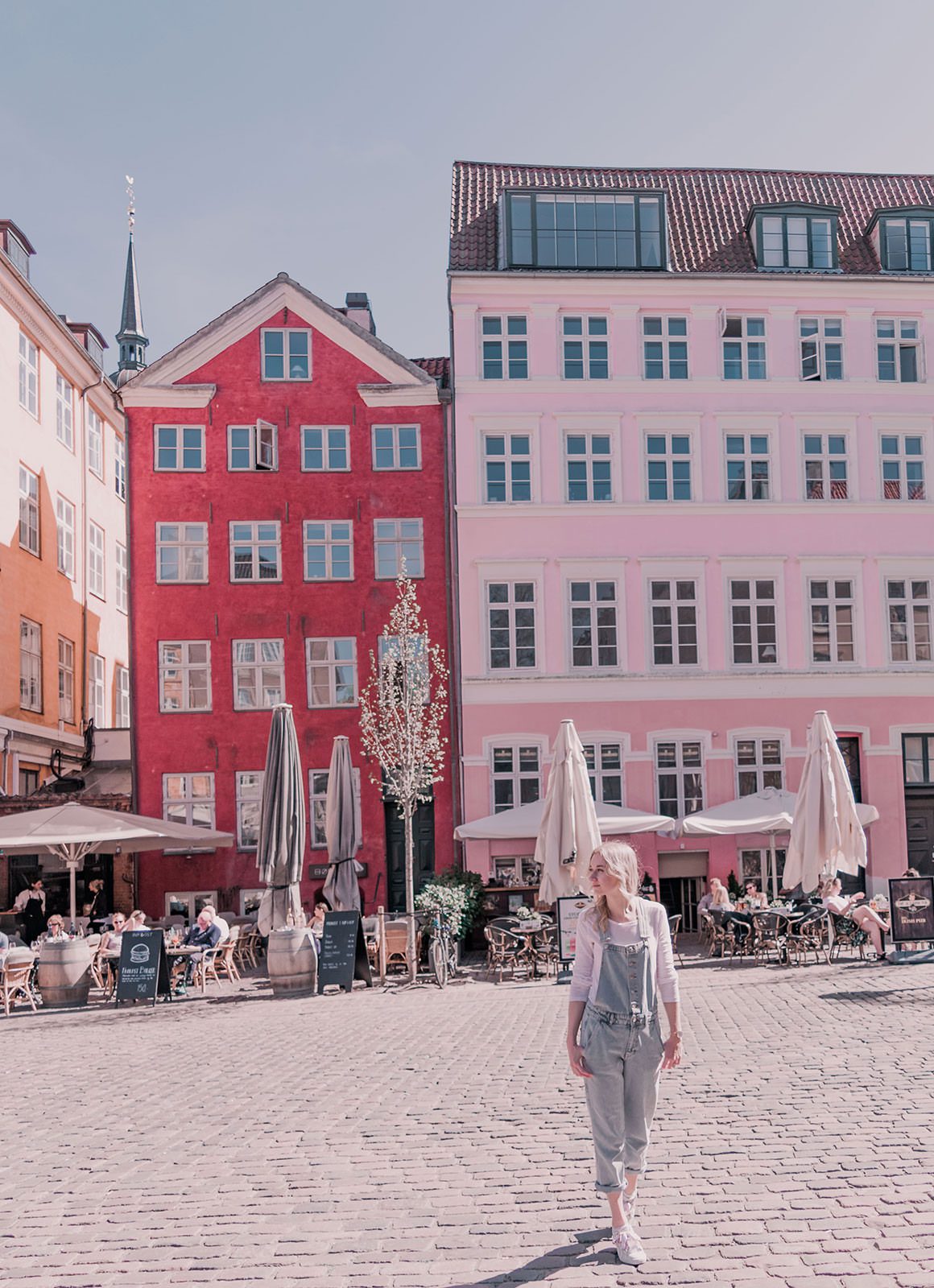 5. Rosenborg Castle + The King's Garden
Picnicking in the King's Garden, under a blossom tree, with Rosenborg Castle views was one of my favourite fairytale moments in Copenhagen. This King's Garden is the oldest royal garden in Denmark, established in the early 1600's, and is full of beautiful trees, flowers and sculptures. We loved it so much we visited twice! Bring a packed picnic or stop by the Garden Restaurant & Bar across the road and order yourself a picnic basket. Baskets come with a blanket, cutlery, glasses, plates and lots of yummy food.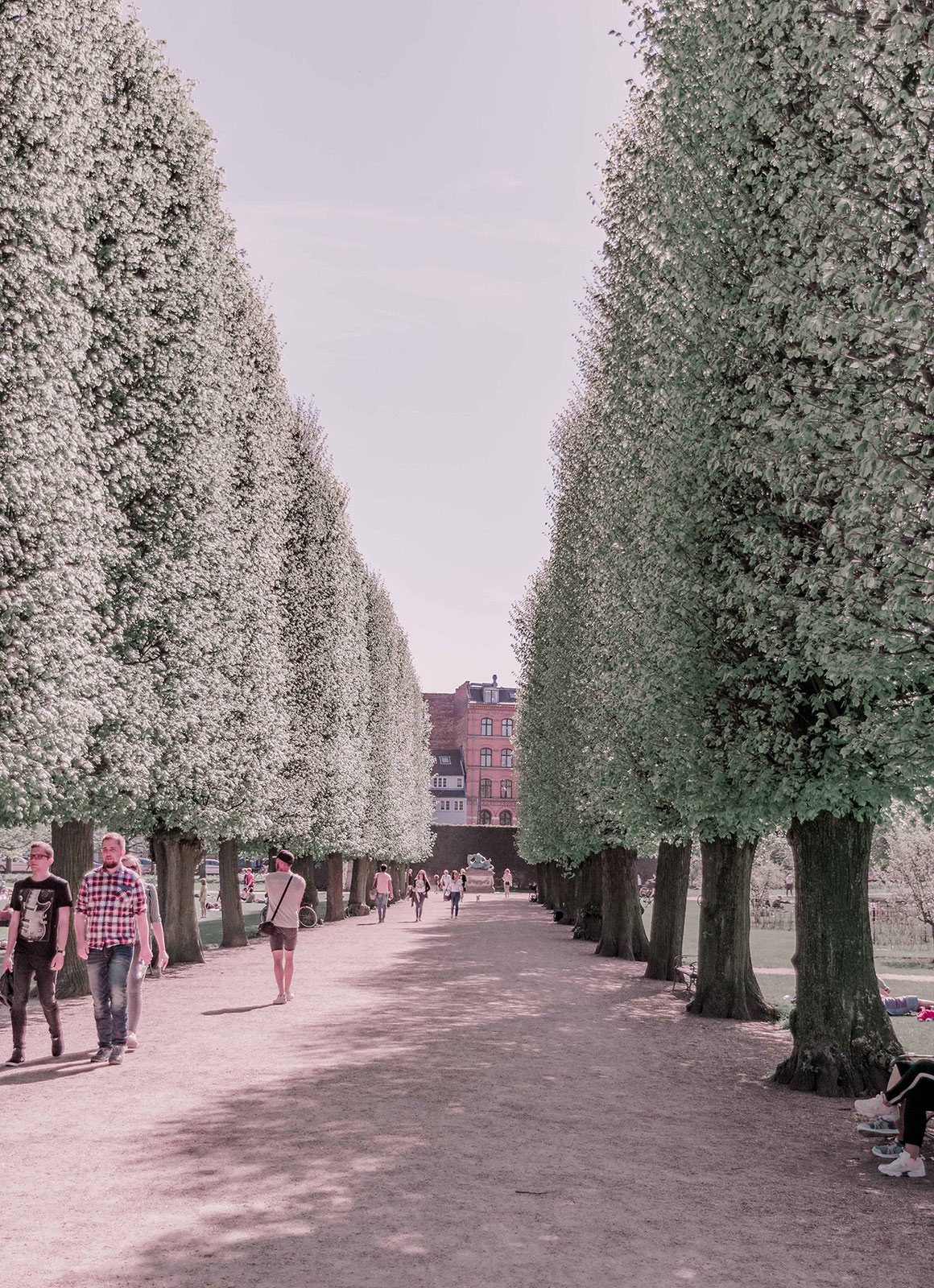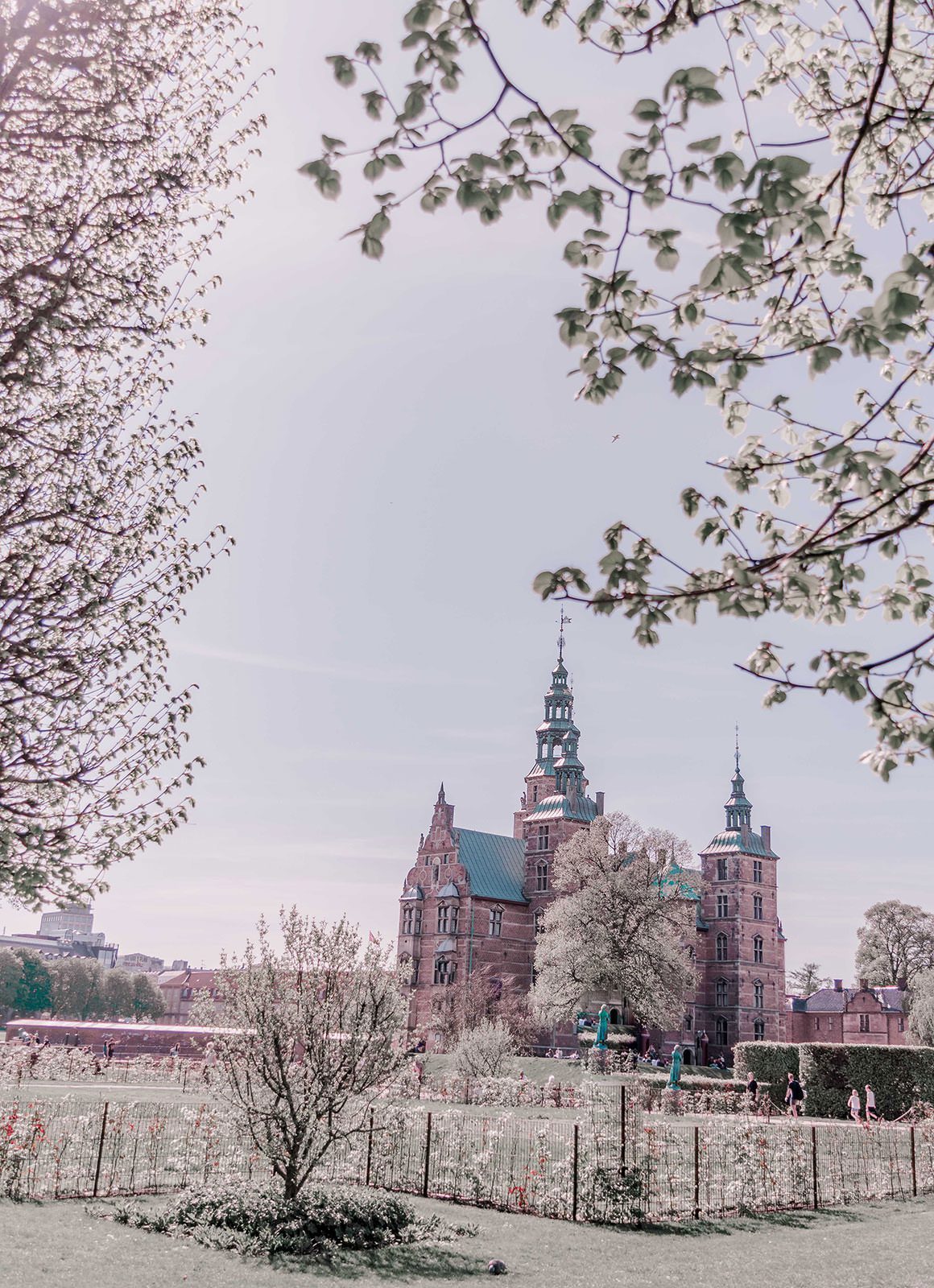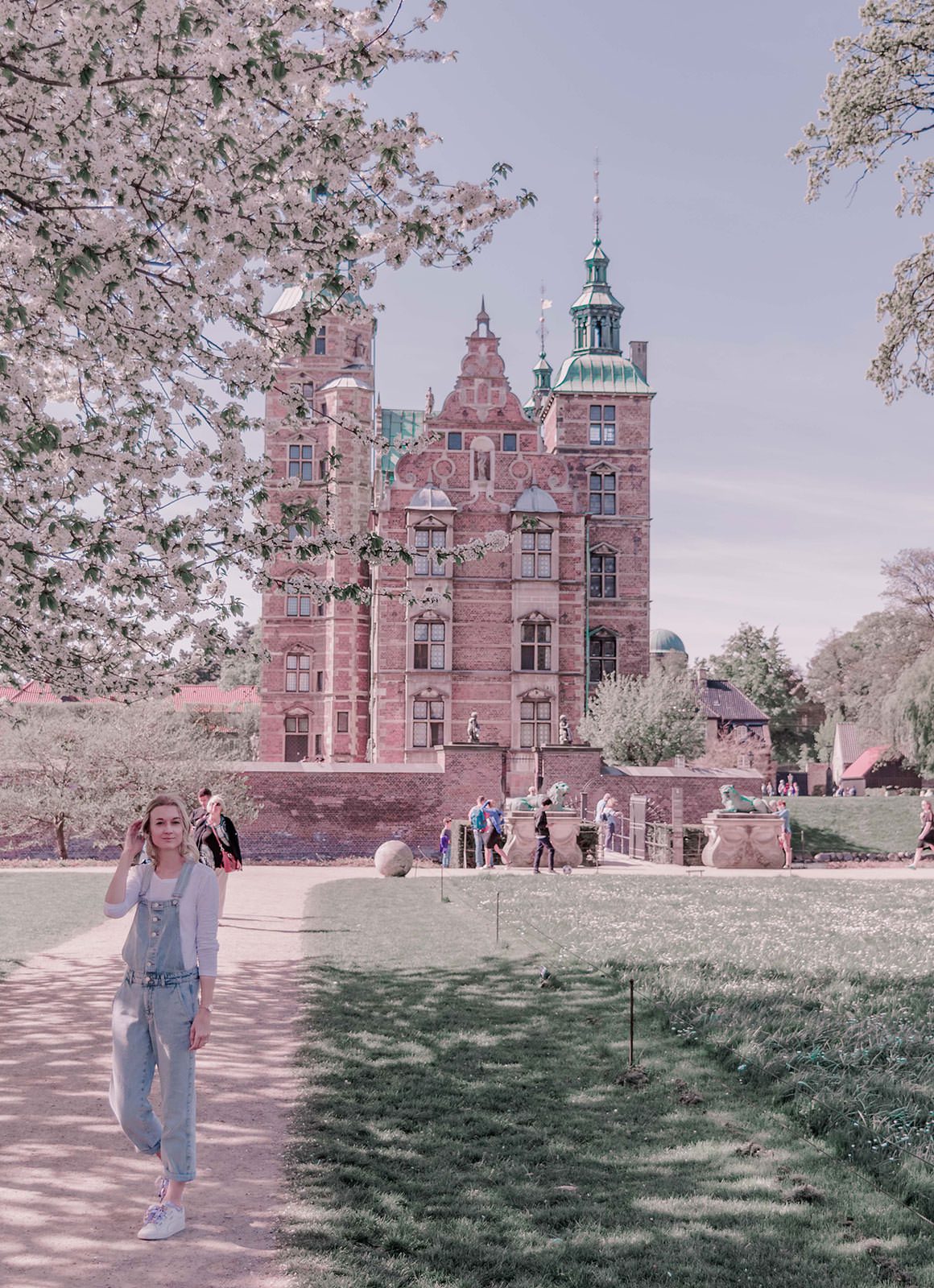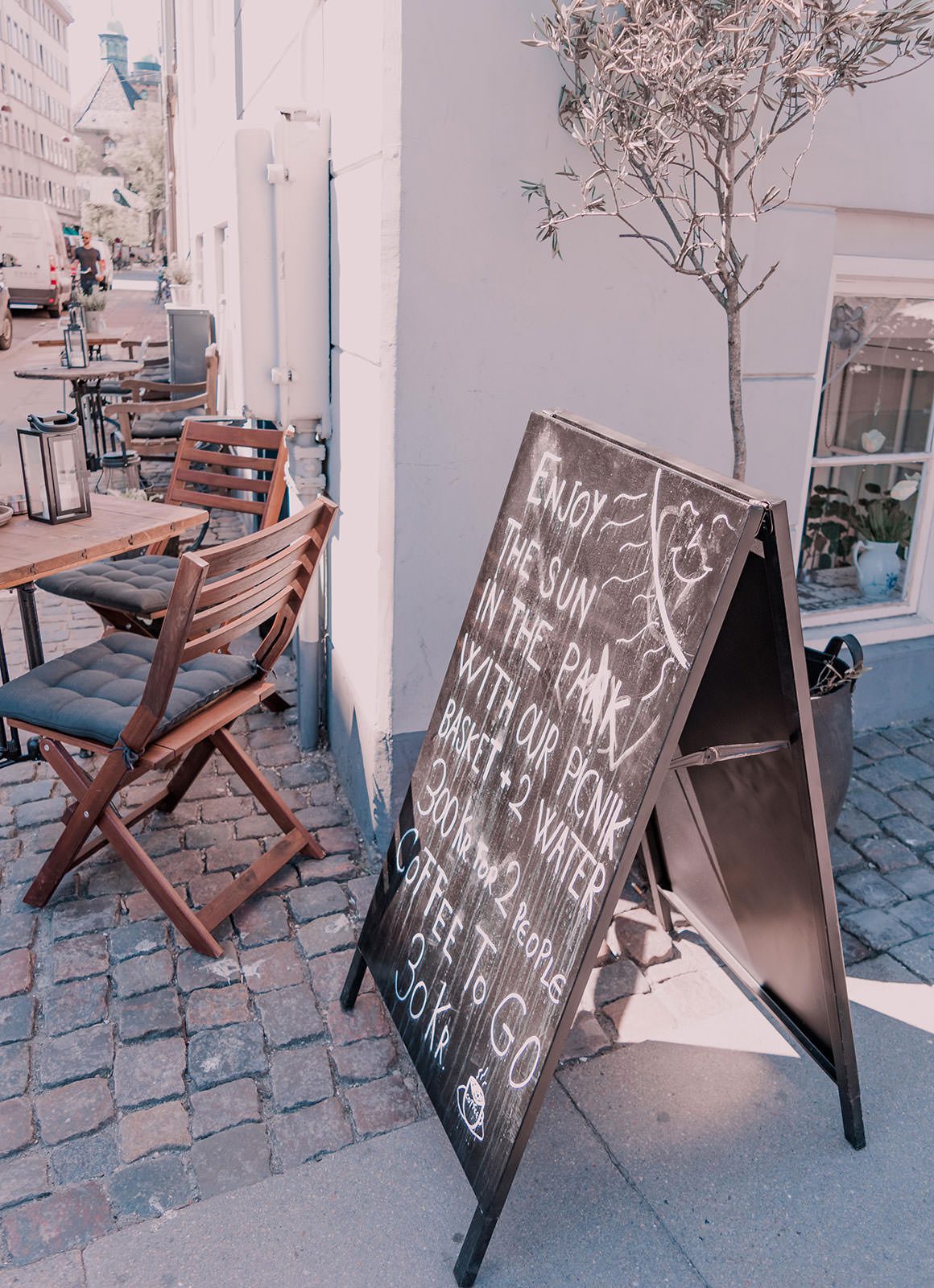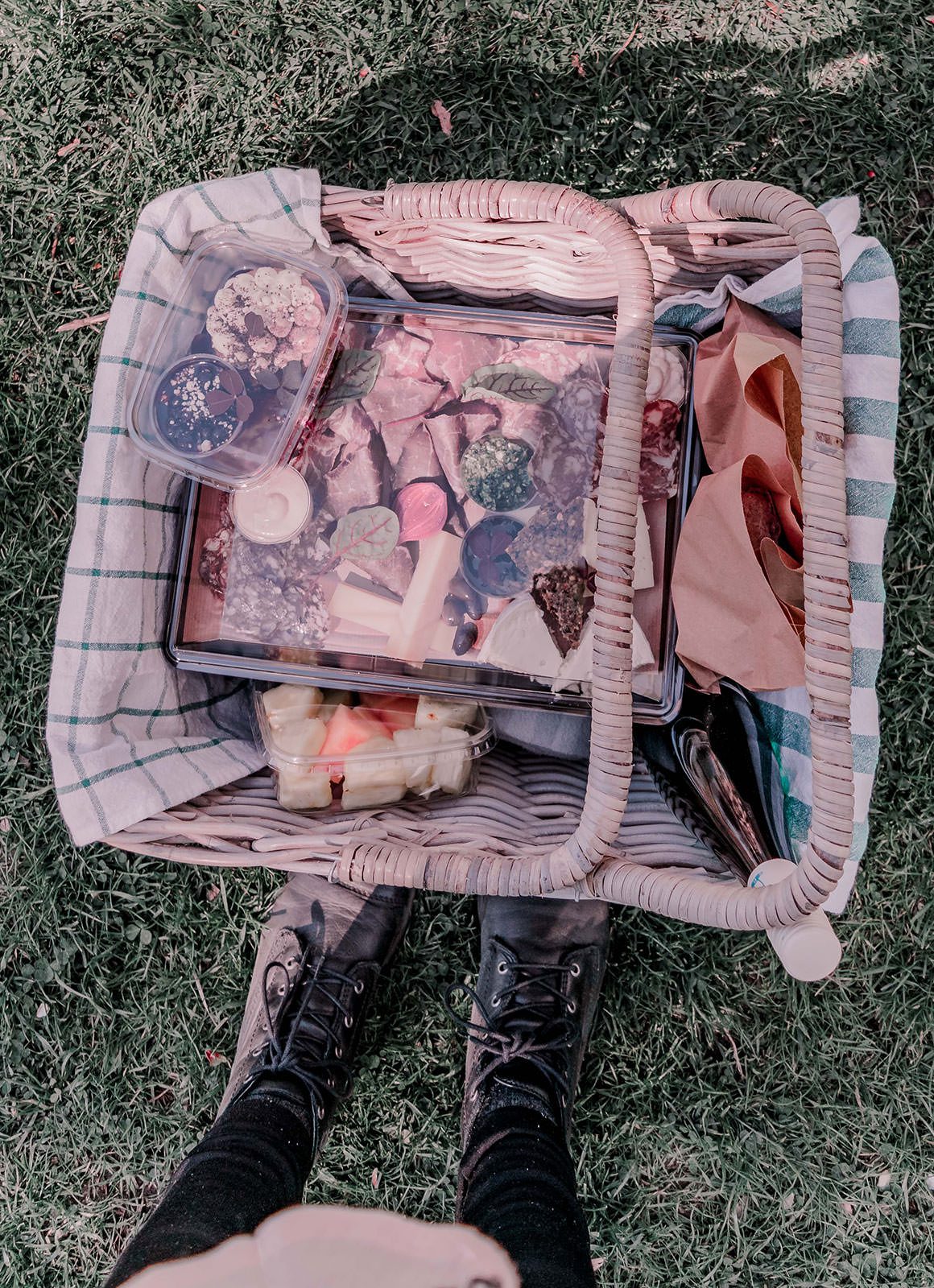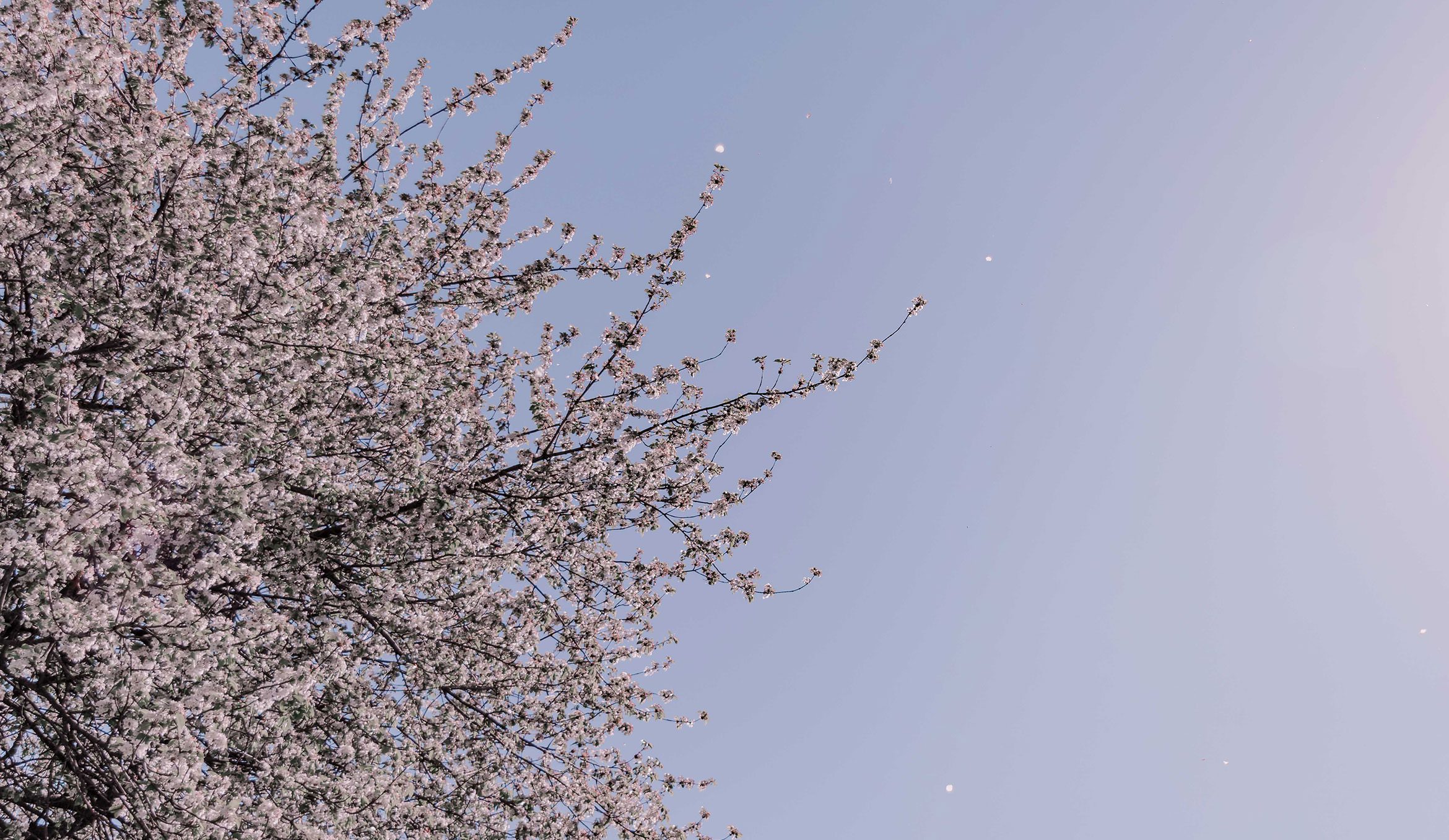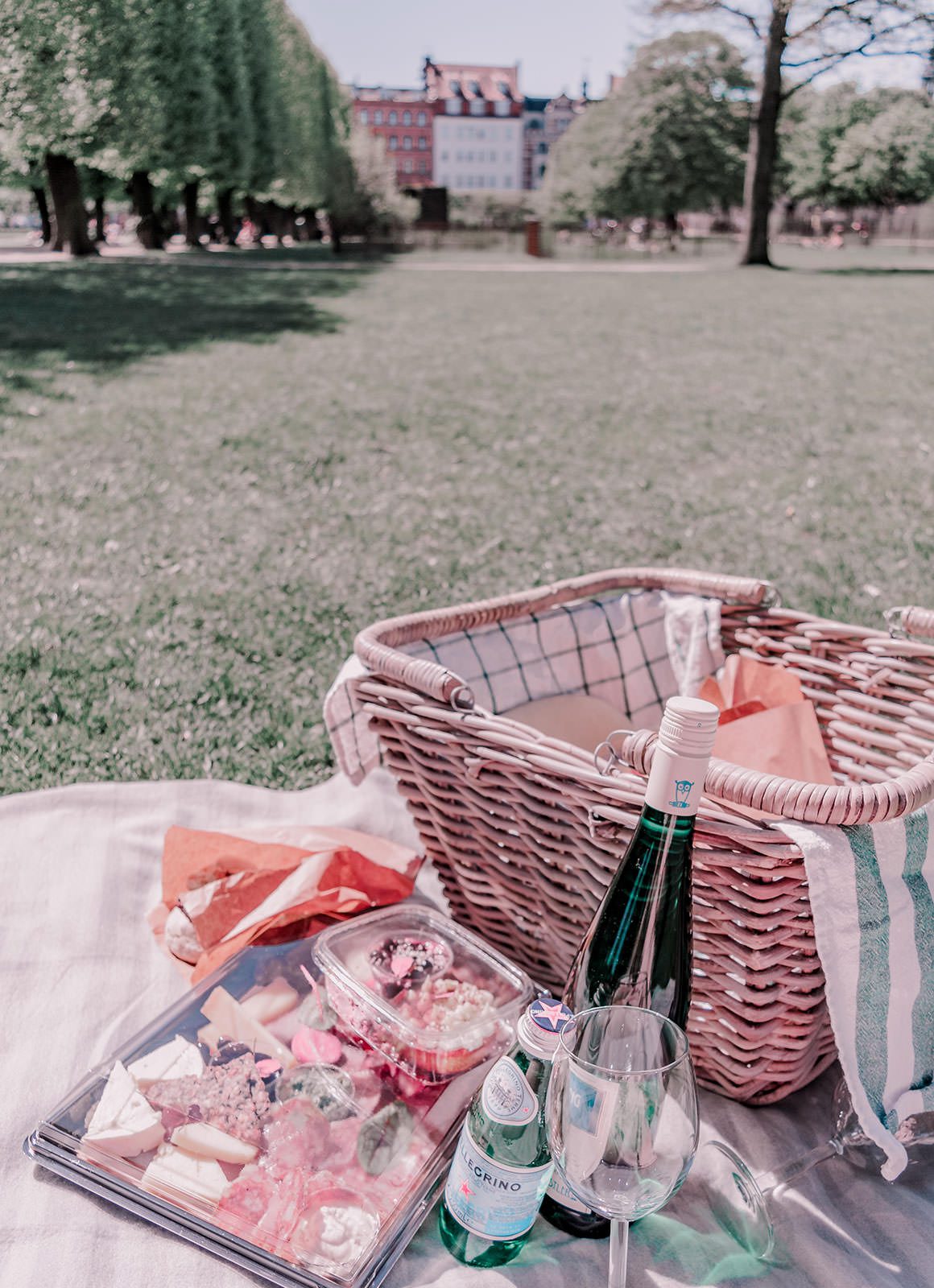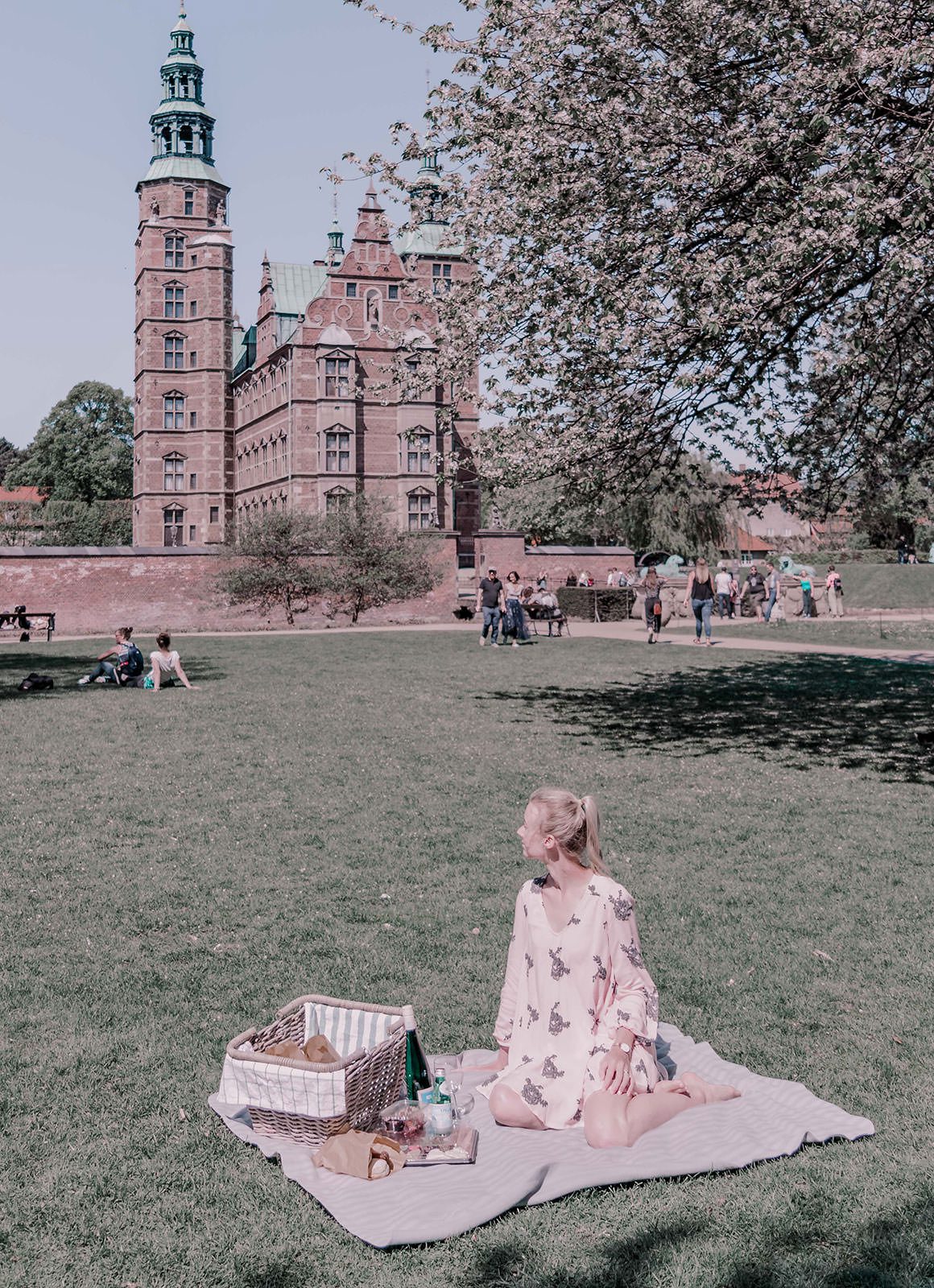 6. Copenhagen Botanical Gardens
Anywhere that involves pretty blooms has my vote, so I always love visiting city Botanical Gardens when we travel. The Copenhagen Botanical Gardens perfect place for a relaxing stroll or casual twirl under the blossom trees, before or after your picnic at the King's Garden. The Palm House is also home to a stunning white staircase that I just had to see.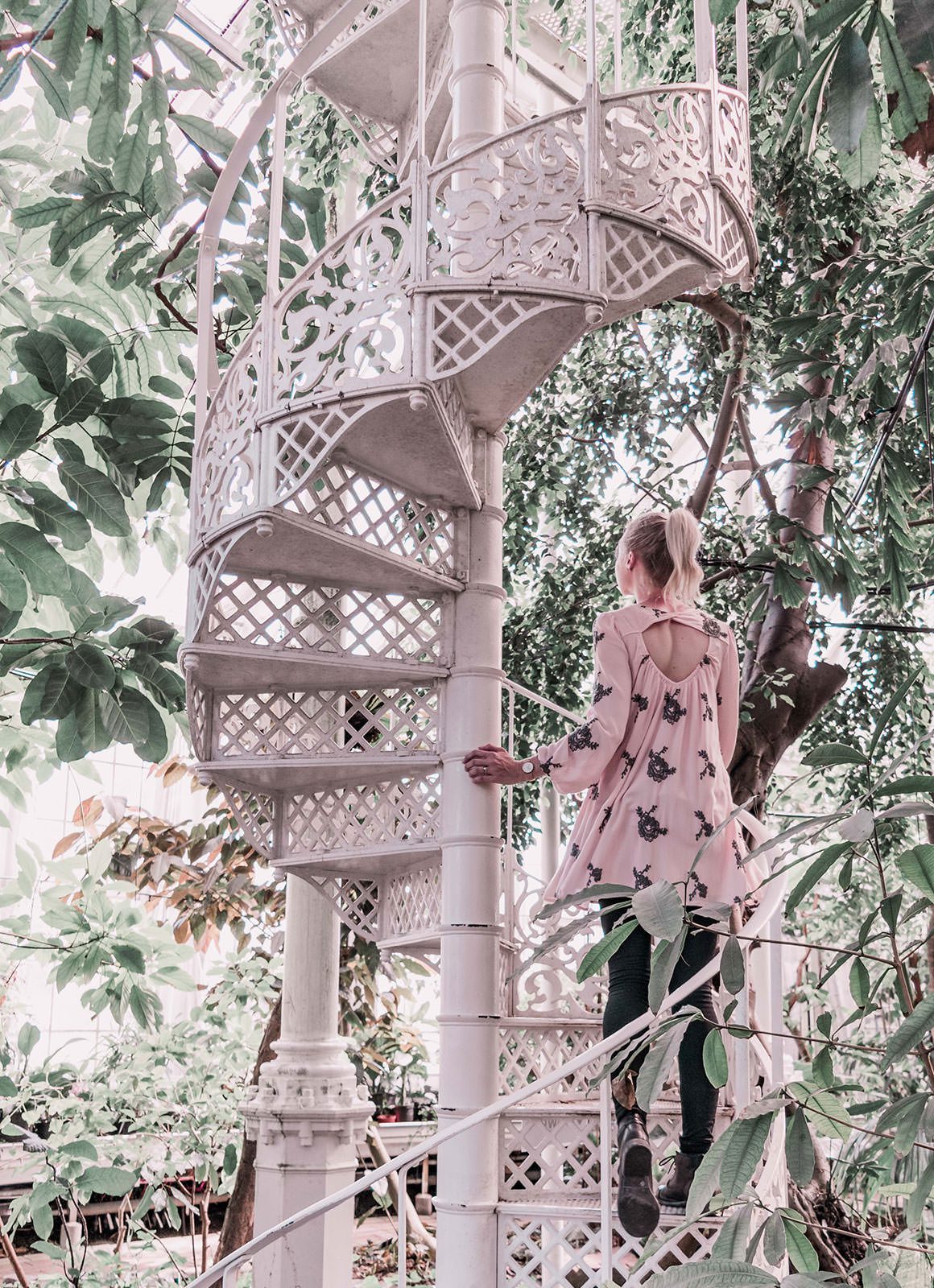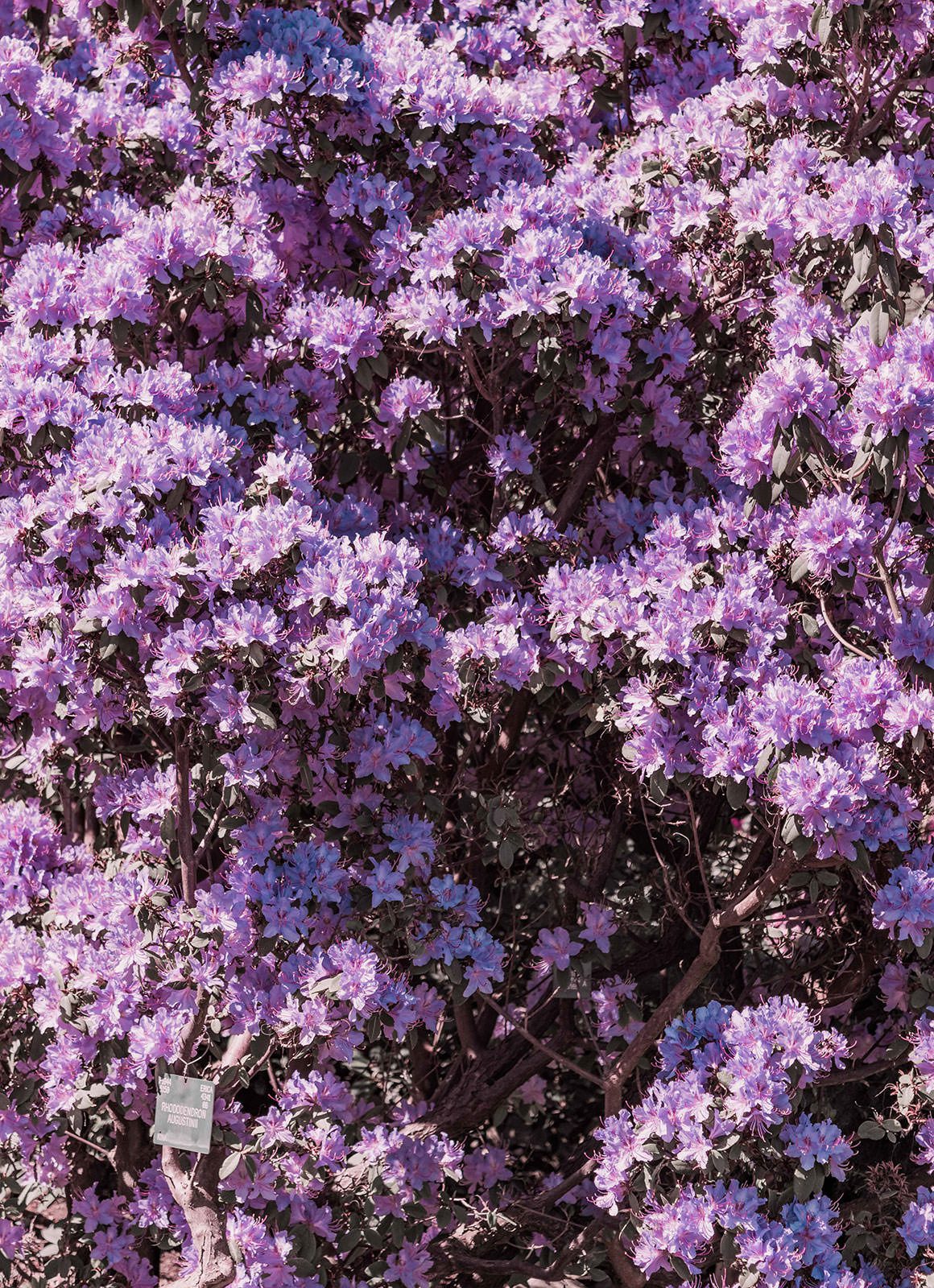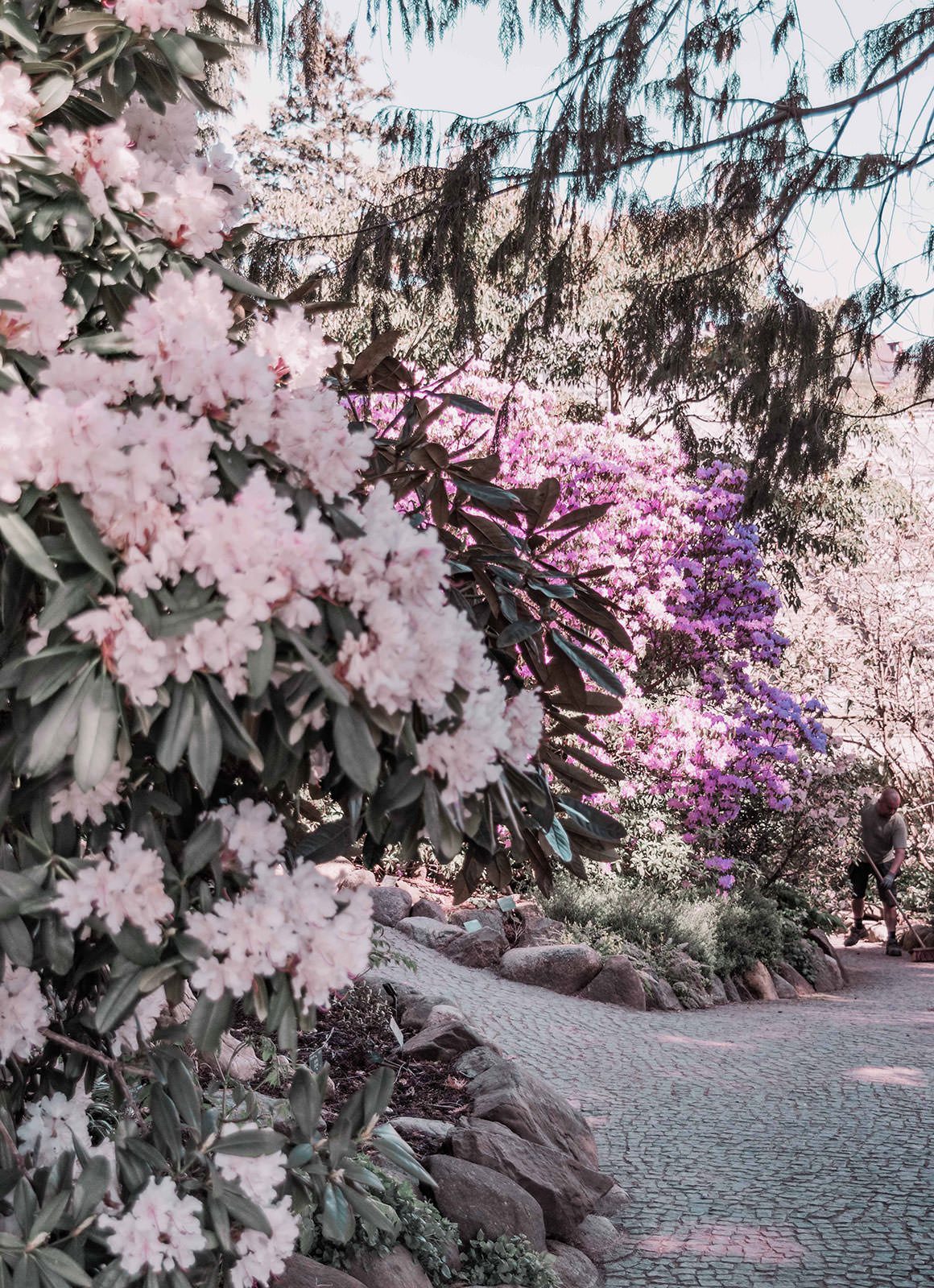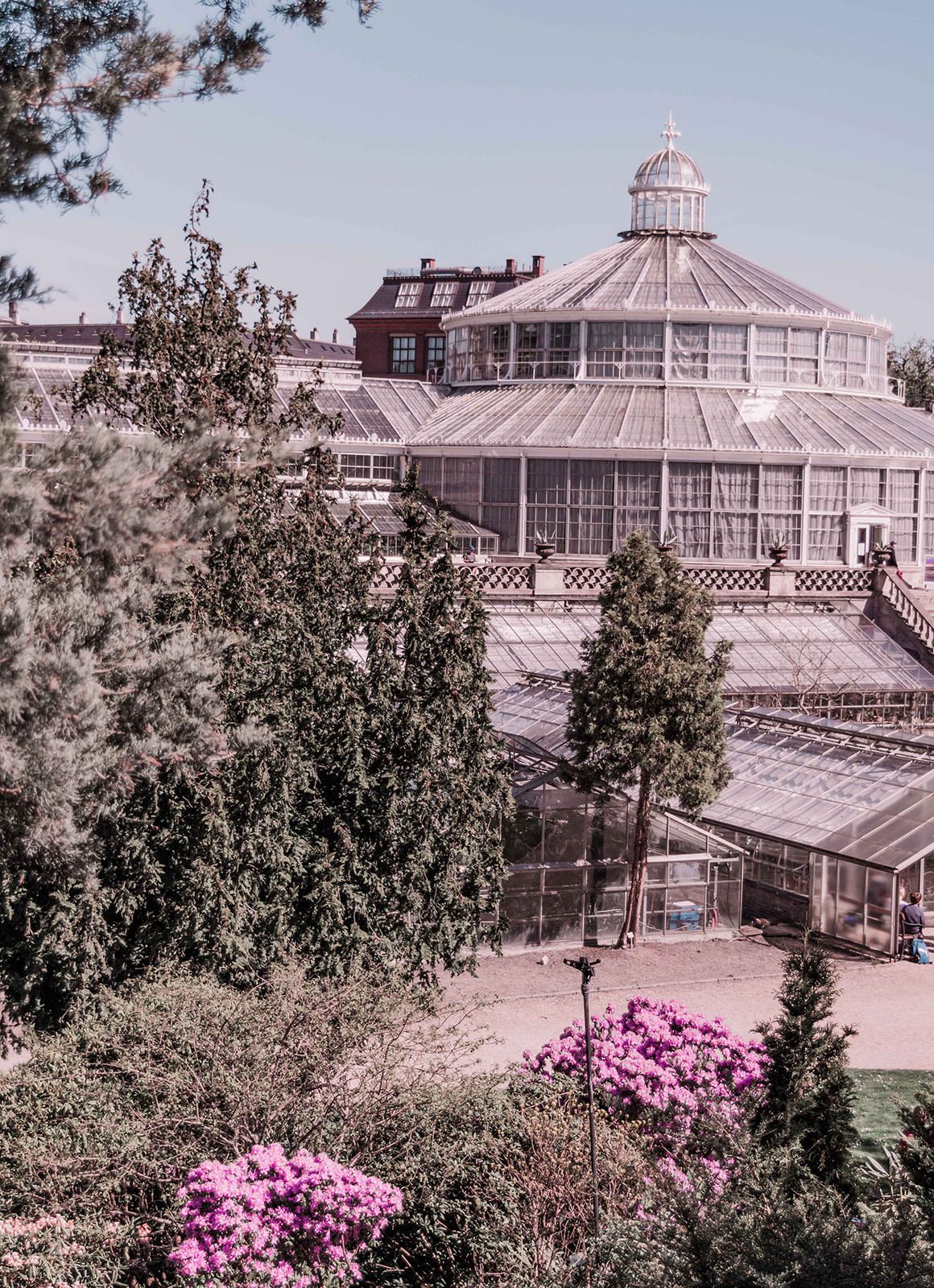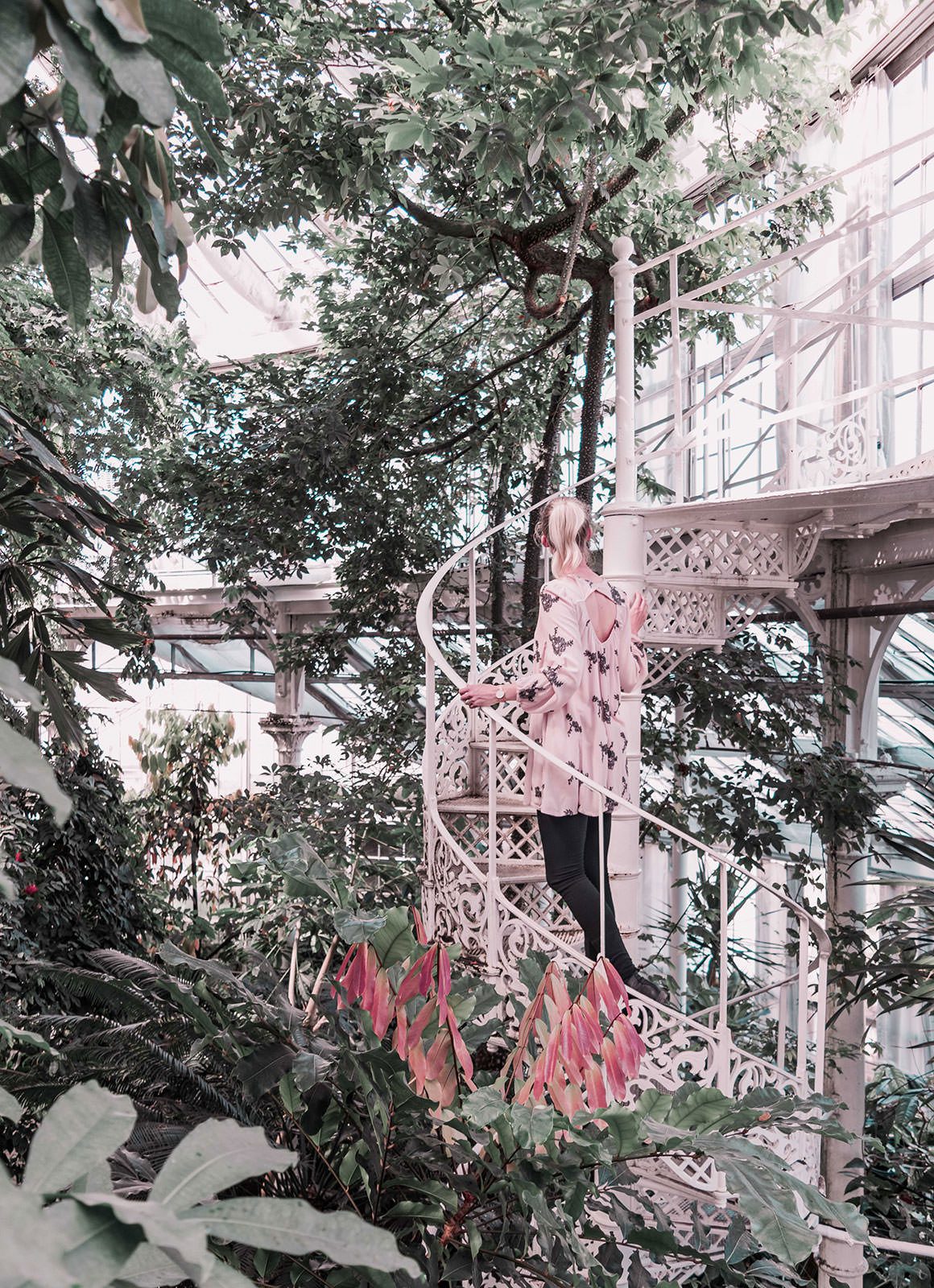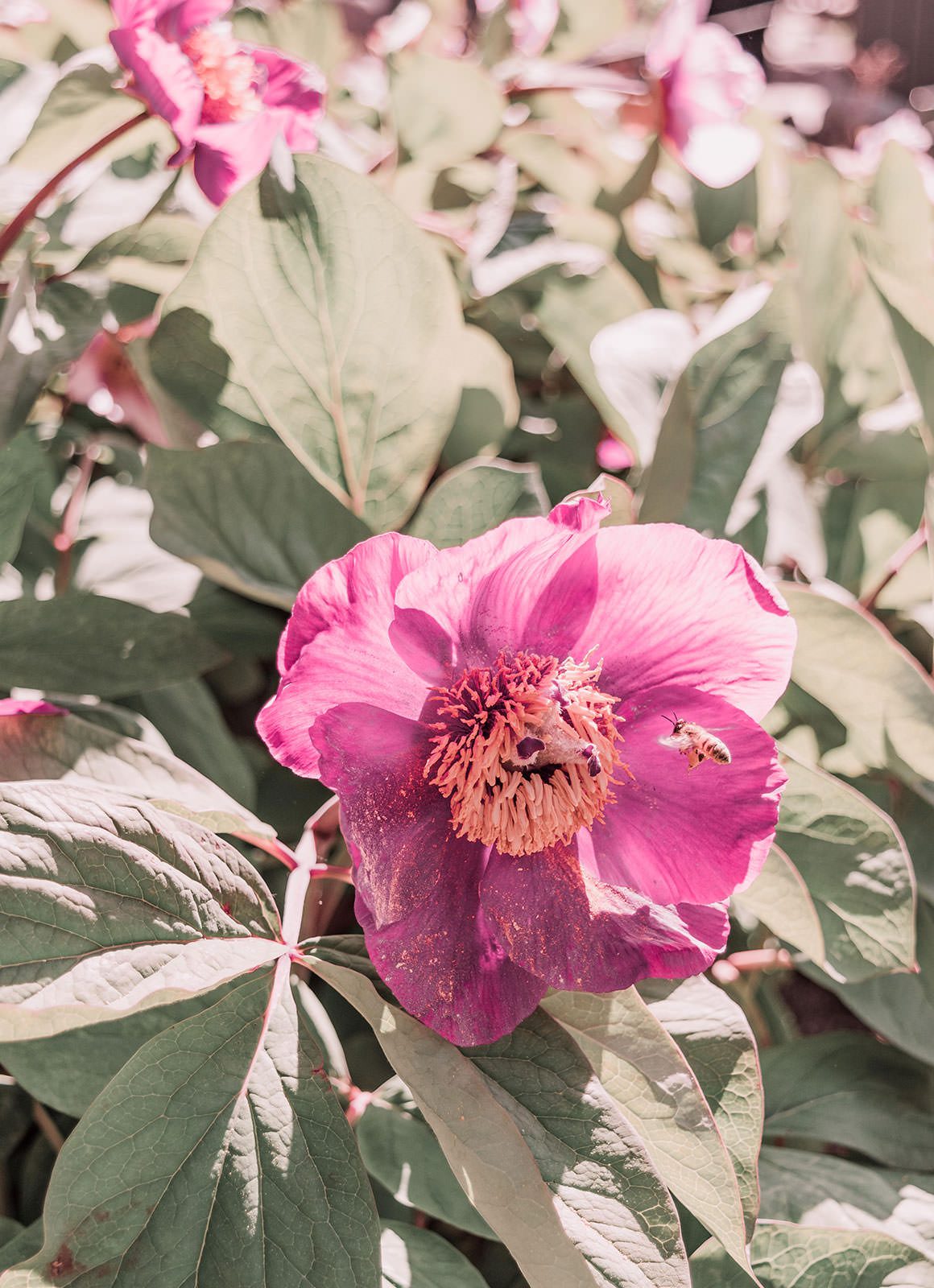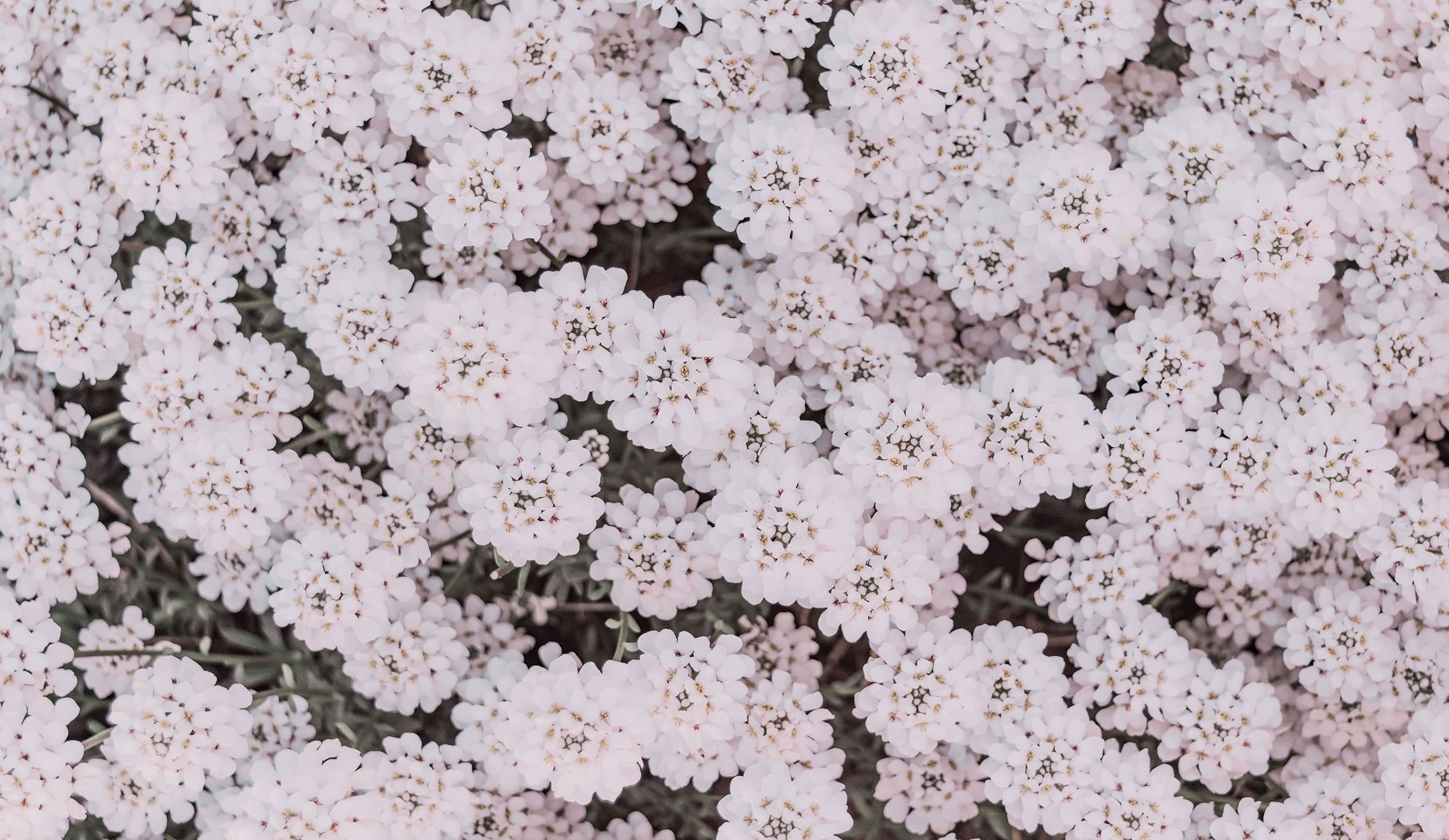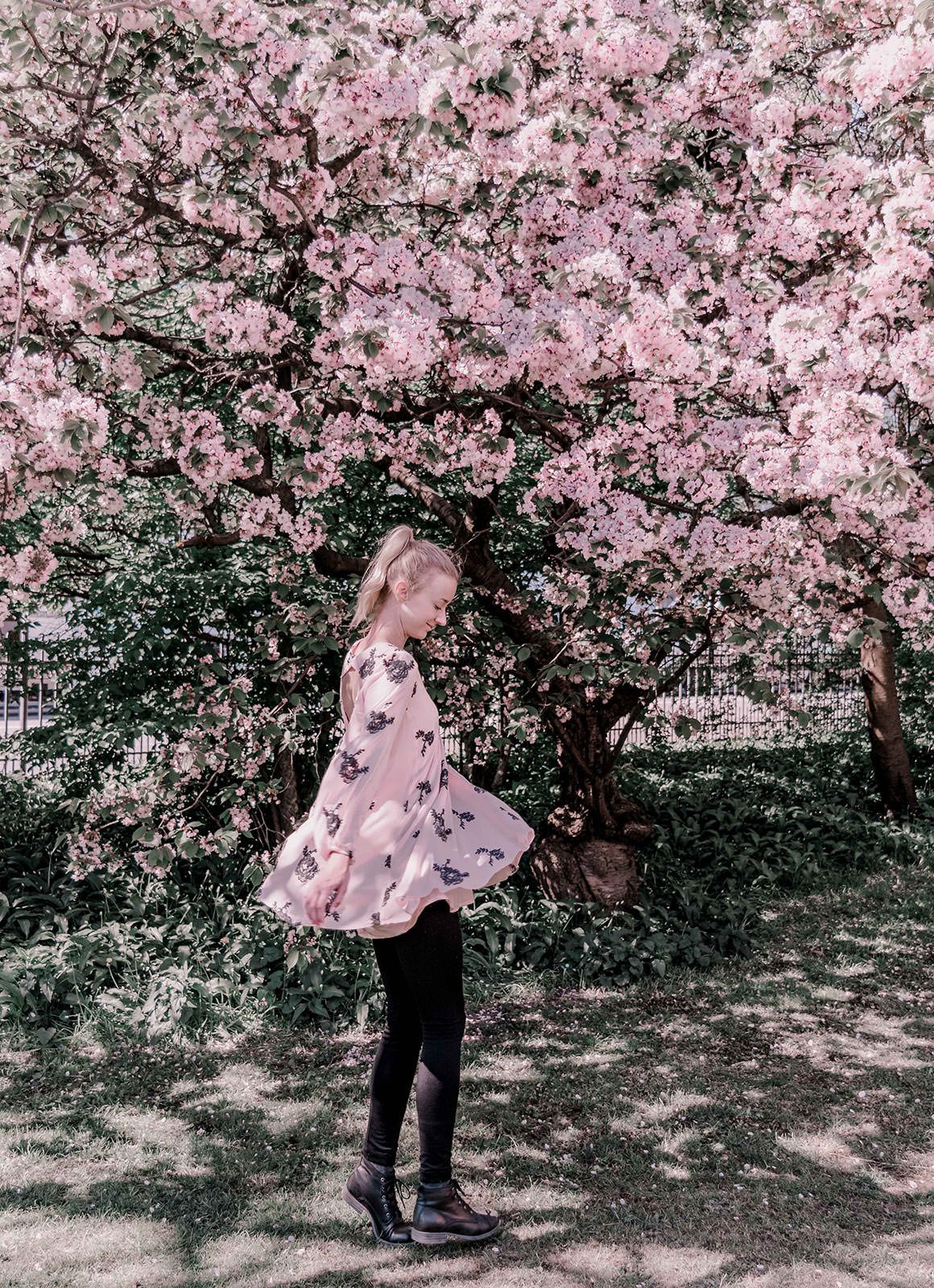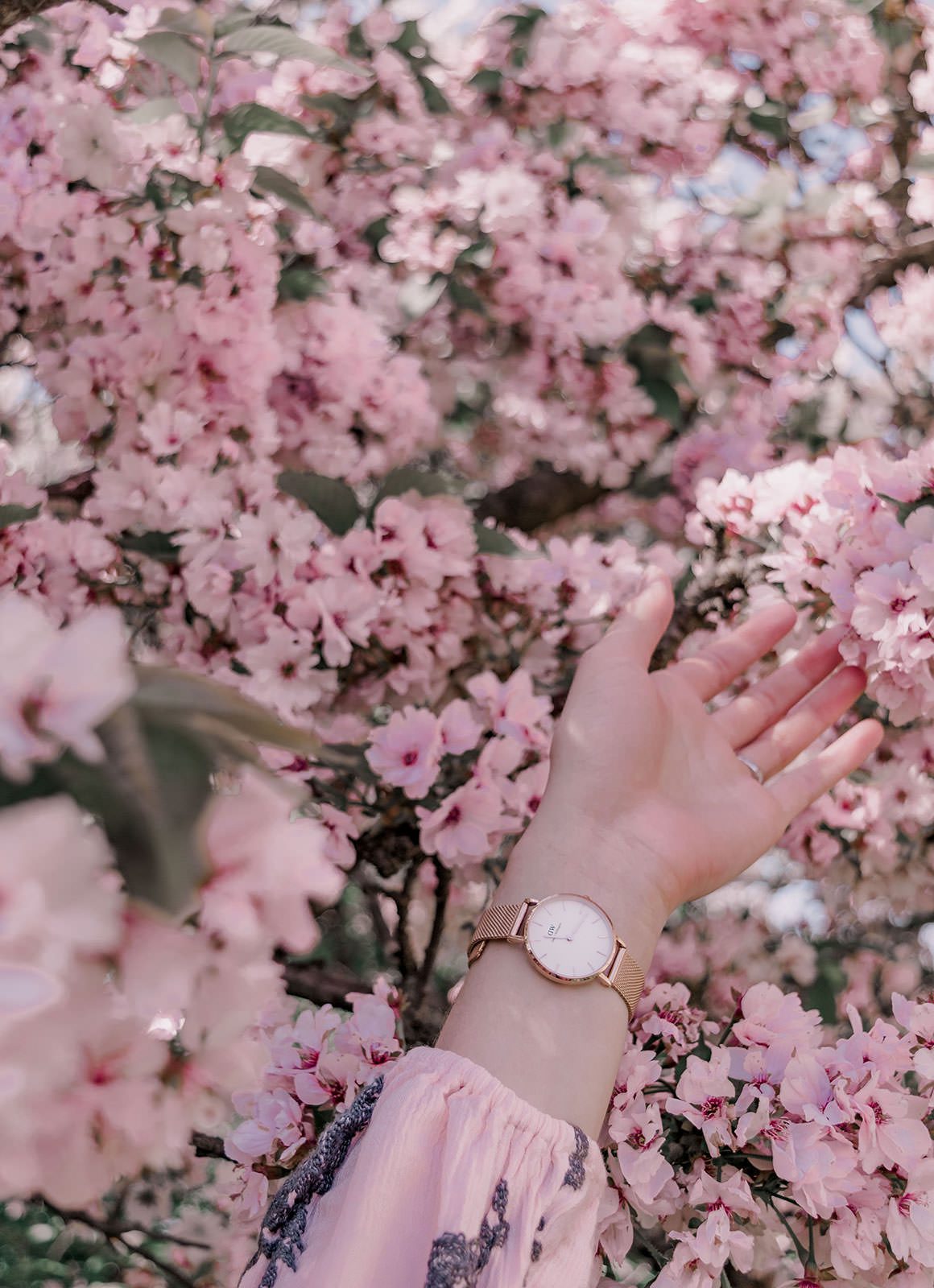 7. Tivoli Gardens Amusement Park
Tivoli Gardens has to be one of the prettiest amusement parks I've ever visited. Opened in 1843, Tivoli has an incredibly cute nostalgic vibe but has also been perfectly maintained. We timed our visit for the evening to catch sunset and see all the magical lights around the park come on.
Jase and I decided that we wanted to try the Star Flyer ride – this is the one you can see high up in the sky. It turns out I was not such a fan, it was way scarier that I thought it would be. But on the plus side it did have incredible views over the city at night!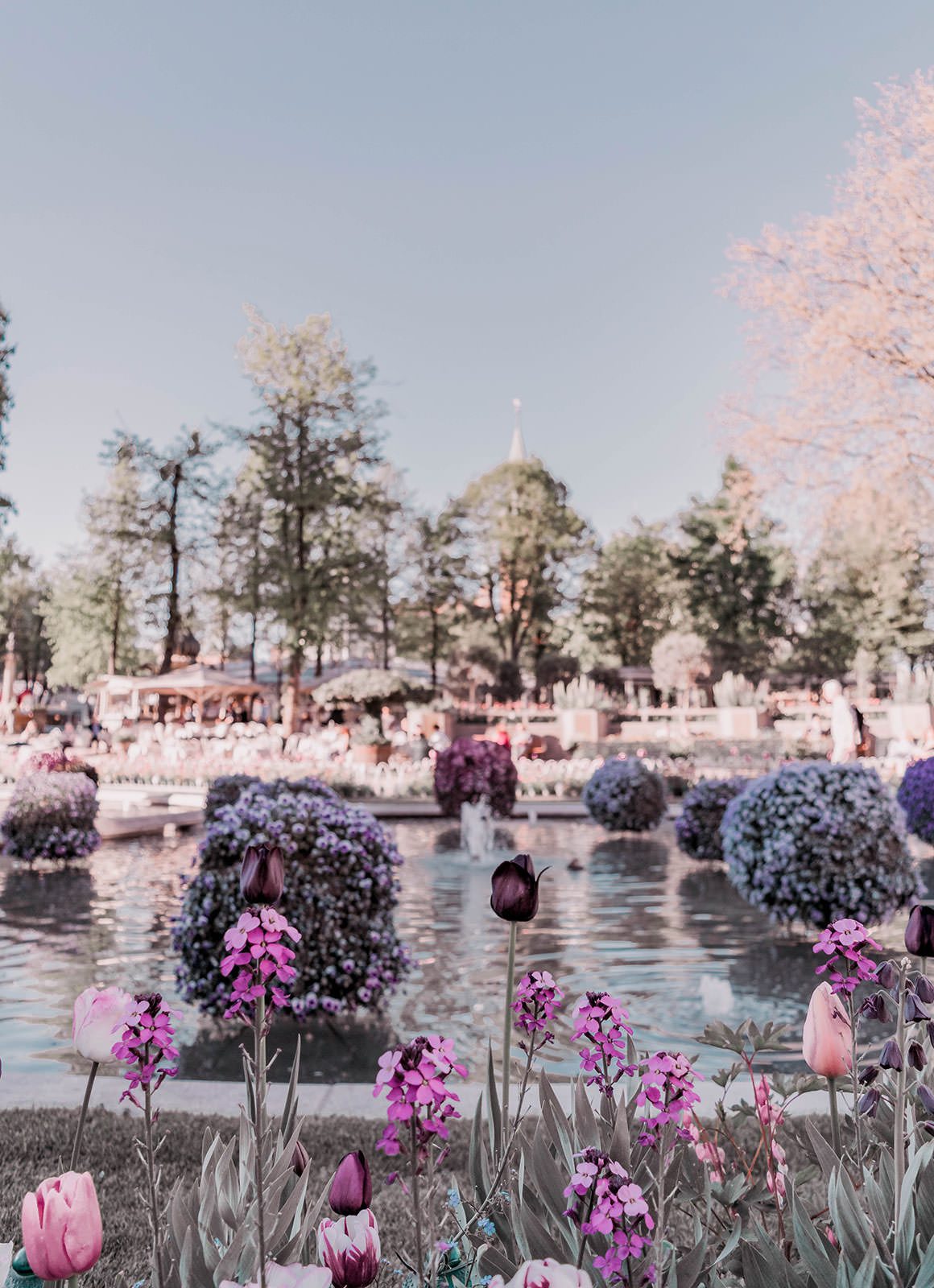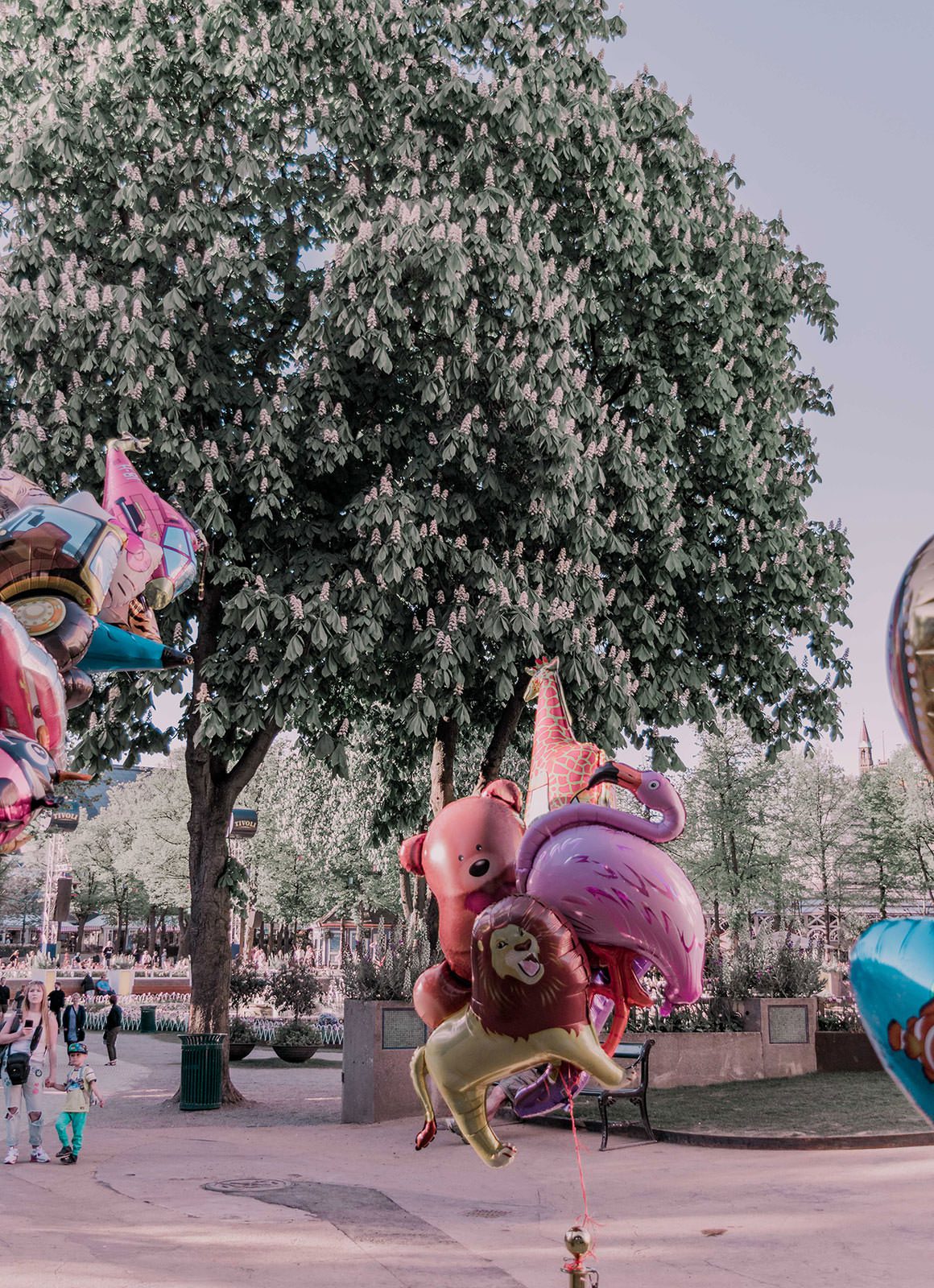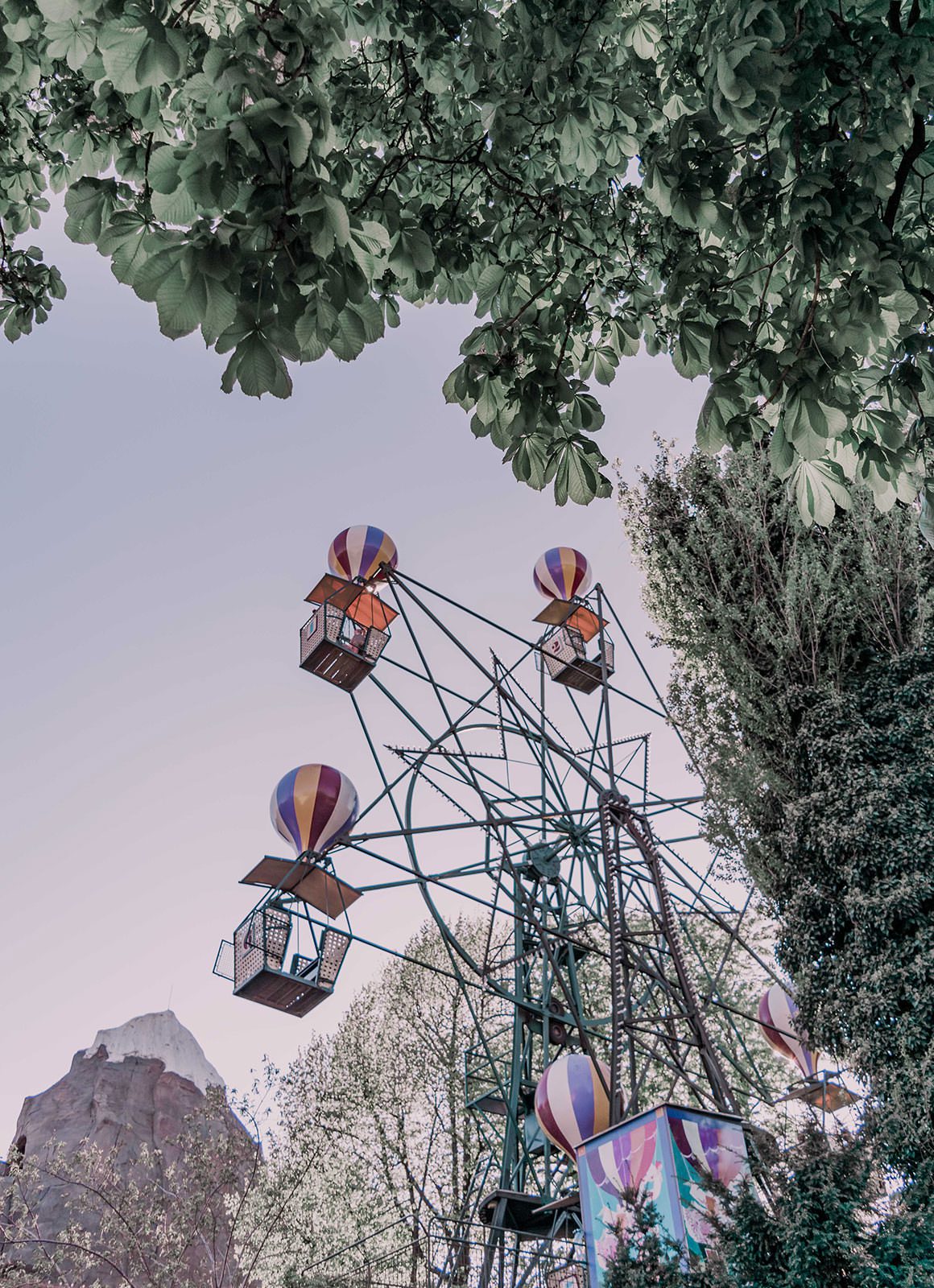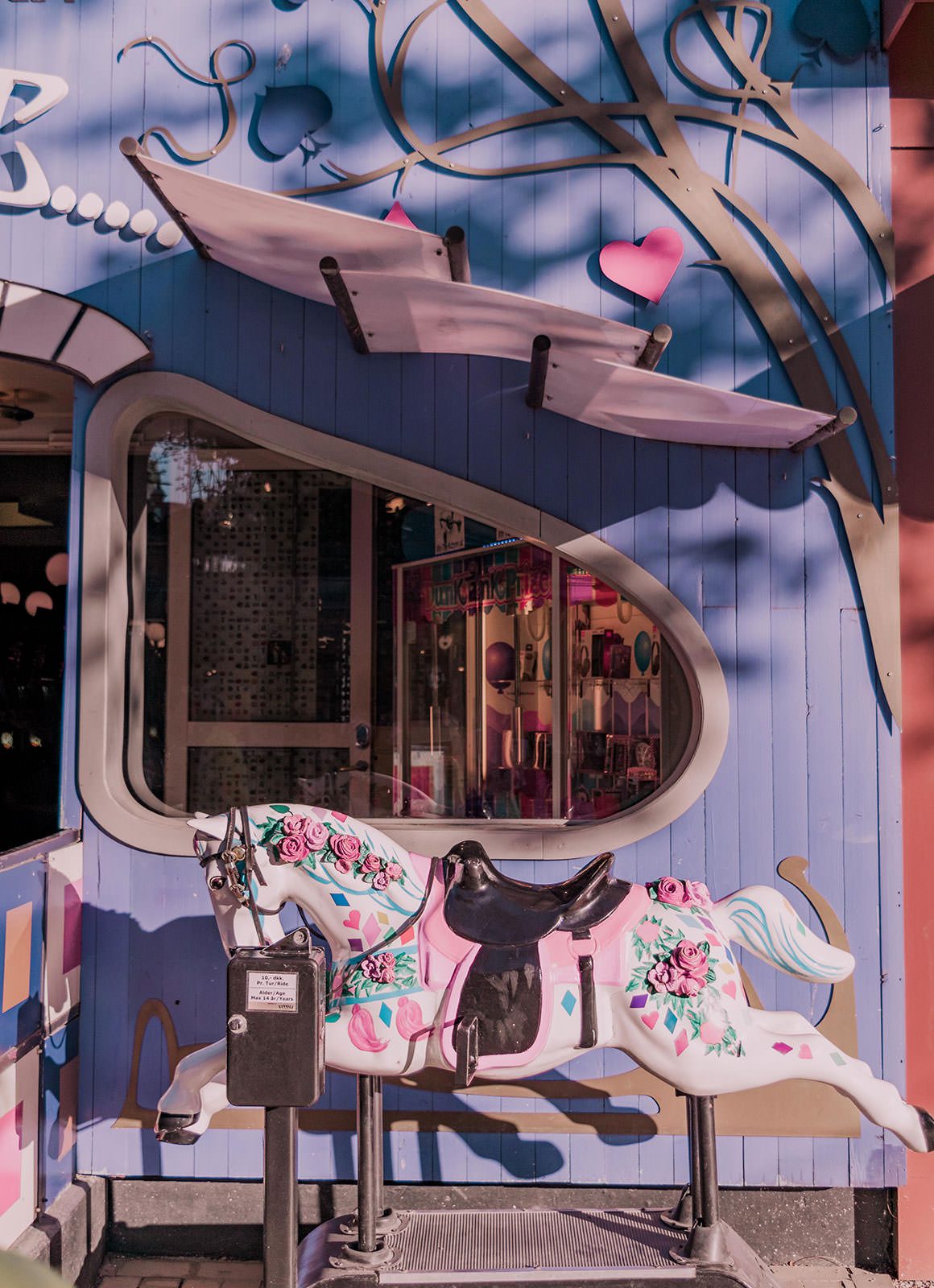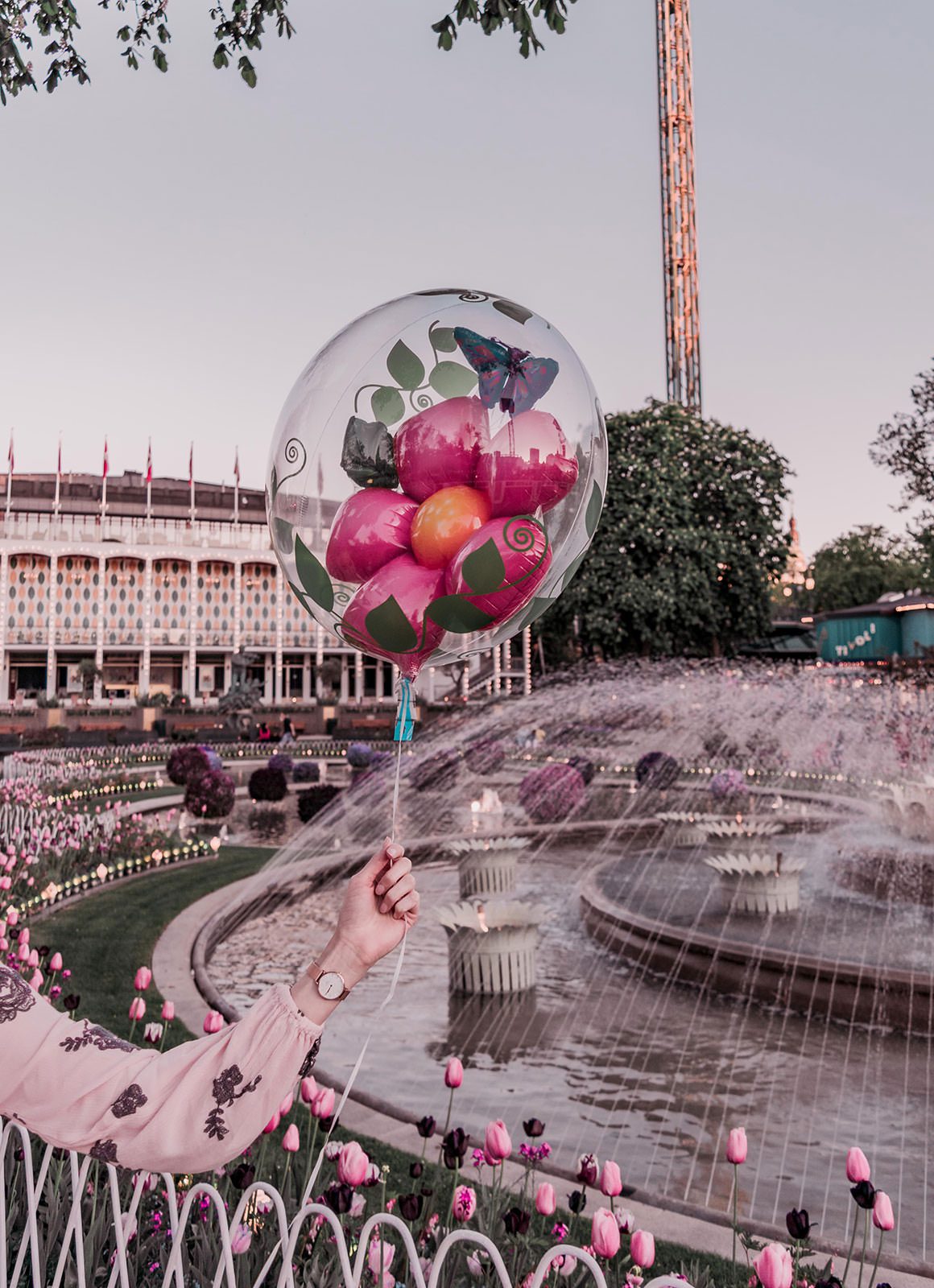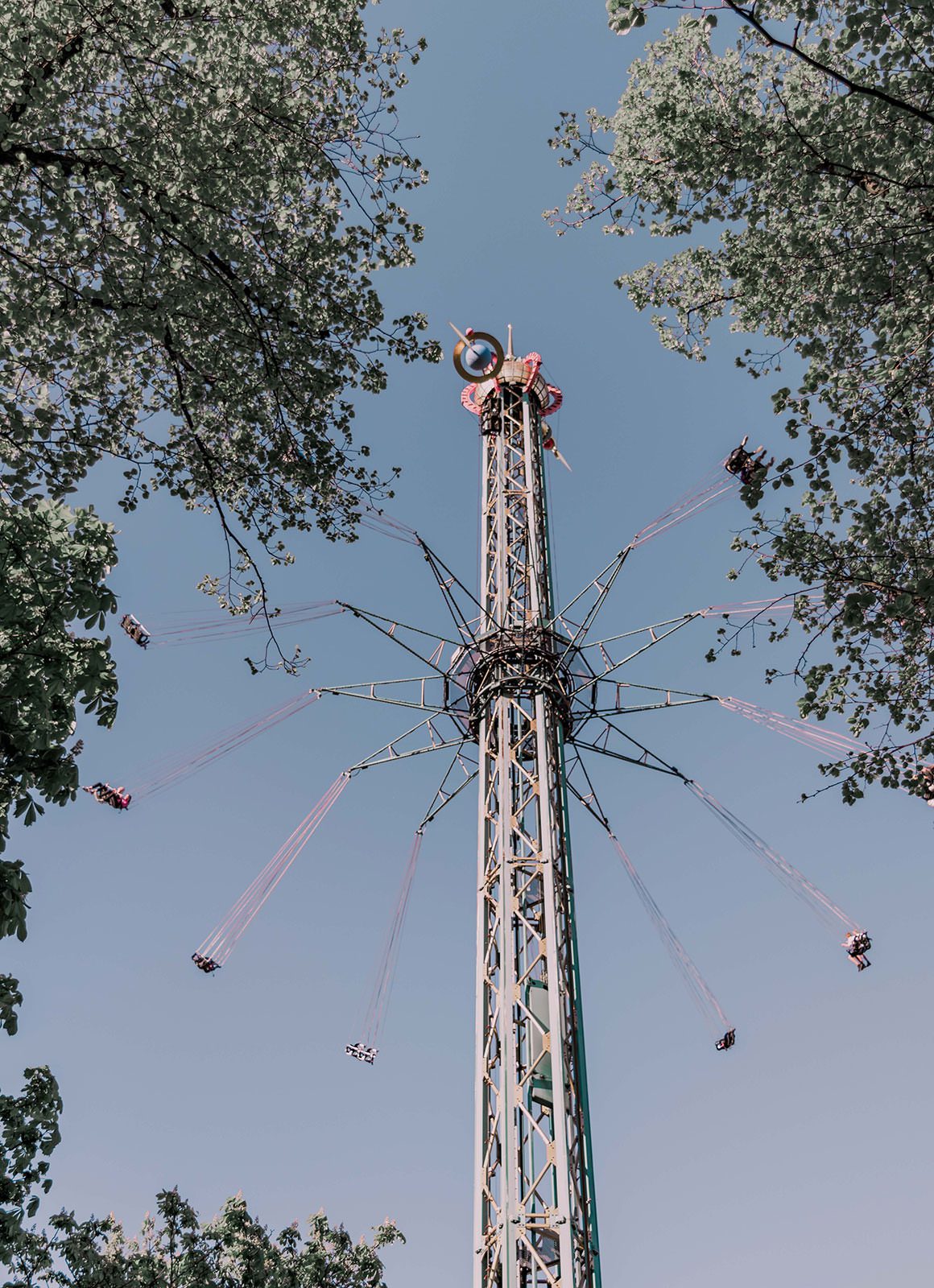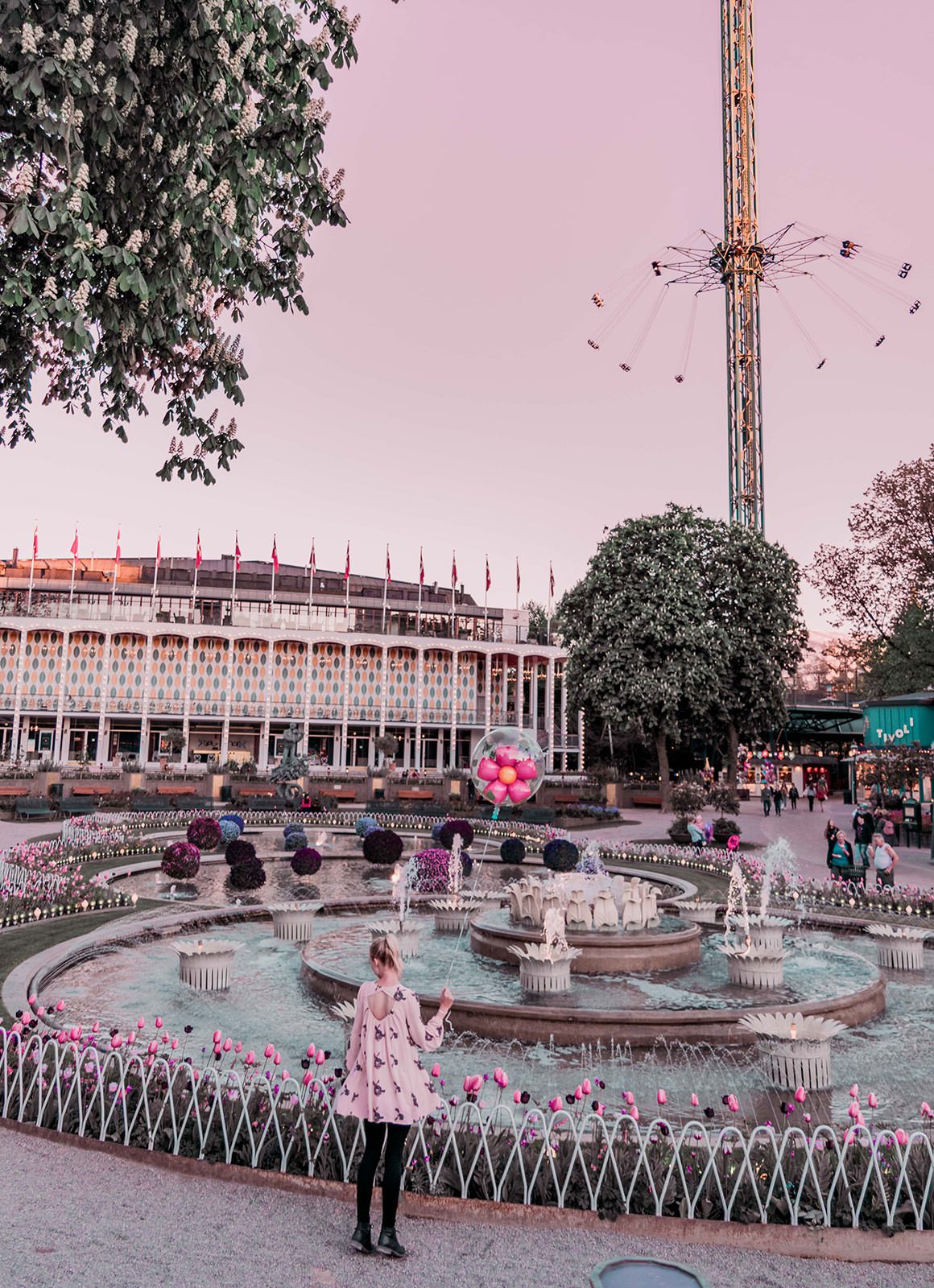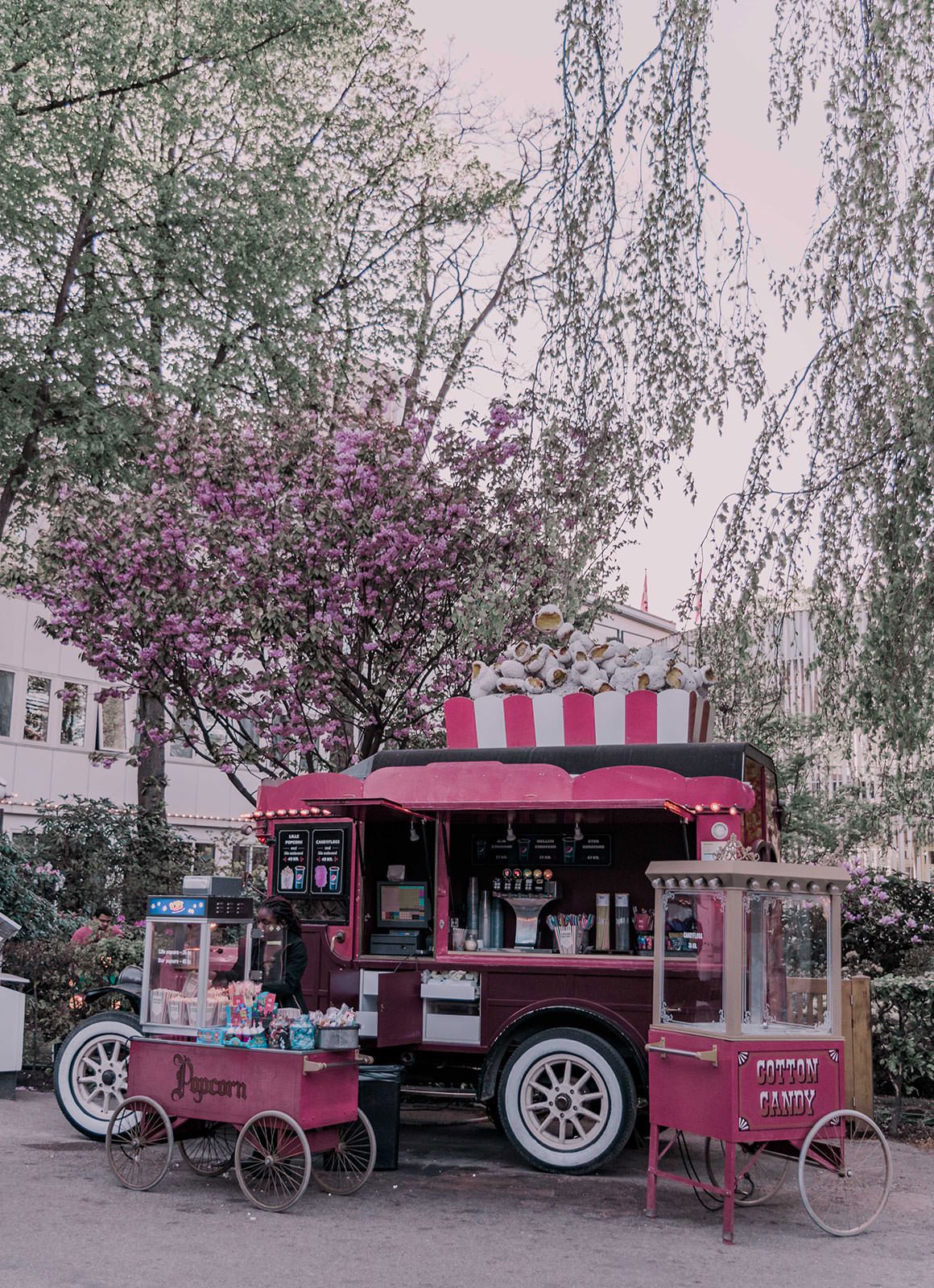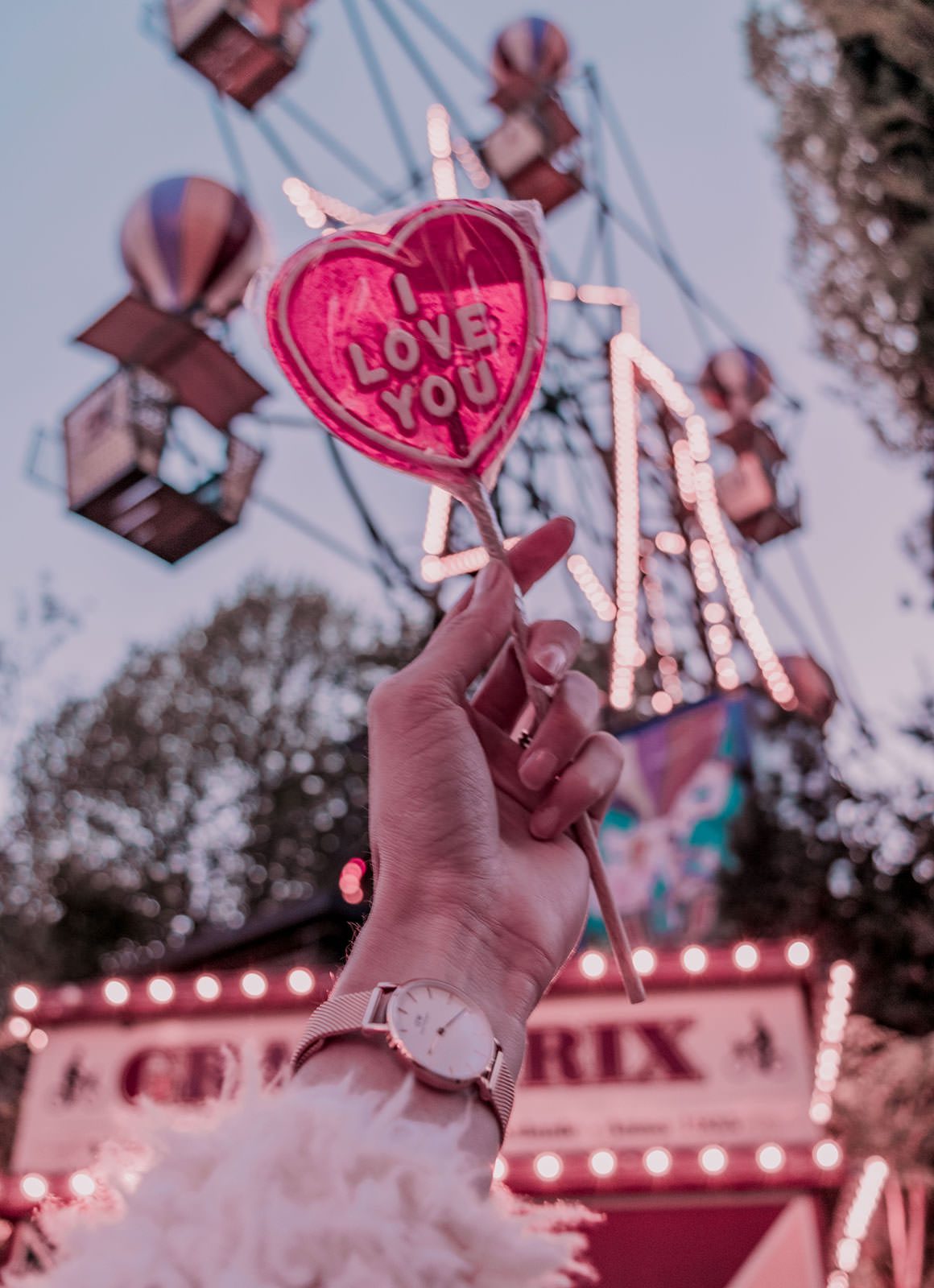 If you've been to Copenhagen I'd love to hear if you have any other fairytale spots to recommend!
Big Love,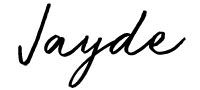 ---
WANT TO SEE EXACTLY WHAT I PACKED FOR THIS TRIP?
See everything I packed in my carry-on only suitcase here.
LIKE MY OUTFITS?
These outfits are from my Spring 18′ Capsule Wardrobe, you can shop these items and support Jayde Archives at the same time by using some of the affiliate links below:
Pink Ruffle Hem Top – Chelsea28
White Long Sleeve – Madewell
Teddy Jacket – Gina Tricot
Blush Teddy Coat – Vila (similar here)
Pink Swing Dress – Free People
Black Tights
Mid Ripped Skinny Jeans – Mango (similar here)
Overalls – Pull & Bear
Light Scarf (similar here)
Heavy Scarf (similar here)
White Sneakers – Puma
Black Lace up boots – Wittner (similar here)


---
If you loved this post I think you'll enjoy these too…
Spring Carry-on Only Wardrobe for Copenhagen / A Pretty Little Getaway in the Netherlands