I've got a good dose of those Friday vibes today – because tomorrow we are off on our next adventure to the Canary Islands! And this one is particularly exciting for three reasons – 1. Sunshine, 2. Ocean, 3. 20°C… I never thought I would hear myself saying that I was excited about a toasty high of 20°C. That's almost a winters day at home in Australia! But being half way through my second European winter has definitely changed my perspective on what a warm day is. I can't believe I am even packing swimmers. No promises on whether or not I will use them though!
Apart from having flights, accomodation and a hire car booked for our 7 day trip, continuing my new slow travel philosophy, we have nothing else planned. If you're not sure what I mean by 'slow travel' I explain it all here for you. I wasn't able to take much out of my current winter capsule wardrobe this time because winter in the Canary Islands is just a bit different to winter in Switzerland. However, I still found that my packing was much quicker thanks to all my capsule wardrobe practice lately.

Weather
Winter
This travel capsule wardrobe for Canary Islands is perfect for mild island weather. The forecast is 17-20°C and plenty of sunshine! Because lots of the pieces I am packing are small and light I was able to fit in more options than I have been able to for previous winter and autumn trips.
Location
Canary Islands/Beach/Nature
I've put together this travel capsule wardrobe for Canary Islands for an island getaway. We will be hiring a car and exploring the islands of Lanzarote (which you can read all about here) and Fuerteventura. The activities we have in mind are lazing around on beautiful beaches, seeking out pretty nature spots and exploring cute little towns. Because the weather is sitting on the fence between hot and cold I've included lots of different pieces which can be mixed and matched to keep me warmer or cooler. I've also packed sneakers, activewear, swimmers, a raincoat and a hat for our outdoor exploring.
Clothes + Accessories Packing List
Other Items Packing List
Other clothing
1 x pyjamas
2 x socks
Underwear
Umbrella
Other Essentials
Handbag
Lip balm
Kindle
Journal + pen
Noise cancelling headphones
DLSR Camera and charger
Phone charger
Battery pack for charging on the go
Universal adaptor
Toiletries
For full details on how and what I pack for my carry-on toiletries take a peek at this post.
Outfits
Below I've put together the outfits I plan to wear over our seven day trip. I'm a fan of doing this before we leave. That way there is zero stress getting dressed each day. You can easily do the same by laying out your outfits and getting a photo of them on your phone to look back at. To make things even simpler you can even put them into a 'travel outfits' album so the photos don't get lost amongst all the travel snaps you'll be getting!

Have your tried packing travel capsule wardrobe for Canary Islands and if so what are your carry-on essentials for a winter island getaway? I'd love to hear below.
Big Love,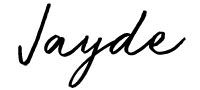 ---

If you like the items in my travel capsule wardrobe for Canary Islands you can shop them and support Jayde Archives at the same time by using some of the affiliate links included in this post.

---
My tights and sports bra were kindly gifted by STRONGER, however all opinions are my own. I only ever recommend brands and things that I personally love!
---
If you loved this post I think you'll enjoy these too…
Winter Carry-on Only Wardrobe for Belgium / Creating your Capsule Wardrobe Post Series + Free Workbook