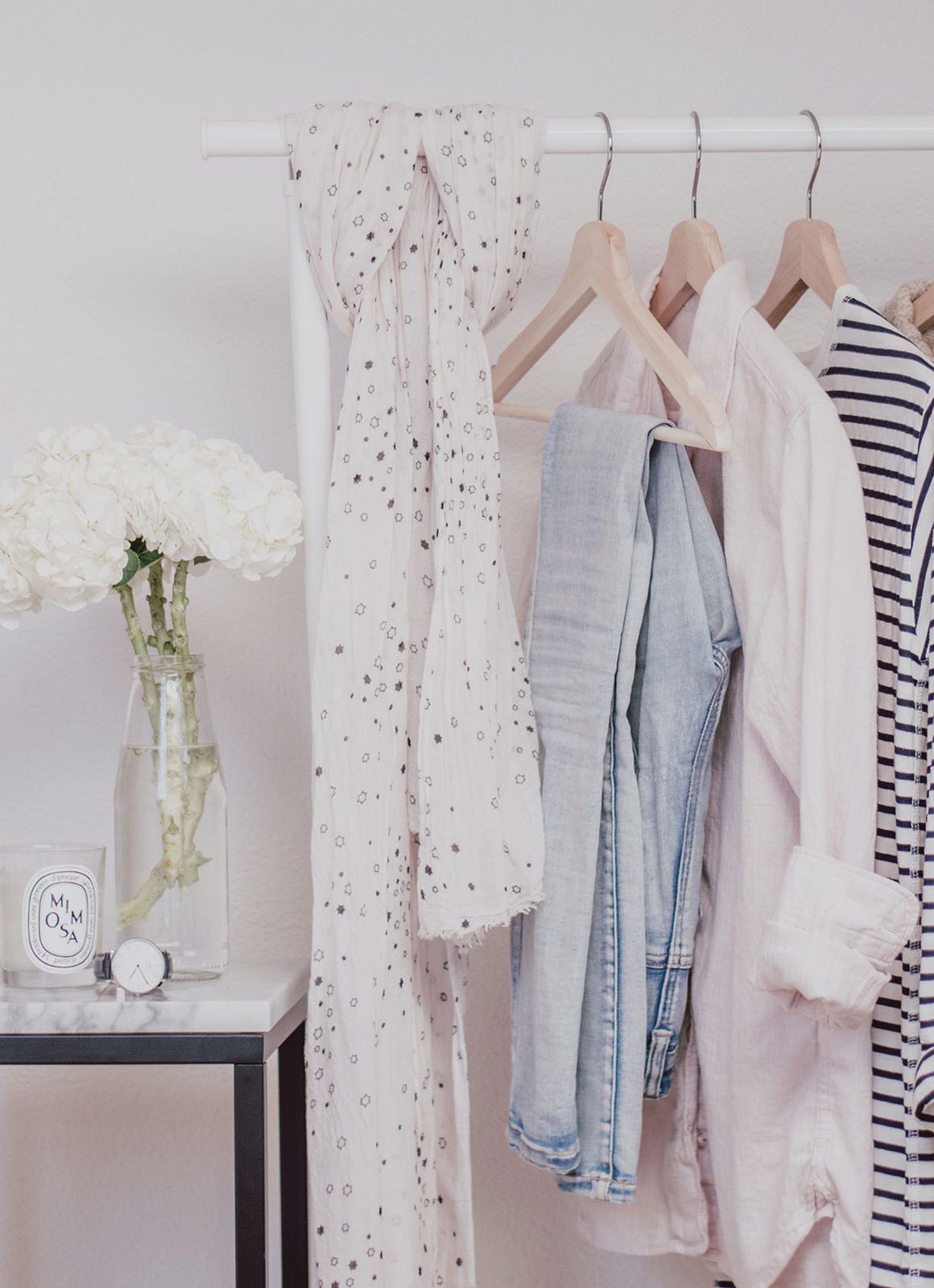 Now you've done the first two steps of defining and refining it's time to complete your new capsule wardrobe! If you are looking for earlier steps you can find step one here and step two here.
This would have to be my favourite part. We take everything we have done and tie it all up with a pretty little bow. It's time to put your capsule wardrobe cap on, taking stock of your current wardrobe items and filling in any gaps you might have with the look book you put together in step one.
But before we start…
A quick refresher
I talked about my definition of a capsule wardrobe in step one but here is a little refresher.
To me a capsule wardrobe is: A curated selection of timeless, quality clothing, shoes and accessories which I love and that reflect my personal style, and can be worn interchangeably to create a range of outfits, minimising wardrobe clutter and the daily anxiety of picking something to wear.
How many items should my capsule wardrobe have?
This number really depends on your style and life. We are all unique and naturally some of us will be more minimalistic than others. You may also have very segregated styles for different areas of your life. For example you may need to dress very formerly for work, but prefer to be casual any other time. This means that the items you have for work may not overlap at all with the items you have for play. So of course you would end up needing a bigger wardrobe to accomodate for this.
You may also decide to create your capsule wardrobe for just one area of your life to start with and work on the others later. Just do whatever you feel works best for you. A rough guide would be anywhere between 30 and 50 items. This should include everyday clothing, scarves, hats/beanies, sunglasses, bags and shoes. I choose not include jewellery, gym/sport clothes, swimwear or formal wear in my capsule.
It is important to commit to the one-in one-out rule once you have established your capsule. This will keep your capsule items in check and will also help you decide whether you should really buy something new. If you can't bear to part with anything in your wardrobe then don't buy anything new yet.
How often should I update my capsule?
Again this will depend on you and your preference. If you would love to have a capsule that covers the entire year so you don't need to think about it again then you can include items for every season. Or if like me you enjoy refreshing your wardrobe each season then you could build a 3-month capsule.
Because I review my capsule wardrobe seasonally I tend to store any items that are seasonally specific. These things include very summery items like shorts and summer dresses and very wintery items like heavy coats and beanies. I have two storage tubs (never more – this helps keep my wardrobe catalogue as small as possible) dedicated for these items and I make sure each time I'm updating my capsule I review my tubs. Any items I notice I haven't taken out for 12 months get sold, donated or discarded.
Now for the fun part…

Build your Capsule
Design your Capsule
Time: Approx. 30 mins
You will need:
Have as much fun with this step as you like! You can use the empty circles in your Capsule Wardrobe Workbook to colour in or collage inspiration from magazines to create your very own set of swatches.
Name your style: Go through your look book and give your style a name that covers all your looks. You can be as creative as you like here, the more descriptive the better. Some examples include: minimal boho, girly glam, sporty luxe and pretty casual. Write your style down in your notebook or Capsule Wardrobe Workbook.
Define your occasions: So that you can be intentional with every item you decide to include in your capsule, it is important to be clear about what occasions you will be covering. You may want to be able to use your capsule for work, leisure, gym and events. Or you may just decide to focus on two or three of these areas. I do not include gym or around the house wear in my capsule because it is already minimal and those items are not interchangeable with the rest of my wardrobe.
Pick your neutral palette: Look over your newly refined wardrobe that we worked on in step two. Note the neutral colour scheme you've established. Compare this to your new look book and see if you can find a common thread. Neutral colours include: black, white, grey, nude, taupe, tan, brown, khaki, navy and denim. Pick five neutral colours to form the base of your colour palette and write these down in your notebook or Capsule Wardrobe Workbook.
Pick your accent palette: Your accent palette should be based more on the colours in your look book than the colours already in your wardrobe. These will really shape your style. But in saying that you may also prefer to stick to a completely neutral palette like black and white. If that is the case then leave accent colours out. Accent colours can be any colour that is not a neutral. Some examples of accent colours include: blush, pink, coral, red, lilac, baby blue, forest green and mustard. Pick two to three accent colours that work together and write these down in your notebook or Capsule Wardrobe Workbook.
Add texture + print: As well as defining your colour palette it is important to think about the types of textures and patterns you would like to include in your capsule. The more you can refine your look now the easier it will be to build your wardrobe. Some examples of texture and print include lace, chunky knits, pleats, ruffles, florals, stripes and geometrics.Pick a combined total of five textures and prints that work together and write these down in your notebook or Capsule Wardrobe Workbook.
Define your capsule size: Decide how many items you would like to have in your capsule. Making this decision now will help you stick to your number as you build your wardrobe. If you want something very minimalistic aim for 30 items, a medium capsule aim for 40 items and a large capsule aim for 50 items. Keep in mind that the point of having this capsule is to save time, save money, stress less and create more space. Write down your intended capsule size in your notebook or Capsule Wardrobe Workbook.
Define your capsule timeline: Decide how long you would like your capsule to last you. Would you like to update it seasonally (every three months), or would you prefer to create a 12-month capsule? This will help you focus on the pieces you need to include to cover specific weather and temperature ranges. So that you don't forget pop a reminder in your calendar for when it is time to review your capsule again.
Build your Capsule   
Time: Approx. 1 – 2 hours
You will need:
As you go through each of the steps below refer to your look book. Choose pieces you would like in your capsule and pick those pieces from your current wardrobe or write them down on a shopping list if you do not have them already or they need replacing due to being worn out or ill fitting. Record your capsule wardrobe list and shopping list in your notebook or Capsule Wardrobe Workbook. Anything from your current wardrobe that doesn't make the cut should be stored for next season (if it is a seasonal item), or sold, donated or discarded. Keep in mind your space wasters (stay away from these) and wardrobe heroes (fill your wardrobe with these) we listed in step one.
Pick your staple pieces / 40% of your capsule: (30 piece capsule: 12 items / 40 piece capsule: 16 items / 50 piece capsule: 20 items) Staple pieces should be good quality, timeless and mostly neutral colours. They are your everyday items that will form the base of most outfits. Staple pieces can include: shorts, skirts, jeans, tees, collared shirts, tanks, camis, blouses, dresses, jackets, cardigans, sweaters, blazers, coats, hats/beanies and scarves. Each piece should go with at least five other items in your capsule.
Add your feature pieces / 30% of your capsule: (30 piece capsule: 9 items / 40 piece capsule: 12 items / 50 piece capsule: 15 items) Feature pieces should add some personality to your wardrobe. They should incorporate your accent colours, patterns and textures. Feature pieces can be any kind of item but I would suggest keeping investment pieces like jackets and coats in your staple category as they will be more timeless and you will maximise your wear of them. Each piece should go with at least five other items in your capsule.
Add your shoes / 20% of your capsule: (30 piece capsule: 6 items / 40 piece capsule: 8 items / 50 piece capsule: 10 items) The shoes you choose to include in your capsule should be as versatile as possible. This means you should try and stick to neutral colours like black, tan, nude and white. I would also recommend choosing quality materials and makes so that they last. The types of shoes you may want to include are sandals, heels, ballet flats, espadrilles, runners, canvas sneakers, leather sneakers, ankle boots, gum boots and snow boots. Refer to the list you made in your look book to help guide you.
Accessorise / 10% of your capsule: (30 piece capsule: 3 items / 40 piece capsule: 4 items / 50 piece capsule: 5 items) The very last step is adding your accessories to your capsule. Similarly to your shoes try to stick to neutral tones and choose high quality materials and makes. These items include handbags, clutches and sunglasses. Refer to the list you made in your look book to help guide you.
You should be left with the basis of your capsule plus a shopping list for any pieces you need to add to it. Make sure you still have your wardrobe organised like we did in step two. And double check how many items you have included. Does it line up with the capsule size you decided on earlier?
Yay! You now have your very own capsule wardrobe. Building a capsule wardrobe is not the easiest task, but it is a rewarding one and you should be proud of yourself for getting to this point. Now when you go to your wardrobe you will be filled with joy and excitement about picking an outfit. You will start saving time in the mornings, saving money on items you don't need and minimising your outfit picking melt down moments.
I can't wait to start sharing my seasonal capsule wardrobe and weekly looks with you soon! I also plan to create more valuable capsule wardrobe resources for you like list of my favourite ethical shops and brands, my favourite ways to find outfit inspiration and how I use the capsule concept to pack for travel using a carry-on bag only. If there is anything else you would love to know more about please let me know in the comments below.
Have you just completed this final step? I'd love to hear how you went and if you learnt anything you'd like to share below.