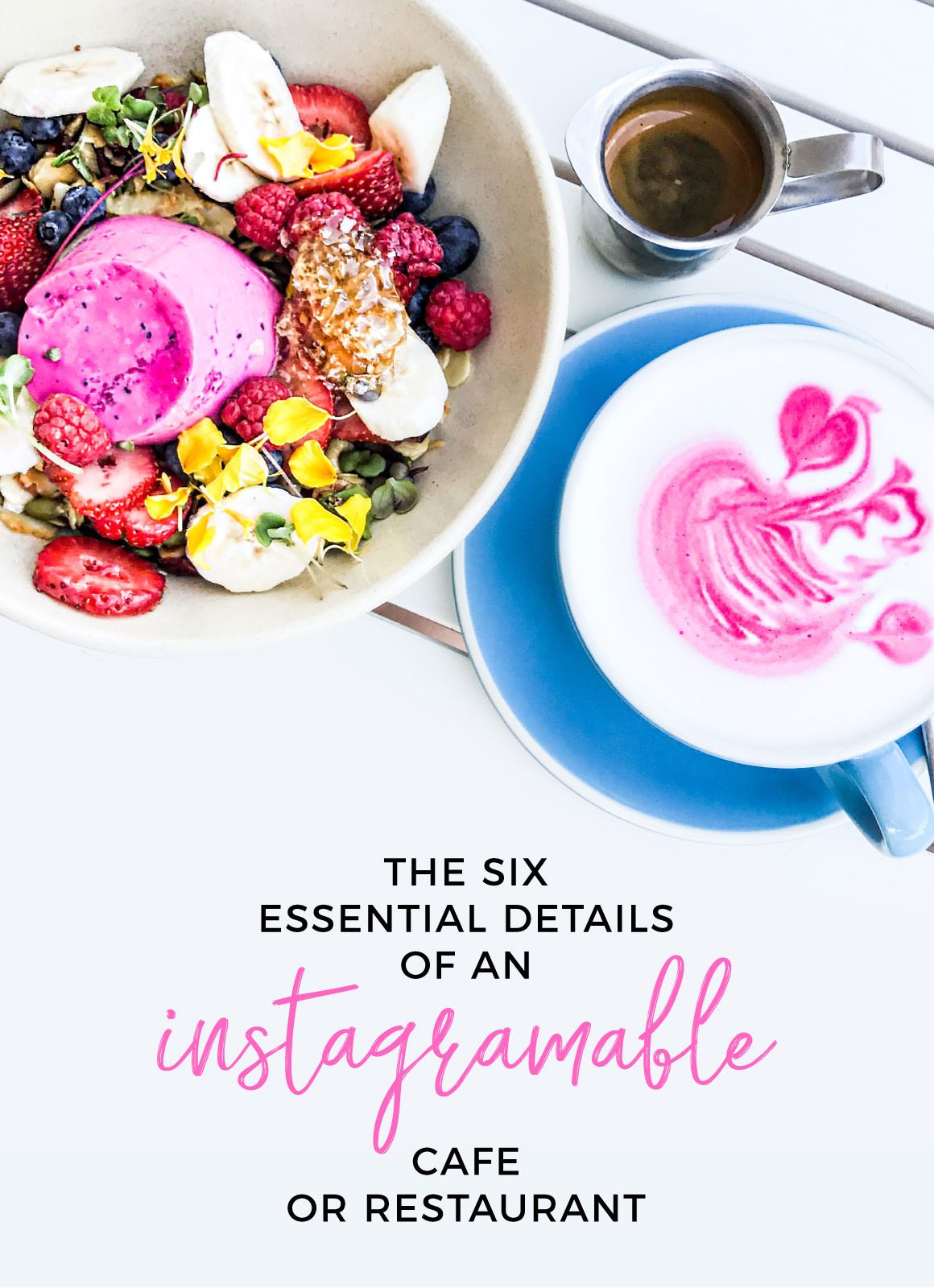 ---
Regardless of whether you are a cafe owner or a brunch-a-holic there is now far more to consider than just the menu. Not so long ago the only thing you really had to consider when starting a cafe or picking a place for a bite to eat or a drink to sip on was whether the menu was good. However, in the last few years things have become slightly more complicated. Not only does the menu need to be drool worthy, the space you are eating in needs to look amazing. And not just look amazing in person, but amazing in a snap for Instagram.
I am certainly not saying that it's more important to get a good photo than it is to enjoy your meal. But if you can have both, then why not? Sharing photos of your favourite places to eat is not only fun but it is also helpful. Instagram has now become a go-to resource when looking for a new restaurant or cafe to try. And so for cafe owners has become a very powerful marketing tool.
After some extensive research (sipping lattes in pretty places is hard work), I've put together my list of criteria to help you create or spot an instagramable cafe or restaurant. 
The Six Essential Details of an Instagramable Cafe
1. Natural Lighting
Natural lighting is the number one thing I look for when taking any kind of photo. You would be amazed at how much difference a little natural lighting can make. Not only to the look of your photo but to the quality as well. You know that grainy look you see in dark photos? Natural lighting will take care of that little problem. The best way to get nice natural lighting at a cafe is to either sit outside undercover (while you do want natural light, you don't want full harsh sunlight because this will create dark shadows) or inside near a window. 
---
2. Playful Floors
Playful floors are so fun and easy to incorporate into your cafe photos. You can take a photo of your shoes, coffee or food with the floor as a backdrop. Or get a flat lay snap of your table spread which shows some of the floor too. Keep your eyes peeled for patterned, mosaic or typographic tiles for the ultimate in floor fun! 
---
3. Pretty Tableware
Add a quirky element in to your cafe photos by choosing a cafe with creative tableware. The best way to figure out if a cafe serves up pretty plates is to see if you can spot anything on their Instagram account or do a sneaky walk by and snoop on people who are already eating there! Look out for pastel toned or mismatched ceramics for guaranteed Insta-appeal!
---
4. Fun Walls
As much as we love getting snaps of our food, if you want a photo of you and your brunch buddies a patterned wall, mural or neon signage is where it is at. And the great part about getting a group shot at a cafe is that you can always ask your waiter to take the photo for you.
---
5. Photo Friendly Table Tops
If you want a snap of your food a photo friendly table top is essential. This is because it will be your background and set the tone of your whole image. Say yes to weathered timber, marble, light colours and matt textures. But steer clear of shiny or reflective surfaces (like glass) – these will cause all sorts of havoc with unwanted reflections.
---
6. Food and Drinks with Personality
Your food and/or drinks are the star of your cafe shot so the more unique the better. Lots of colour and detail always looks great. Think edible flowers, loaded shakes, latte art… Some cafes even become famous for certain menu items!
What cafe or restaurant details get you most excited?
If you loved this post I think you'll enjoy these too…
Could you be a Micro-Influencer Without Even Knowing it? / 9 Whimsical Restaurants & Eateries you Must Try in London
---